It's great to see riding communities grow in an area where it sometimes is a challenge.
When one thinks of good mountain biking destinations from around the world, Denmark is probably not the first place that comes to mind. It probably wouldn't even make the top twenty list for most people. That is, for those of us who even know where Denmark is, and that's it's actually not a nation of Dutch people. Unlike its larger Scandinavian brothers (Norway and Sweden), Denmark has not been blessed with mountains. It's also wet, and easily rivals cities like Vancouver for per annum precipitation. But despite its moistness and lack of vert, Denmark has a vibrant - and still growing - community of mountain bikers.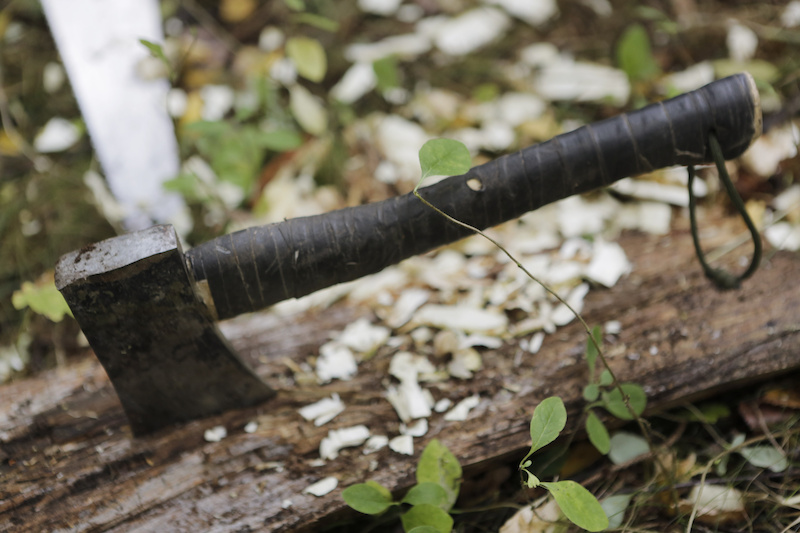 Tools of the trade
As with other places in the world, mountain biking took hold here in the late eighties and early nineties. There were no official trails, as it was mostly a small group of renegades riding around the forests in the mud and rain. If you told the average person what you did for fun, they would think you were crazy. A rider and his bike covered in mud would, without fail, draw bizarre looks as you rolled back through the streets of Copenhagen on your way home from the forest.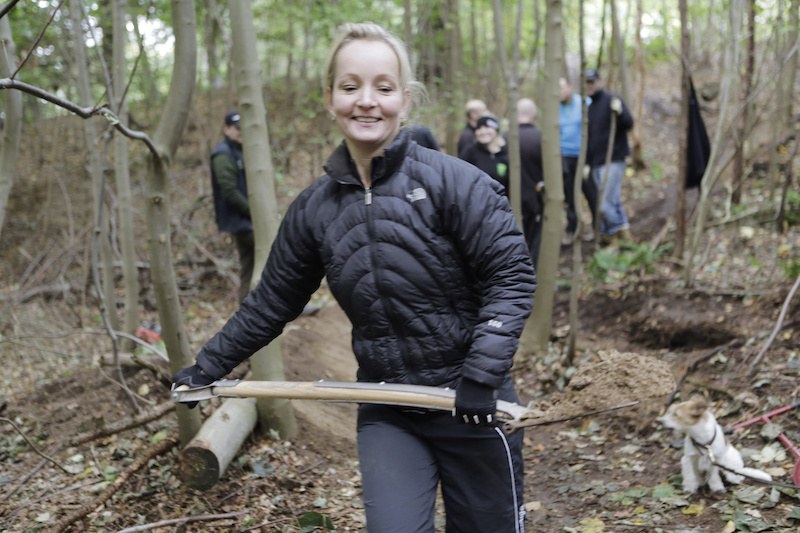 Gold digger
The first official mountain bike trail (the Red Trail) was opened in Hareskov (Hare forest) north of Copenhagen in 2001 by the ministry for the environment's forestry commission. Since that time, it has had a few reroutes to move sections of wet trail to higher ground. But otherwise, trail days were far and few between, and consisted mostly of a handful of people trimming back branches that hung at eye level during the summer months. Mud, and often hub-deep pools of water, were the accepted norm. Low-gear spinning was the only way to plow through long sections of trail during the winter months.
Slowly, this began to change, but "flow" as we understand it today was not yet a part of the mountain biker's vocabulary. Some of us were inspired by the ladder bridges and log rides of the North Shore and wanted to implement such structures on our trails, but were met by resistance. The adversaries were both purists that felt that ankle-deep mud and granny grinding were an essential part of the sport, and the forestry commission that at that time disallowed any unnatural materials to be used in the forest (i.e., nails) and generally frowned upon the idea of man-made structures.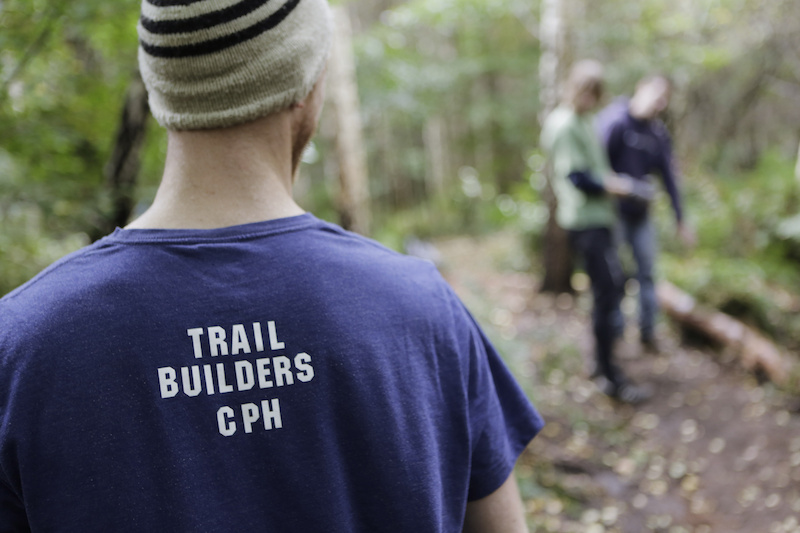 Representing!
By 2009 mountain biking had exploded in Denmark and interest in the sport was continuing to grow. Nowhere was this more evident than on the trails that were now becoming heavily eroded. They resembled ugly black scars cutting across the landscape. But after several years of attempting to create better and more trail days, backed by information from the likes of IMBA and NSMBA, we finally got through. A meeting was set up between a few of the diehards and the forestry commission's head ranger for the Hare forest. Our wishes were no longer falling on deaf ears and the environmental aspect of proper trail building and maintenance could no longer be ignored by the rangers. We agreed on work guidelines, signed an agreement, and Trail Builders Copenhagen (TBC) was born.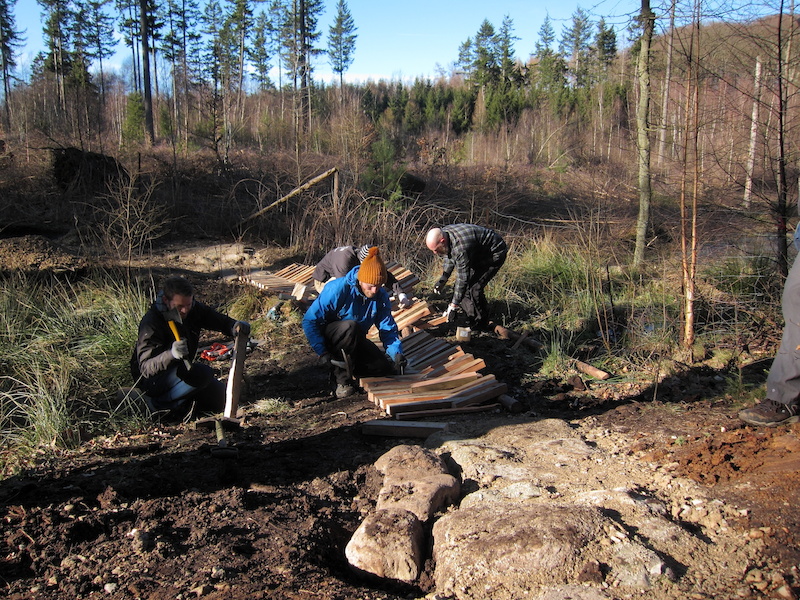 Bermed bridge in progress
Since then, TBC has moved on to a popular trail in a neighboring forest, where they've managed to win overwhelming support through their noticeable trail improvements, creative building, and dispersal of information about trail building and maintenance through their own and other mountain bike forums. They're working to make sustainable trails that can be ridden year round. They've already set a new standard for how trail days are conducted and have attracted a large volunteer base to draw from. More recently, local clubs and businesses have begun showing their support through donations and sponsorships. They've even been nominated for the 2012 Danish Bike Awards as "mountain biker of the year."
Certainly this isn't a new story, but every success story is one worth sharing. Trail closures are still a very real threat in many countries, whether due to liability, user conflicts or just plain ignorance, so every happy ending plays its role and can be used as a shining example of sustainability and cooperation in places that are struggling with the threat of closures. And the struggle is far from over here, as the positive momentum has really only just begun. TBC has a long road ahead of them, but through continued advocacy and a growing volunteer base, it looks like the future will be bright. A true happy ending will be one where the mountain biking community is truly a community that works together toward a common goal, and where Trail Builders Copenhagen isn't just a small group of renegades, but a collection of people that includes everybody who rides the trails north of Copenhagen.