paulaston
Member since Aug 23, 2009

Plus
Male / 35
Finale Ligure , Italy
Block user
Recent

Sep 17, 2020 at 0:10
Sep 17, 2020

Sep 17, 2020 at 0:04
Sep 17, 2020

Sep 16, 2020 at 8:16
Sep 16, 2020
Video: We Actually Tested Our Bike From The Future - The Grim Donut Part 2
@nskerb: The G1 I built is exactly what I believe in as I've all done a lot of testing on it past the extremes and back again. I believe the geometry on my bike is ideal because: any slacker in the HA causes problems, making the seat angle steeper causes problems, making the BB too low causes problems. That's not to say things won't change in the future, but at the moment with current components on the market I don't think there is any room to improve. I hope that all geometry will settle down to be the same across the market in the same way MX bikes are - then people can focus on tuning the rest of the bike to get the best performance from it.

Selling
Sep 10, 2020 at 8:12
Sep 10, 2020

Added 6 photos
Aug 11, 2020 at 8:38
Aug 11, 2020

Selling
Aug 11, 2020 at 8:37
Aug 11, 2020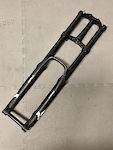 $800 EUR
Formula Nero 50mm offset Used 10x times Steerer: 167mm Fully refreshed and tuned by Mojo (UK Distributer) and not used since.
Load more...