An age-old question: Do you ride flat pedals or clipless? I spend most of my time on flat pedals, I find they are less hassle, there is less to go wrong mechanically, they are safer and they improve riding skills and technique. I do switch to clipless some of the time, which is when I find that I get the best performance - when my flat riding technique is dialed but I am clipped in. Spend too much time clipped in, though, my technique wanes and I get lazy.
In a recent search for alternative flat pedal shoes, a void became apparent, even though I would hazard a guess that the majority of mountain bikers use flat pedals most of the time. Manufacturers seem intent on producing clipless compatible shoes in a multitude of disciplines, styles, seasons and sexes. Is this because they are better? Because there is more demand? Or because there is more technology for engineers to develop and abbreviations for the marketing team to get their teeth into?
I quickly totted up the numbers of types of shoe produced by some of the big shoe players. Don't quote me on the numbers as some of their shoes arguably are not purely for off-road, some are different models of the same shoe and men/women/children specific. But I think it's clear what we are looking at: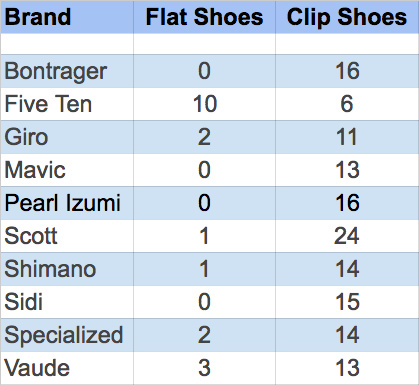 I think we get the picture, so which do you prefer? Is it time that we saw more flat pedal shoe options and innovation?
Regardless of your preference, which brand is your favorite and who do you hand over hard earned cash to?