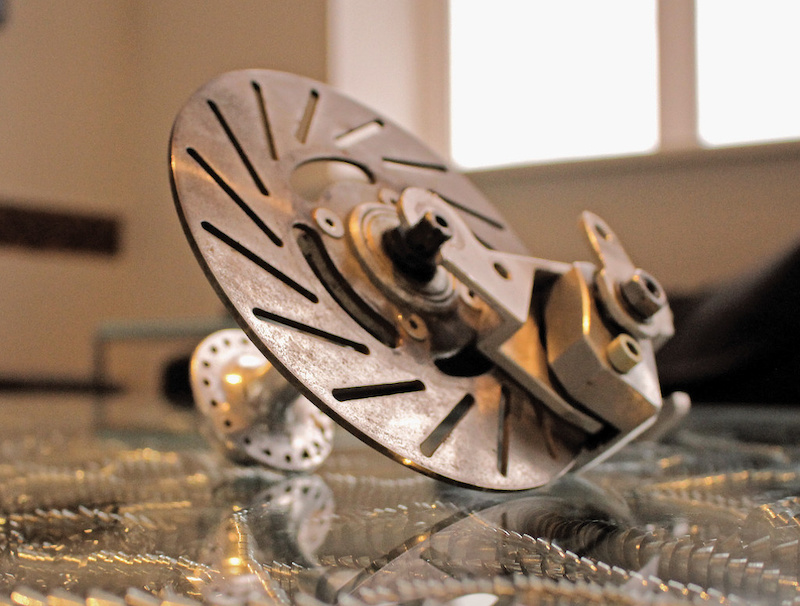 Hope entered into the mountain bike world with this moto-inspired
cable-actuated disc brake. Both Sharp and Weatherill are avid
motorcycle trials competitors.
Ian Weatherill and Simon Sharp built Hope Technology from the ground up, with the first foundations being laid 29 years ago in 1985. Their first cycling product was a then-revolutionary cable-actuated disc brake. Initially, products were made to suit their personal tastes and needs, but since then they have expanded Hope's range to produce components for riders all over the globe in many disciplines, the most popular being their ever-reliable hubs. Nowadays, around 65,000 of them are pumped out of Hope's 89,000 square-foot factory each year. Located in Barnoldswick, UK, they now manufacture hubs, brakes, headsets, stems, bottom brackets and lights, and the product line is ever-expanding. The state-of-the-art facility employs 100 staff and operates 55 CNC-machining centers, including five Matsuura five-axis milling machines which cost around €450,000 each. All this runs 24-7, year 'round, and despite Hope's rapid growth, Ian and Simon have maintained the same ethos behind their business since day-one: to produce high-quality products, with no sales waffles.
---
Our products are made for the British weather. Rather than making them for riding in the Californian desert, ours are made to be used in the UK and that's why it suits British riders. You get people on the continent using them as well, but that's just a byproduct of us making them so they work in the UK.

- Ian Weatherill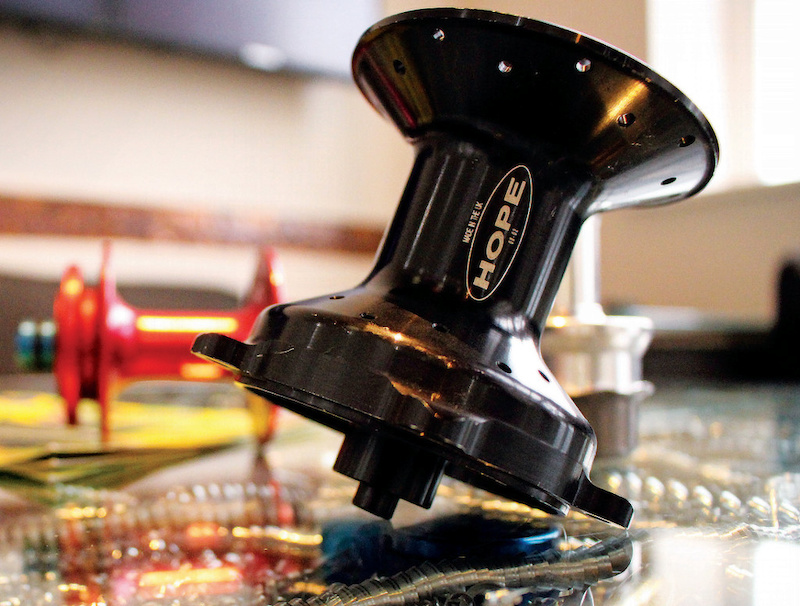 Hope's first production hub, with its four-bolt rotor interface was
ahead of its time. Conical spoke flanges came from motorcyles.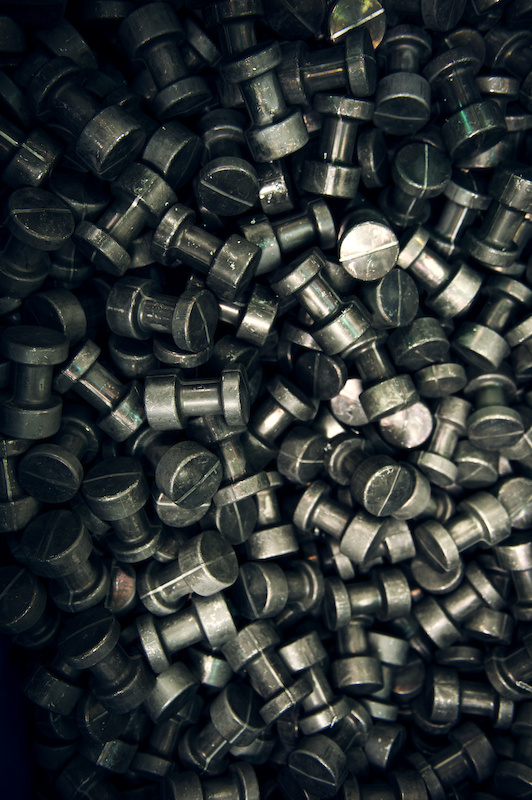 Forged-aluminum billets waiting to be machined into hub shells.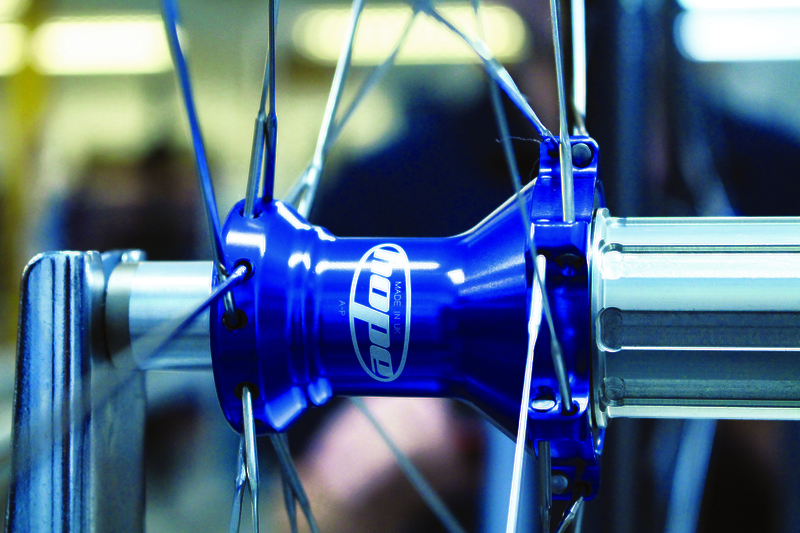 The finished product - Hope's 2014 hubs share similar lines with
the original. Hope also produces a range of pre-built wheelsets.

How did you get in to mountain biking?
Ian:
It all started off when we were training for trials riding. We used to be motorcycle trials riders and we trained for trials riding on mountain bikes.
Simon:
Trials bikes had disc brakes, so we decided to make some parts for mountain bikes.

Do you still ride mountain bikes or do any other disciplines?
Ian:
Yeah, we ride mountain bikes, road bikes and we still ride trials bikes.
Simon:
We ride the Scottish Six Day Trials every year.
Ian:
...As long as we can keep going.

Hope has had a few different homes. How did you arrive in Barnoldswick?
Ian:
Simon comes from Barnoldswick, and we were both at Rolls Royce in Barnoldswick, so it was a natural place to come back to. It's a really good place for staff, it's a great place for the people that work for us, and it's nice because it's on the edge of the Yorkshire Dales, which a really nice place to be and to have a factory.

So it feels like home?
Ian:
I would say that was it. Yeah, it feels like the right place to be. Yeah, it does feel right.

Hope are now producing products in house, but with the rims and handlebars, you've chosen to do that overseas. Is that a shift in direction for Hope?
Ian:
It's just those specific products and it's not something we really want to do anyway. It's just we don't do any more formed metal like that hot formed-system, that's what handlebars are really - it's a formed system. Also, constructing the rims, it's not really what we're into, To use our other products, we're having to get some things made. And the rims? We've helped them develop the rims. We've changed the rims quite dramatically. We're already selling someone else's rims that were made over in the Far East anyway - like Stan's rims - so we might as well have our own. Actually, our rims are improved on those and actually better. That's why we've actually gone that way, but it's not something we get into - hot forming aluminium.
Simon:
It's a totally different engineering process for rims and bars, it's not like CNC machining.
Ian:
It's like the carbon fiber. We're not going to produce any carbon fiber outside the factory. All the carbon fiber parts will be produced in the factory. We want to do that and it's something we can work on because we machine molds, and the way the carbon fiber technology works, we're trying to apply our knowledge to that process.
Simon:
Yeah, the plan is to make as much as possible here in Barnoldswick.

What carbon parts are you planning on making?
Simon:
At the moment we are starting with a seatpost. Taking the knowledge we have from making the Eternity seatpost and applying it to carbon. Other products in the pipeline are handlebars and who knows what else?

Hope has a huge amount of British followers which makes up about 50-percent of your global sales. How much of this loyalty has helped to grow the company?
Ian:
Massively. Going to events, seeing people at trail centers - everything just makes a world of difference to us. There's a massive sales growth in the UK and the support we've had from the UK has helped us to do that. That's the main market we go for and that's where we ride our bikes. Our products are made for the British weather. Rather than making them for riding in the Californian desert, ours are made to be used in the UK and that's why it suits British riders. You get people on the continent using them as well, but that's just a byproduct of us making them so they work in the UK.
Originally, we were the only people producing decent brakes. They're all reasonable now. They're not as good as ours, obviously, but they're not bad.

- Ian Weatherill

In 1999, the top ten in the British National Series were using Hope brakes. Now that number may be one or two maximum. Do you think this is because of the big companies taking over the market share or the fact you've been focusing on other products and disciplines?
Ian:
They are taking over the market share, but we're still selling as many brakes as we've ever sold. We don't go for OE at all. Most of them get them as OE and they're not too bad. A lot of those brakes are OK but they do have problems with them don't they?
Simon:
And also, the riders who get sponsored in the top ten, they get deals with factory rides and those factory rides tend to be always sponsored by the bigger companies.
Ian:
It's a package and they have to take the whole package, don't they? That's why they're doing it. Originally, we were the only people producing decent brakes. They're all reasonable now. They're not as good as ours, obviously, but they're not bad!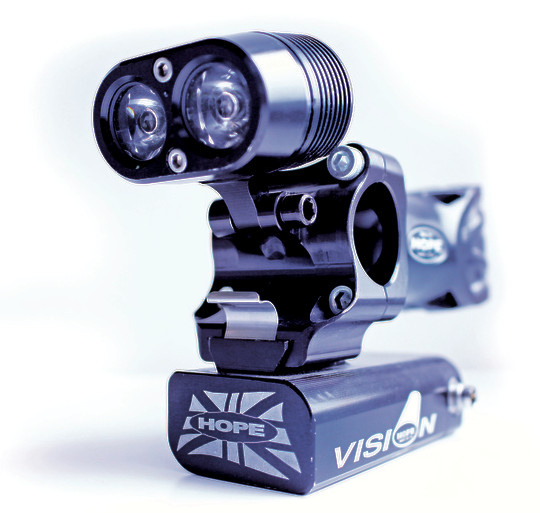 Hope's Vision lighting system integrates the lamp
into the stem cap. The battery clips into a quick-
release mount. It was conceived a decade ago.

After creating so many products from scratch and playing a huge role in the development of products, are there any products you're embarrassed about or wished you never gave a go?
Ian:
They all seem to work out alright. What was that one we did years ago, that little four-pot?
Simon:
The XC4 disc brake?
Ian:
It wasn't very good was it?
Simon:
It wasn't our best brake.
Ian:
There was also a hub we did years and years ago. It was called an Ultra Light. It did work quite well and it was minute. It was a bit too small and delicate. We try to make things so they'll last - that's the whole idea. We make it so it's gonna last, and you don't want to get anything back through the door. We don't want any hassle because we want to use it, and we like to go and just ride the bike. We don't want to spend all our time working on it.

In June 2013, it was announced that Hope was planning to build a velodrome in Barnoldswick. How has this progressed, or is it still just a pipe dream?
Ian:
I better answer that because it was my daft idea, wasn't it? We tried to go to Manchester and book a slot there to ride, but couldn't get on. There's a year's waiting list and it's ludicrous - and it's making a gym for cyclists. It's nice to ride the bike, and you think about ten o'clock in the middle of winter when the roads are iced up, it would be great to go training there. When Manchester first opened, that's where people like Steve Peat, Chris Wakefield, all the BMX guys - everyone used to train on there. It was great for winter training and spring training, and everyone could go. People from other disciplines, you know; road bikers, mountain bikers, BMXers all used to go on the track, but it's become a bit elitist now and only the top track cyclists go on there. So, it would be great to have a track that anybody could use and have a bit of fun with, and we thought we'd have a go at that, and it's still progressing now. We're still trying to set a 250 meter, because someone just set the hour record on a 200-meter track. So, is that faster than a 250? It's also about cost. We gotta try and make sure it fits in with the company's expanding to create an R&D center, and to create a carbon fiber center.

Did the 2012 financial crisis have an affect on the business?
Ian:
No, not at all, because we're paranoid all the time. We always think it's going to end tomorrow.
Simon:
It didn't really affect us, did it?
Ian:
No. Financial crises only affects you if you're overstretched, and we're never overstretched. We're always very cautious and very careful, even in the financial crisis. Ever since we started 20-odd years ago, we always think 'it's all going to end tomorrow' we don't take anything for granted.
Simon:
We try not to take too much on. Small steps at a time. You know, long-term investment.

Hope has grown into a pretty big company from rather small beginnings, do you feel much pressure on your shoulders?
Simon:
No, no more than there used to be.
Ian:
Felt more pressure when there were four of us, and now there's a 110, it doesn't feel any different. It's because we're very, very cautious. The first person we took on was Lindley Pate, our works manager who is still here. Most people stay on and we're not frightened of losing people, but we want to look after them, so we've always made sure everything is very cautious and very safe, and just tried to make decent product. One that is not going to come back, so we're not going to have any problems, and not overstretch ourselves - and that's why we haven't grown to the size of SRAM or Shimano. We've kept it quite a bit smaller.
Simon:
Organic growth instead of…
Ian:
...we could borrow loads of money and expand like mad, but we're not going to take that risk. You know, it's almost like believing your own hype then. Lots of people believe in their own hype and grow like mad, and then think they're fantastic. Keep it cautious.
We could borrow loads of money and expand like mad, but we're not going to take that risk. You know, it's almost like believing your own hype then. Lots of people believe in their own hype and grow like mad, and then think they're fantastic. Keep it cautious.


- Ian Weatherill

You have some interesting riders supported by Hope like Guy Martin, Danny MacAskill, Nico Vink and Adam Brayton, do you think selecting riders with big personalities on and off the bike is more beneficial than a large team?
Ian:
We just support people who are nice people that we like. It's nothing to do with commercial gains or anything, and we're not obsessed with the publicity thing. That's why we don't do loads of advertising or anything like that. It's about the product selling itself.
---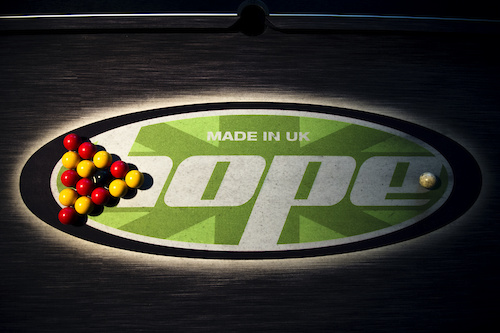 Hope Technology Timeline:

• 1985 Ian Weatherill and Simon Sharp leave Rolls Royce Aerospace and set-up their own tool making company called IPCO making fixtures for local aerospace companies.

• 1989 Ian and Simon create Hope's first cable-operated disc brake calipers, with rotors that screw on to the hubs.

• 1990 IPCO moves to a 11,000 sq ft factory in Colne, called the 'Hope Shed' which later changed to 'Hope Mill.'

• 1991 Hope Technology is formed to make, and sell disc brakes and hubs. The mechanical disc brake was the first product sold to the market, they also created a six-bolt disc hub, similar to a trials motorcycle with sealed cartridge bearings - not the same bolt pattern we see today.

• 1992 14 pairs of brakes on different bikes appear around the halls of Interbike - every unit in existence at this point. Hope Hubs start flying off the shelves in the UK. A satellite office is setup in the US. Hope launch the Ti-glide rear hub, one of the first Shimano-compatible, aftermarket hubs. It used a titanium central body and titanium cassette carrier. A big investment was made with the purchase of Hope's first CNC machine.

• 1993 The Ti-glide rear hub was offered in a splined version due to demand from the market for a lighter disc hub. Machined skewers were introduced in different anodized colors to match the hubs.

• 1994 - 1995 Hope introduces their first hydraulic brake with a prototype twin-disc system. Single-disc systems are available to consumers - an open-type system fitted to machined fork adapters at the front and to custom braze-ons at the rear. The five-bolt 'Big'un' hubset with a three-pawl ratchet, 185mm DH disc, and Kevlar reinforced hoses are introduced.

• 1996 The C2 system with a new Sport lever featuring a thumbwheel adjuster is launched. Being way ahead of their time, many pro riders start using blacked out Hope products. Rob Warner wins at a wet Kaprun at the Grundig Downhill WC.

• 1997 -1998 Bargain Ti bottom brackets are launched for a mere £90 ($145). Ian Weatherill and employee Neil Arnold race the British championships at Fort William on Yeti Straight 4 Lawwill frames. Hope's DH4 brake with the Pro lever was launched. Employee Woody Hole achieves Top 30 results on a GT in the Grundig World Cup series.
Hope expands again, tripling the size of the factory Barnoldswick to 39,000 square feet..

• 1999 Steve Peat comes second in the World Cup series and wins the British National Championship. Every British rider in the National Top 10 is using Hope brakes. The lightest disc system to date, the XC4 brake is launched.

• 2000 Hope launches the 'Bulb' hubs, the only hub at the time that could utilize a 20mm or QR axle. The DH4, 4-piston downhill brake reaches production after a years worth of prototyping on Peaty's GT iDrive.

• 2001 "If you don't have discs then you're at a disadvantage." Claims XC Elite Paul Lasenby after his first race on the newly launched Mini. Budget Sport hubs with the new International standard, six-bolt interface are launched. The Bulb hub changes from a spline to the IS standard.

• 2002 Hope headsets featuring stainless bearings and plenty of seals for Lake District weather are launched, along with Head Doctors and Grip Doctors. Mountain Bike Action are the first of many to publish reviews of Hope products.

• 2003 The one-piece, Mono6ti brakes arrive. This monster has six titanium pistons based on motorcycle stoppers. Mini and M4 brakes also adopt the stiffer one-piece caliper design.

• 2004 Sh1t Shifter is launched to make cleaning bikes and all Hope products easy. Designed to be gentle on anodized parts and disc brakes. Hope win the University of Central Lancashire Award for Best Use of Design and Innovation 2004.

• 2005 XC and Freeride stems were introduced into the range.

• 2006 It's dark in Yorkshire and the company needed lights. The Vision HID is the first. Ian and Simon compete in the grueling 'Yorkshire Three Peaks' cyclo-cross, to gain knowledge of the market they were about to step in to.

• 2007 The launch of the first vented disc for bicycles on the new Moto V2 brake offering immense power. Two LED lights and full wheelsets were also added into the range.

• 2008 New products included the four-LED light, Hollowtech type bottom brackets, and a single LED light. Another move into bigger premises. This time, 56,000 square feet.

• 2009 Danny MacAskill released the trials edit which shot him to worldwide fame overnight. Filmed in and around Edinburgh by his flat mate, Dave Sowerby, the edit shows some of the best trials riding by Danny or any other rider at the time. Hope had no idea that Danny was filming the edit or that he was to become such a big star.

• 2010 A government backed Ride to Work scheme entitles each member of staff to a bike of their choice, fully decorated in the latest Hope components.

• 2011 The Pro 2 Evo hub arrives. Hope fund and build the 'Hope Line' at the local Gisburn Forest trail center. The red-graded Hope Line includes long drifting berms and flowy tabletops. Research and development employee Paul Oldham finds time to train and win the national stripes at the Derby National Cyclo-cross Championships.

• 2012 After two years of preparation, Hope moves in to the current Hope Mill, an 89,000 square foot state-of-the-art facility in Barnoldswick. The Hope F20 flat pedal is launched. Martyn Ashton showed off his amazing skills on a bike with the release of Road Bike Party. The film hit nearly 10 million hits by the end of 2013. The bike is fitted with Hope carbon wheels and amazingly, the only damage they sustain is one puncture during the whole film.

• 2013 Mr Gas to Flat, aka Adam Brayton, joins the downhill team, and Sam Flanagan represents for the Enduro team. Hope Factory Racing take their third consecutive win of the Rapha Supercross series. Hope is paid a visit by Prime Minister David Cameron as part of the "Get Britain Cycling" campaign. Guy Martin attempts and gains the British record for outright speed on bicycle. With the help of slipstreaming, he reaches 112mph. Hope developed a special drivetrain for the the custom-built Rourke frame.

• 2014 The younger members of the team drag Simon Sharp and one of the managers, Woody Hole, to Crankworx, which rejuvenates their passion for mountain bikes.
Purchase of a six-acre site is finalized to expand current facilities and house the planned velodrome.

• 2015 - After years of prototyping, and hundreds of 'Spy Shots,' the Hope crankset may finally be launched.