Compared to the vast array of flat pedals, choice in the clipless pedal market is restricted, even though the range of clippy compatible shoes massively outnumbers flat pedal sneakers. Shimano's classic SPD system, Crankbrothers, Time and more recently HT have been your suppliers of choice, with aggressive options using a large platform or cage with pins for traction being very rare. Nukeproof have stepped into this niche with a duo of platforms for you to get your cleats into. Will 2017 be the year of Sam Hill clipping in to accelerate him to Enduro World Series glory? We have a pair in the post for testing, but for now you can read the press release below.
- Paul Aston
---
Since our inception, Nukeproof has been synonymous with high-quality innovative components. Components blending high-quality materials like titanium and Carbon, with products like Bombshell hubs and Carbon bars. These values are as true today as they were in 1990 creating components that we want to ride.
In 2015 we released our Horizon Pro and Comp pedal range – a project jointly developed with Sam Hill. The aim; to provide the ultimate flat pedal platform. This was our starting point for Horizon, using our experienced athlete and development team to create class leading products. Horizon has no boundaries, Horizon will allow you to perform to your potential and chase the edge of performance.
Introducing the latest addition to the Horizon range:
Horizon CL and Horizon CS.
Designed and developed in-house to meet our exacting standards, taking input and influence from our elite athletes including; Matti Lehikoinen and Mike Jones. The New CL and CS take inspiration from our ultra successful Horizon Pro pedal. Developed featuring our unique platform, offering confidence inspiring feel with a secure, easy engagement mechanism.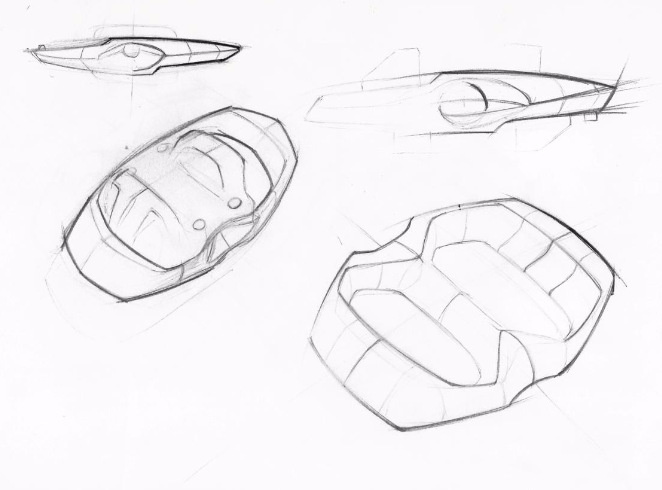 The CL is the larger of the two platforms designed as a more gravity focused pedal, with the smaller caged CS model designed towards the trail customer.
Tech info:
Axle System:
Both Horizon CL and CS use our proven axle system utilizing a combination of sealed cartridge bearings and DU bushes to provide a super durable and easily serviceable assembly.

PROVEN AXLE SYSTEM
As with the Horizon Pro we produced the 6061 Aluminium body using a cold forged process which equips the pedal with high strength Vs weight characteristics due to its optimized grain structure. This is not achievable with more common cast or machined pedal chassis. The Q factor (55mm) of the pedals will not change between the CS and CL and is designed to be compatible with 142mm/148mm/150mm rear axles.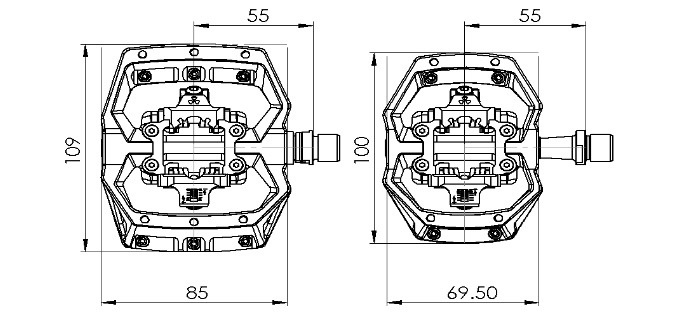 The 6061 Aluminium chassis has been cleverly engineered and designed to accommodate a multitude of shoe profiles (Black outline is the CL and Green the CS). The sloping toe edge prevents obstruction during engagement, reduces weight and protects the bindings and mechanism from strikes with rocks and obstacles.

LOW PROFILE CONTOURED CHASSIS
The Horizon CL and CS have a large pedal to shoe contact area either side of the mechanism. This is designed to add stability when engaged, maximizes power transfer and provides a flat pedal feel inspiring confidence for riders of all abilities.
SIDE SUPPORT PLATFORM
Riders can tailor the traction pins to offer varying levels of grip depending on preference by simple adjustment of the pin heights or removing pins completely through removal of the washers supplied. (6 pins on the CL model/ 4 Pins on the CS model).
OPTIMISED LEADING EDGE
Our unique chassis profile and clever placement of the pins and have led the way for a contoured leading edge to help deflect rock strikes and obstacle impacts away from the mechanism and riders foot.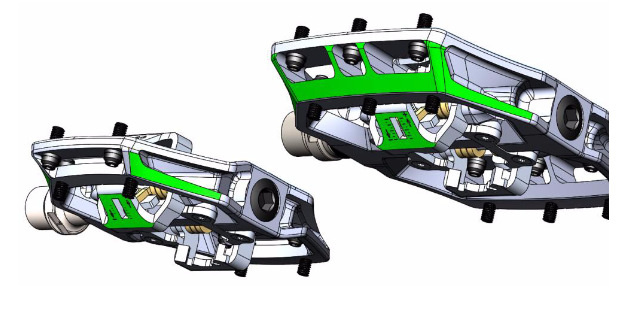 DUAL ENGAGEMENT CLEAT
The Nukeproof cleat is profiled with front and rear ramped edges offers a seamless engagement with the mechanism in all riding conditions. Spring-loaded front and rear bindings enable the rider to engage from
all
directions (forwards, backwards and above). Spring tension can be adjusted via a 3mm hex key offering varying levels disengagement force.
There will be two versions of the cleat available with a varying degree of float form +4 (supplied with pedal) to +8 degrees. This cleat system is unique to Nukeproof, but does support SPD devices.
All Pedals will be available in 4 colors: Black, Red, Blue and Copper
nukeproof.com
UK Retail (Prices correct at going to Press):
Pro (Flat Pedal):
CL Ti:
CL:
CS Ti:
CS:
Cleats:
Pins:

Weights (Per Pair):

Pro:
CL:
CL Ti:
CS:
CS Ti:


£79.99
£186.99 (TBC)
£99.99
£186.99 (TBC)
£99.99
£10.99
£10.99



430g
526g
430g
432g
352g

---
MENTIONS
:
@Nukeproofinternational
---