In 2010 Jackson was introduced to the mountain bike community with a
run bike video shot by his dad
. Over the past six and a half years "Jackson Run Bike to Kindergarten" has been viewed over a million times. In the past six and a half years Jackson has made it through kindergarten and a couple of other grades. He has also gone on to become recognized in the mountain bike world. And while people get a glimpse into what Jackson does on a mountain bike they don't realize that he is just a regular kid. He goes to school Monday to Friday, he plays soccer, and he skis. He races RC cars with his grandfather and cousin, he takes guitar lessons, he will take any opportunity he gets to shoot you with a Nerf gun, and does a bunch of other "kid" things.
Riding with Jackson is a lot of fun because he looks at things like a 12-year-old. His small wheels pop off things that larger wheels will roll over. His energy level is endless and he can be hard to keep up with after a long ride because he just keeps going.
Woodward West has become a second home to Jackson and mountain biker director, Jake Kinney, has become like an older brother. Jackson feels at home there and he's able to be himself—playing pranks on the other people who are there, showing first timers around, and riding lines like a local. Watch the video, then delve into the mind of this energetic grommet in the interview below.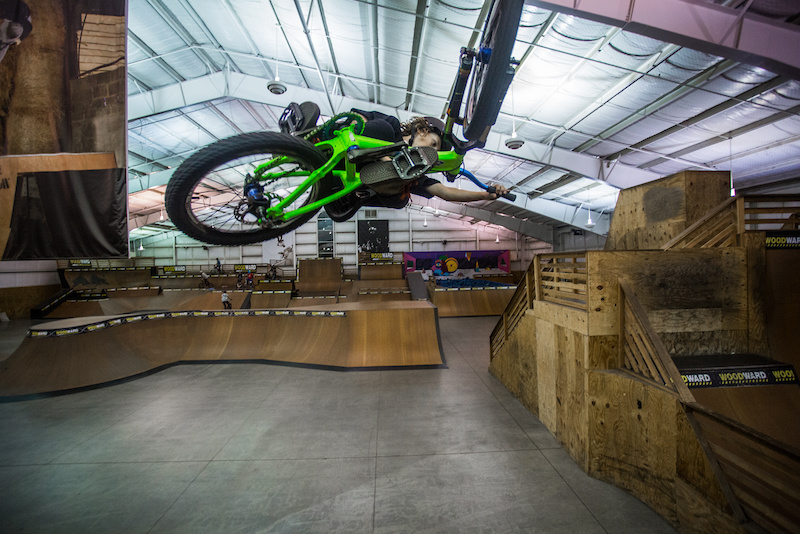 2016 ended with two trips to Woodward West. How were they different?
The last two trips of 2016 were different because during the first one there were no camps going on at Woodward and it was more of a private trip with a friend for training. The second trip was a family trip, we drove down and spent some time in Santa Cruz and then I went to winter camp.
What were you working on most at Woodward? Were you able to land anything that you have been working on for a while?
I was working on a bunch of different things at Woodward. I backflipped the spbox; it's a spine with a box jump landing, I also oppo three'd that, I tail whipped the whole resi and also 360'd the whole box.
You did a lot of travel last year, can you tell us where you went?
I did a lot of different trips down to California and Woodward. At the start of the year, before Sea Otter, I was at Woodward for two weeks and then drove down to Sea Otter with a couple of friends from Woodward. I raced in Port Angeles, rode at Coast Gravity park, rode in Kamloops and went on a trip to France for Crankworx.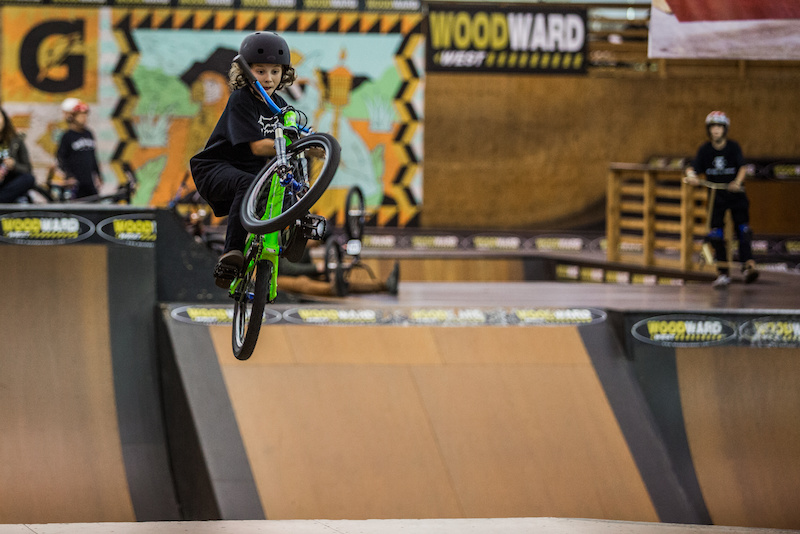 Which trip was your favourite? Why?
My favourite trip was probably the trip to France because I got to see a new place, meet new people and watch Crankworx. Instead of staying in a hotel, we stayed at Drift riding lodge which had everyone eating and hanging out together which was way more fun. Even though it rained a lot it was still super fun to ride the mountain. We were so muddy at the end of the day it was so much fun.
What professional riders did you get to ride with in 2016? Who was your favourite to ride and hang out with?
I rode with so many pros in 2016 that I can't really think of who would be my favourite, it's alway so much fun to ride with pros. I got to ride with Danny Hart at Coast Gravity Park and in Whistler. At Woodward West there are always pro riders who come up to train, so we get to watch them. I rode in a Vans competition in Los Angeles with a lot of pro BMX riders, it was so much fun. I got to ride with Cam Zink and Mark Wallace in an Oakley video during Crankworx too.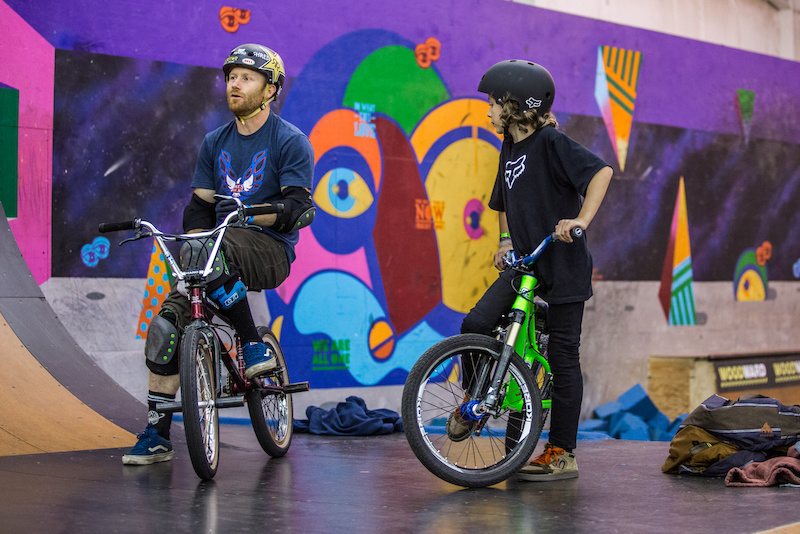 You got to ride with Danny Hart after he won World Champs. Were you able to keep up with him? Did you show him any secret lines in the bike park?
When I rode with Danny Hart after World Champs I basically didn't ride with him; I rode with him up the chair lift, but he was so far ahead on the trails. I didn't get to show him any secret lines because he was so far ahead of me. It was awesome after a full race season he was so happy to be riding in Whistler, just stoked to be there.
You are a pretty active almost teenager, what other activities do you do?
I do a lot of different activities like soccer, I ski, I like to shoot my bow and arrows, I have an RC car, I play a little bit of guitar, and go to school.
How did you get into archery? How often do you shoot your bow?
I got into archery from one of my friends at school. He took me to an archery night and I immediately loved it so I went every Friday after that. They (archery place) have a family shoot on Fridays, I try to go to every one, I've only missed a couple.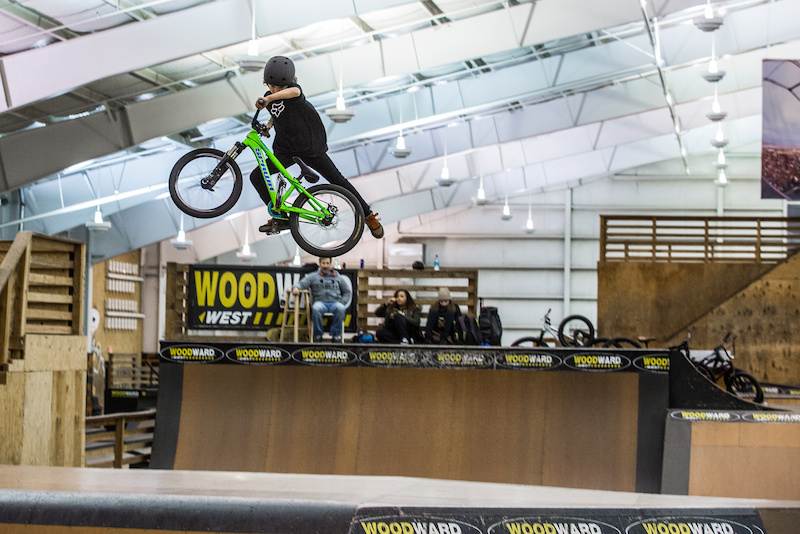 What position do you play in soccer? Did you score any goals last year? Any plans to give up biking and play soccer full time?
In soccer, I play left mid or left wing. I haven't scored many goals, we have a really good striker on our team who scores all of the goals so I am more of an assister. I have zero plans to give up biking to play soccer full time because biking is so much more fun.
Winter has hit Squamish pretty hard, what have you been doing instead of biking?
With so much snow on the ground in Squamish, I've been skiing in Whistler and in my back yard. I've been going to the Air House, our local trampoline park and a little bit of school.
Describe your feeling when a box shows up from your sponsors.
When a box shows up from one of my sponsors I'm so excited to open it and see what's inside. It's almost like Christmas and I am super excited to open it because I love all my sponsors and they make awesome parts.
Do you feel you have any special advantages over other riders your age? If so what would they be?
I do feel that I have some advantages because of my parents and how awesome they are, I also get to ride with a lot of pro riders like Jake Kinney, always helping to make me better, all of the amazing trails in Squamish, and living close to Whistler. I live in the perfect place with the perfect people.
You ride trails, bike park, skatepark, and dirt jumps. Is it hard to go from one style of riding to another and do you prefer one style over another?
I will ride all of my bikes on the same day so it's not really hard to transition between different bikes. It's super hard to pick which style is my favourite. During the winter time, I ride a lot more of my hardtail so I prefer dirt jumps and slopestyle. But, in the summer I ride the park all of the time so then I prefer downhill way more.