phil-stockers258
Member since Mar 27, 2016

40
Crewe , United Kingdom
Block user
Recent

Mar 29, 2021 at 3:04
Mar 29, 2021

Selling
Mar 29, 2021 at 3:01
Mar 29, 2021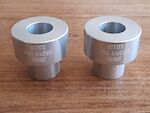 $15 GBP
Hope Pro 2/4/Evo Front Hub Bearing Tool HTT 173 – Bearing Support Bush, 61804 In 'as new' condition – please see pictures for exact description of what's included, condition etc. I can't actually recall ever using this tool! Opened & kept in my tool kit, but never used. £15 posted. £12 collected (Crewe, Cheshire) – socially distanced. Questions? Holla! Thanks for looking.

Mar 6, 2021 at 12:14
Mar 6, 2021

Selling
Mar 6, 2021 at 11:58
Mar 6, 2021
$750 GBP
Whyte 806 Compact 650b, Extra Small, XS, Hardtail Mountain Bike inc. many New Parts & Upgrades - Shimano, Hope, DMR, Fizik, Elite... For Sale! Reluctant sale of our son's 2016 Whyte 806 Compact – sad to see it go but simply, he's outgrown it! He's loved every minute of owning this bike, with many happy memories made along the way – Coed Y Brenin, Llandegla, Cannock Chase, The 7 Stanes (Scotland), Surrey Hills, Llyn Peninsula etc. etc. Ridden regularly for 4 years since new but lovingly cared for and maintained, regardless of cost – the pictures are testimony to this! Size: Extra Small – rare as hens teeth! Colour: Granite/Grey/Aqua Check out the Detail... BRAND NEW parts, UPGRADES, OEM Spec. ... BRAND NEW Parts, never ridden – over £200 spent, Jan/Feb 2021 Rock Shox Forks – NEW seals & fluids/oils. Full strip and service by LBS - Cytech qualified (£90) NEW Shimano Deore Chain (£17.50) NEW Shimano Deore Cassette (£35) NEW Shimano Deore Bottom Bracket (£25) NEW Headset bearings, top (cartridge/retainer) & bottom (£15) NEW Front & Rear Gear Cables – new inner cables and outer cables (£20) NB: whilst in the LBS (for the fork and cable service), it was checked over in prep. for sale… the response? Spot on, in many ways like new, in several ways better than new, ready to ride away! Upgrades(over stock / OEM) Parts – £130 + spent over the last 4 years HOPE seat clamp, black - 4 years old, £20 when new DMR Brendog Deathgrips, Camo, Thick – brand new, £17.50 (NB: one of the hex bolts on one of the collars has some rounding, from installation) FIZIK Gobi XM Wing Flex, Tail Flex Saddle with ICS (Integrated Clip System) – few years old, from memory was £80 new. ELITE bottle cage, black/stealth - 4 years old, £15 when new MBUK 'Minty' Mint Sauce – free but Priceless! Class. Pure Class. Brand new, unused. 'Stans No Tubes' - rear wheel set-up tubeless. Stock/OEM Spec. – as listed by Whyte Frame: 6061 Hydro Formed T6 Aluminium, Multi Butted, internal Brake and Cable routing Wheels/Tyres: WTB Asym i1927.5" Rims, WTB BeeLine TCS Light Fast Rolling, 27.5" x 2.2"Tyres (Rear set-up 'Stans' Tubeless; Front Tubeless ready) Brakes: Tektro Auriga HYDRAULIC, 160mm rotors (NEW Tektro OEM pads around 50 miles ago) Fork: RockShox Recon Silver, 100mm Travel, Solo Air, Adjustable Rebound (NB: The air pressure is set for a 70KG rider so compression is fairly firm - clearly this is adjustable up/down. Also to note... the effectiveness/usefulness of the 'lockout' feature on this fork [or, this model?] is/has always been questionable - we just don't use it but we've never particularly noticed any significant difference with it turned on v off!!! - it 'feels' the same re: 'firmness', not sure whether or not that's to do with the relatively high pressure that's in them???...) Chainset / Chainrings (40/30/22) / Bottom Bracket / Cassette (11-36) / Chain: Shimano Deore, Hollow Tech II, Silver, 10 Speed, 170mm Cranks Bar: Whyte Riser Bar 15mm rise, 31.8mm, 700mm Wide No pedals. Wear and marks commensurate with age and use – for example, but not limited to: small areas of shoe rub on cranks, small surface scratches on the seat post from insertion/height adjustment, the odd minor surface scratch/mark e.g. on the underside of the downtube on the decals, from the Thule roof carrier etc. etc. HOWEVER... no dints, dings, cracks etc. - frame is straight. Very much sold as seen, in good faith, having been as open, honest and transparent as possible - please see pictures for exact/further details re: description, condition etc. Happy to answer any questions and likewise, send any additional pictures. It's had that much service work done & new components/parts fitted that it's good to go for hundreds of miles, riding style/terrain dependent... Do any parts/components soon need replacing? IMO, no - however at some point you may want to update the rear tyre (there are minor signs of wear on the tread and walls) and replace the middle front chainring... however there's plenty of life left in them yet! As aforementioned, happy to answer any questions on, and likewise send any send pictures of, any part of the bike… Open to reasonable, respectful offers – please respect the brand, model, age, condition and amount spent on new parts and upgrades! Make mean offer, I can only say 'No'! COVID-secure, socially-distanced collection ONLY. I will NOT ship. Payment via Bank Transfer (Mobile Banking?) ONLY please, on Viewing/Collection of the bike. Strictly NO PayPal. Questions? More details / pictures? Holla! Thanks for looking – the bike is listed elsewhere so this ad. may be withdrawn without notice. Sizing Info. & Geometry (from Whyte) [To give you an idea of sizing, our (slightly taller than average) son used it from approx. age 9 to 13. We found the XS frame with compact geometry/components rolling on 27.5" wheels the perfect bike to move on to from his previous 24" wheeled bike. Light, roomy, nimble, rolls brilliantly. Whyte suggest the XS is suitable for those from approx.. 4'7" – 5'2" in height –either older children/young adults or small adults. Our son is now 5'5" and has just stopped using it.] Head Angle 68.5 Seat Angle 74.0 Top Tube 570.6 BB Height 303.5 Standover 775.5 Wheelbase 1089.1 Chain Stay 435 Seat Post 30.9 Head Tube 107 Seat Tube 381 (15")

Jun 15, 2019 at 10:53
Jun 15, 2019

Selling
Jun 15, 2019 at 10:50
Jun 15, 2019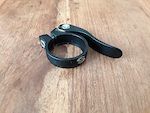 $3 GBP
Cotic QR Seat Clamp - 34.9 mm 2012, if my memory serves me correctly! Taken off my youngest lads XS BFe, simply because a dropper post was being fitted. Overall, in very good condition... (please see pics.) - black collar/lever & screw in excellent condition - v. slight surface corrosion to washer/spacer plate Impressive build-quality & functionality. Not too heavy. In my opinion, it's not far off Hope quality... £3, collected - Cheshire. £6, posted. Cash/collection preferred. If posting, payment via PayPal with buyer paying fees. Open to offers - near, reasonable and respectful offers... Nonetheless, make me an offer, I can only say no! Viewings welcome. Sold as seen, in good faith, having been as honest and transparent as I can... any questions, give me a shout - no problem! NB: also listed elsewhere so may withdraw ad at any time... Cheers for looking! Phil

Nov 7, 2018 at 12:12
Nov 7, 2018

Selling
Nov 7, 2018 at 11:57
Nov 7, 2018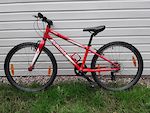 $200 GBP
Welcome to the ad for our 2016 Specialized Hotrock Street 24 " Children's / Kids Mountain Bike. Thanks for looking! Summary Light aluminium frame (12.3" frame) - great for developing bike handling skills Junior-specific/proportioned geometry & components - suitable for approx. 5yrs to 10yrs... 7-speed Shimano grip/twist shift gearing Single front chaining Rim/V brakes Specialized finishing kit *** UPGRADES *** (£54 in total!) Tyres: Schwalbe 'Black Jack' chunky/treaded MTB-specific tyres, 24 x 1.9 - £28 Pedals: DMR V6 (plastic) - £14 Water bottle cage: Specialized 'zee' cage, side loading water bottle cage, in matching red! - £12 A little detail re: use etc. Regularly used - very good to excellent condition... (somewhere between ex-demo and ex-hire) but not perfect! Frame/component wear and marks commensurate with age and the fact it's a kids bike! Mechanically sound - really well loved & always maintained regardless of cost (by myself/our LBS, where it was originally purchased) Specifically... there's a few of the usual/expected but very minor scrapes/scratches/scuffs/very minor paint chips etc. but not much at all and certainly nothing major/significant - i.e. no dints/dents/twists/crashes etc.! Please see pictures for condition - close-up/detailed pictures show the immaculate condition! In all honesty - and these pictures really do cover the entire bike, close-up - it's difficult to see anything other than the odd, very slight scuff... there's actually very little to report re: condition! If i'm being really picky/specific... There's cable-rub on the head tube and the underside of the down tube, simply from cable routing on this model. The left (non-gripshift) grip has a very slight slice in the rubber (from the end cap), at the end of the grip/bar - i.e. not on the grip itself/on the contact point. A solid, globally-respected brand - we've owned 8 Specialized bikes over the years and they've always been solid & reliable. In our opinion, a used Specialized is a better buy than a lesser-quality (new?) alternative that's the same price... they really are fantastic bikes and accept any challenge that's thrown at them! This has been to many trail centres (green/blue/red runs) over the years and 'just works'! I recall paying £270 new. I believe the similar-specced 2019 model is £350! We're looking for £200 ovno. We're open to sensible, respectable offers... we can only say no! Any questions/further info., please do ask... Payment: Cash on collection, only. Viewings welcome. Strictly collection only. It's sold as seen, in good faith, having been as honest & transparent as I can. Advertised elsewhere so may withdraw the ad. at any point. Thanks for looking! Summary info. from Specialized The tough, light, and durable Specialized A1 Premium Aluminium frame is built to last. 24" alloy wheels are designed to withstand years of use. The alloy V-Brakes provide reliable and excellent stopping power on the trail or on the road. NB: UPGRADED TYRES... Schwalbe 'Black Jack' chunky/treaded MTB-specific tyres, 24 x 1.9 Detailed info. from Specialized FRAME Specialized A1 Premium Aluminum, formed top tube/down tube, forged dropouts, replaceable alloy derailleur hanger FORK Alloy, straight blade, 1-1/8" steerer HEADSET Ahead, 1/8" sealed cartridge bearings STEM Ahead, forged alloy, 4-bolt, 20-degree rise HANDLEBARS Specialized flat, alloy, 6-degree backsweep, 25.4mm GRIPS Specialized, Kraton, Revo type FRONT BRAKE V-brake, alloy, linear pull REAR BRAKE V-brake, alloy, linear pull BRAKE LEVERS Tektro, alloy, linear pull compatible REAR DERAILLEUR Shimano TX-35, 7-speed, MegaRange SHIFT LEVERS Shimano Revo-Shift, 7-speed CASSETTE Shimano, 7-speed freewheel, 14-28 CHAIN KMC HV500, 1/2"x3/32" CRANKSET Forged alloy arms, w/ double outer chainguard CHAINRINGS 36T, steel BOTTOM BRACKET 68x119mm, semi-cartridge, w/ bolts PEDALS Composite platform, w/ reflectors, 9/16" RIMS 24", alloy single wall, pin joint, 32h FRONT HUB Alloy, 3/8" axle, loose ball, dual lock nuts w/ 17mm contact side, nutted, 32h REAR HUB Alloy, loose ball, dual lock nuts w/ 17mm contact side, steel nutted, 32h SPOKES Stainless, 14g FRONT TYRE REAR TYRE INNER TUBES Standard, Schrader valve SADDLE Specialized Kids, 7mm rails, w/ bumper SEATPOST Alloy, single bolt, 27.2mm SEAT BINDER Alloy, 31.8mm

Selling
Nov 7, 2018 at 11:54
Nov 7, 2018

Oct 23, 2018 at 11:41
Oct 23, 2018
Load more...