The 2017 Absa Cape Epic started exactly as they 2016 edition ended, with Manuel Fumic and Henrique Avancini (Cannondale Factory Racing XC) powering onto the Meerendal Wine Estate fields to take the win.
Last year the pair claimed the final stage of the Cape Epic; this year they put their considerable cross-country talents to good use to out-race a star-studded field to claim the 26km Prologue at a blazing hot Meerendal.
2016 Olympic cross-country champion Nino Schurter and teammate Matthias Stirnemann (SCOTT-SRAM MTB Racing) finished second, with Trek-Selle San Marco's Samuele Porro and Alexey Medvedev taking the final podium place.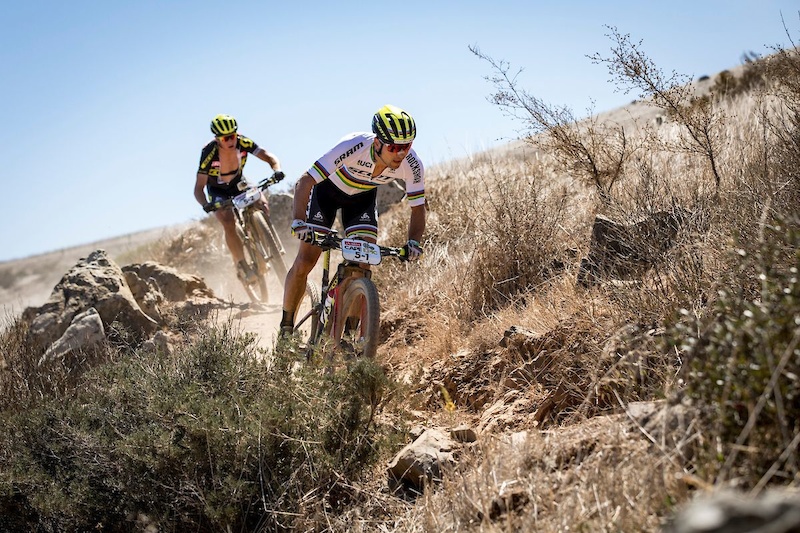 Defending champions Karl Platt and Urs Huber (Bulls) finished sixth, while returning five-time winner Christoph Sauser and Czech teammate Jaroslav Kulhavy (Investec-Songo-Specialized) were fourth on the day.
As ever, Fumic was all smiles off the bike. "We are very happy with the result," he said. "Our plan was to put up a good time and that's exactly what we did. Obviously the Prologue is a cross-country day and that really suits us. We targeted this day and our aim was always to be number one on the podium. But 26km is very routine for us. Tomorrow the race starts and we are hopefully be near the front for the rest of the week."
Like the rest of the elite men's field, Fumic said that race conditions were extremely trying. "It was very warm out there, one of the hotter days I've had. We realised very quickly that we had to pace ourselves, ride together and take turns doing the work. On Saturday we rode the Prologue route, so we knew what to expect. It also helped us make the right adjustments to the bikes overnight. Our strategy worked and we also had a faultless ride; we made no mistakes on the bike today. Everything came together nicely."
World Champion and Olympic champion Nino Schurter gave it his all on the day, but the heat appeared to take a heavy toll on his teammate Stirnemann. "It was very warm, which came as something as a surprise to us," said Schurter. "We are here for stage wins and today just didn't work out. Looking ahead to the rest of the week, we will target a few more stages and hopefully stick in the top three or four of the overall race. Our focus is not the overall win, but the podium is definitely a target."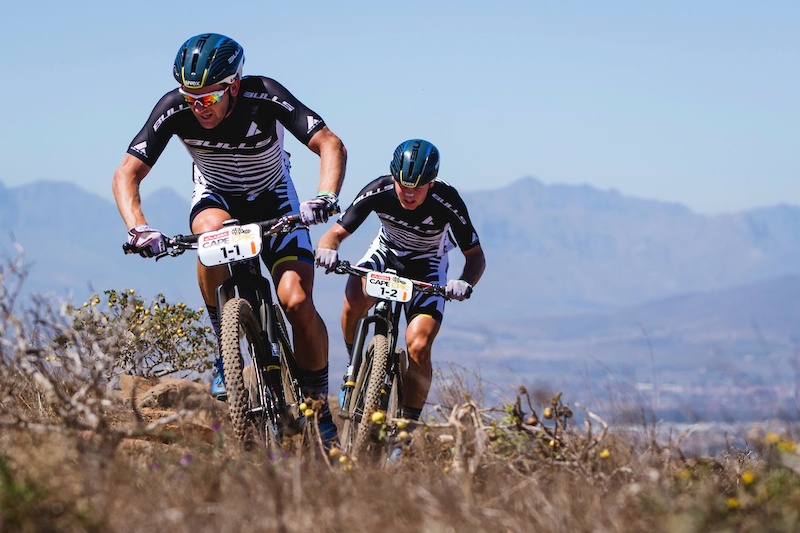 Returning Cape Epic legend Sauser, who rode last year but didn't race, appeared fresh at the finish and was particularly heartened by what he called his "best Prologue ever". "I am super happy with that result; I think we were one of the first marathon teams home, which is a good result for us. It feels great to be back racing - maybe I won't say that in the middle of the week - but right now it's a good feeling," Sauser said.
"I am feeling very good with my form, in fact I think that was probably one of the best Prologues I've ever had at the Epic. I felt like I was completely in sync with the bike and I was just able to flow through the stage. Initially, I was worried about being dropped by Jaro, but after a few kilometres I was feeling good so we were able to let loose."
Sauser and Kulhavy, who last rode to victory in 2015, will be among the favourites for the overall title this week.
Looking slightly disappointed after their Prologue ride were defending champions Platt and Huber. Platt in particular seemed to have taken strain in the hot conditions after the pair had blasted out of the starting block.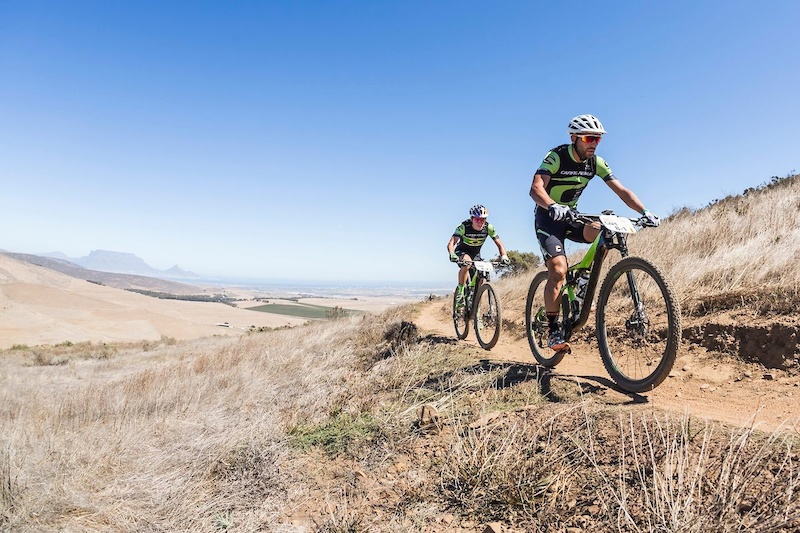 "That was very hot. Normally there is wind at Meerendal to make it a little bit cooler, but today the wind was gone," he said. "Our ride did not go according to plan; I think we were maybe a little over-motivated at the start and went out too fast. We were going hard, but just couldn't keep the pace up all the way to the end."
Platt, though, was his usual pragmatic self when reflecting on the sixth-place. "It's only one stage and we have the whole week to make it back. We will look to make time back little by little every day."
Tomorrow the five-time winner will have 101km to make a splash at the 2017 Absa Cape Epic, as the event moves to Hermanus for the first time since 2008. Stage 1 will start and finish at Hermanus High School.
www.cape-epic.com