Here at Pinkbike we get inundated with all kinds of questions, ranging from the basic "Can I have stickers" to more in-depth, soul searching types of queries like if you should pop the question or what to name your first child.
Ask Pinkbike
is an occasional column where we'll be hand picking and answering questions that have been keeping readers up at night, although we'll likely steer clear of those last two and keep it more tech oriented.
---
XX1 Troubles
Question:
Pinkbike user bootch70 asked this question in the
all-mountain, enduro and cross-country
:
I have an Intense Tracer T275 with a SRAM XX1 drivetrain and I occasionally drop my chain. What's weird, though, is that it falls off when riding really mellow sections of trail, but it stays put when I am bashing through a rock garden. I can't figure out why it's coming off - any ideas? My second question is which chain guide would work for this setup? I'm looking for something with minimal pedalling resistance and that holds the top and bottom of chain.
The first thing to know is that not everyone is going to be able to run SRAM's single-ring drivetrain without a chain guide and not have the odd dropped chain, despite there being reviews out there (including from myself) that constantly mention not suffering from that issue. I think that I've personally only dropped a chain maybe four or five times when running a stock SRAM single-ring setup since the first XX1 group was released, which I'm okay with, but everything has to be adjusted correctly and not worn out for it to perform at its best. I'd immediately suspect that the clutch in your derailleur has gone awry, which isn't unheard of, that your narrow/wide chain ring is worn out, or that your chain is a few links too long (does the chain fall off when you're using the smaller cogs, and therefore there's less chain tension?).

Alternately, you may just be the type of rider that should be using some sort of chain guide. Some people, especially those who are pushing hard and going fast over rough terrain, are just always going to need some sort of chain guide, which is something that SRAM has never denied. I doubt that you need a full-sized chain guide with both top and bottom rollers/sliders, though, and I'd recommend looking at the 1X from MRP or e*thirteen's XCX minimalist, both of which are upper-slider only guides. - Mike Levy
---
Type 2 Derailleur Clutch Adjustment?
Question:
D-Danger asks in the
Mechanic's Lounge Forum
:
Has anyone with a SRAM clutch mech experienced any problems with them? My X0 now acts like a regular rear derailleur (lots of chain slap). Is this problem fixable? Many thanks in advance.
I've had this issue crop up on a number of test bikes, usually after the first few rides. Luckily, there's a quick and easy solution, but before reading any further, keep in mind that this method isn't fully endorsed by SRAM - there's no mention of adjusting the clutch in any of their maintenance manuals. Basically, if you break something, it's your own fault. Also note that this procedure is only for Type 2 derailleurs, not the recently introduced Type 2.1.

With that out of the way, here's what to do. First, pry the plastic dust cover off the clutch mechanism with a razor knife or a thin flat head screwdriver (the words "Roller Bearing Clutch Type 2" are printed around it). Next, take a T55 torx wrench (an 8mm hex will work in a pinch), and rotate the bolt that the dust cap was hiding 1/4 to 1/2 turn clockwise to start. Move the derailleur cage forward to gauge how much tension is on it, and adjust accordingly. Too much tension and your shifting will be adversely affected, and too little and you'll still have that chain slap problem. Once there's enough tension for your liking, pop the plastic cap back on if you didn't mangle it too badly removing it, and you're all set. If you need to do a more extensive overhaul, last year's Tech Spotlight article contains more detailed instructions. - Mike Kazimer
---
Converting From a Triple to a Double Crankset
Question:
Mikechap4 asks in the
All Mountain and Cross-Country Forum
:
I have a Trek Fuel EX8, running a full Shimano XT setup and I am looking to swap it from 3x9 to 2x9 or 2x10. What front chain ring sizes and are best for me to use and is there anything to bear in mind? Is 2x9 worth having, as it means I don't have to touch the back? Or, should I scrap the idea of working with what I've got and buy a complete new 2x10 setup?
The 2014 Trek EX8s were ten-speeds with 29-inch wheels, while the '13 and earlier EX8s had 26-inch wheels. I would suggest running a 22 by 34-tooth combination if your bike is a 29er and a 24 by 38-tooth combination if it has 26-inch wheels. Because you are dropping the outer chainring, you will need to purchase shorter chainring bolts to compensate for the change, or add a bash ring in place of the 42 to make up for the spacing error. You will be running the larger sprocket on the inside position of the crank spider in either case. Keep your nine-speed cassette if it is fresh, because switching to a ten-speed setup will be expensive. You'll be buying a a new chain, rear mech, cassette, and a right-side shift lever in addition to your new chainrings.

If you do want to pop for an all-new drivetain, however, I'd upgrade to an XT Shimano Shadow Plus rear mech so you will have the chain control advantages of its one-way clutch. Most aftermarket chainrings will only be available in ten-speed widths, so you will need a ten-speed chain even if you keep your nine-speed setup. Chainrings with matching shift ramps (very important) are available at a fair price from Race Face. If you are going to the trouble of upgrading to ten speed, however, I'd strongly consider switching to a one-by drivetrain using a 42-tooth cassette extender from the likes of OneUp or a Wolf Tooth, in addition to either a OneUp RAD cage or a Wolf Tooth Goat link hanger adapter for the XT derailleur. You will end up with a lighter, cleaner-looking, and more functional drivetrain for about the same money - and you'll have a narrow-wide chainring for better chain retention. Use a 30-tooth ring for a 29er and a 32 or 34-tooth ring if your Trek is a 26-inch-wheel model. - RC
Mikechap4 only needs to replace two chainrings and his chain to convert to a one-by-nine drivetrain. If he chose the ten-speed route, he could buy a Shimano Deore two-by ensemble like the Felt's on the left - or convert to a wide-range one-by drivetrain using one of the available kits, like the OneUp cogs, chainring, and RAD cage on the right for about the same money.
---
60mm Direct Mount Stem
Question:
Pinkbike user nuttbt asked this question in the
Downhill Forum
:
Anyone make a 60-65mm direct mount stem? I like the feel the longer stems give me. I think it's because my bars are closer to front axle. I know ENVE makes a 60 but that's insanely expensive. Truvativ makes one too but I absolutely hate their products.
60mm Direct Mount stems seem few and far between, you may have to bite your tongue and go with the Truvativ Holzfeller (I had one in 60mm a few years ago with no issues) or stump up for the Enve. Easton make a Havoc stem which is adjustable between 45/50/55mm, so not far off 60mm. Of course there are plenty of robust stem options which aren't DM.

If you really feel like you need a longer stem to get your bars closer to the axle, maybe a steeper head angle, or adjusting the balance of the bike could be the solution? You could try an Angleset to steepen up the steering angle which will move your hands farther over the front axle, and give you a little more reach.

The cheapest and easiest experiment would be to adjust the dynamic ride position of the bike. Either, by stiffening the rear suspension and/or, softening the fork. This will have the effect of moving you hands towards the front axle. Check your rear suspension sag, if it's where you want it, add more sag up front. If this makes your fork too soft, you could try lowering the handlebar height, which will move your weight forward giving more sag up front but keeping the support you need. Downhill bikes can be super difficult to balance with so many variables and adjustments, so experiment and make notes along the way so that you can return to your previous setting if things go awry. - Paul Aston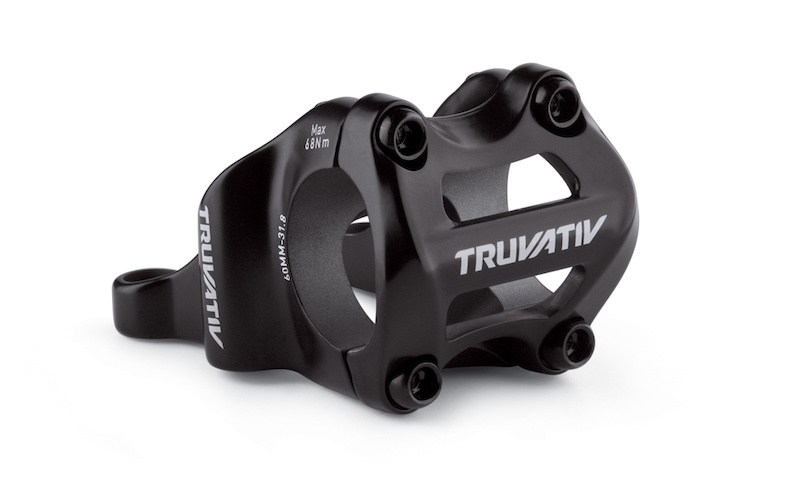 60mm direct mount stems are hard to come by, but there may be other solutions for riders who need to weight the front end.
---
Have some unresolved tech questions? Jump in the
Pinkbike Forum
and we'll look to answer it for next time.