Here at Pinkbike we get inundated with all kinds of questions, ranging from the basic "Can I have stickers" to more in-depth, soul searching types of queries like if you should pop the question or what to name your first child.
Ask Pinkbike
is an occasional column where we'll be hand picking and answering questions that have been keeping readers up at night, although we'll likely steer clear of those last two and keep it more tech oriented.
---
Shock Length Question
Question:
Pinkbike user darwinws asked this question in the
Mechanics' Lounge
:
I'd like to upgrade from the FOX DHX Air 5.0 shock on my bike but I'm having trouble finding something that fits. It has a 216mm eye-to-eye length, but most others that are close are 222mm long. Would using a shock that's 6mm longer affect the bike's geometry or cause other problems?
| | |
| --- | --- |
| | You're best to stick to the stock length shock on your bike. The longer shock will have a small effect on your bike's geometry - it will get slightly steeper if you run the same sag as the stock shock - but my bigger concern comes down to clearance issues. No, 6mm doesn't sound like much, but there are many places on a full-suspension bike where links or a swingarm can come extremely close to the frame, and engineers have designed the bike to within very tight standards. Putting on that longer shock could cause moving parts to come into contact with each other, which could lead to major damage. At the very least I would test fit the longer shock by installing it without the spring (or deflating it if it's an air shock) and pushing the bike through its travel to make sure that everything clears. It might not be an issue on some bikes but will be on others. - Mike Levy |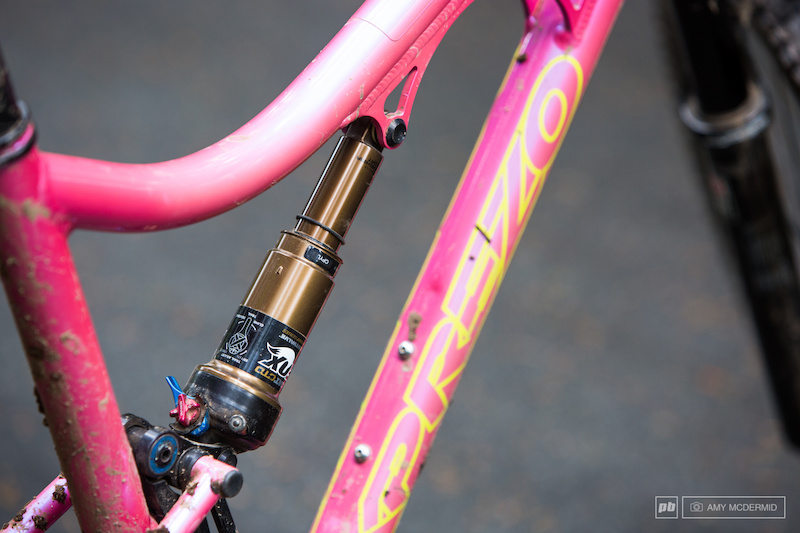 Some frames, such as Xprezo's Adhoc, have pretty tight clearances when it comes to its suspension linkage. A longer eye-to-eye shock wouldn't fit.
---
Tubeless for Technical Riding?
Question:
Sshredder says:
in a PM:
I was reading a thread about tubeless tires. I like to ride trails that cause pinch flats. I like rock Gnar etc. I prefer to run 800-gram tires with about 25 to 30 psi to prevent pinch flats and let the fork do most of the absorbing. If I run tubeless, I would probably want to run thicker-wall tires at a lower psi. That negates any weight savings, but in theory, I will not get pinch flats and will have better traction. If I ride aggressively, I will burp the tires (I have read). Will running a higher psi stop this? If I run say, 25 psi in a tubeless system, will I notice an improvement in traction? Is it worth it for my style of riding? I would say that I ride fast, with plenty of mistakes on roots rocks and steep stuff. I live at the base of the North Shore.
Few DH pros run tubes, so that is as good an indication as any that tubeless tires can corner hard and not burp air or pinch flat. Almost no enduro racers run tubes as well, but it is worth noting that both groups use wide rims (26 to 30mm inner widths) to stabilize the tires laterally. Pinch flatting is caused by the shearing action of the tire carcass as an impact captures the tube between the folded tire carcass and the rim's flanges. Eliminating the tube eliminates pinch flats, but even with a tubeless arrangement, the possibility remains that an impact with a hard object can rupture the tire's sidewall beyond the sealant's ability to instigate an instant repair and you will flat in a similar manner.

That said, That said, I'd go for tubeless. Use one-inch Gorilla tape to seal the rim, and Stan's is the best sealant and valve stem supplier. Keep the tires at 40 psi overnight after you mount them so the rubber glues itself to the rim walls (an old moto trick) and try dropping five psi from the pressure that you normally used when riding with tubes. Running tubeless will get you more traction everywhere, even if the tires are heavier, and your bike will roll faster. Both are facts. Keep one spare tube with you as a backup and you should be good to go.

There are some technical tips worth considering for first-time tubeless folks. All tires have a pressure sweet spot that provides stable cornering and good traction, so experiment until you find the right combination. Most rims and tires can be converted to tubeless, but the obvious advice is to begin with a rim and tire combination that is stated to be "tubeless ready" or even better, "UST certified," so that the inner-rim profile and tire-bead construction will assist and not stymie your efforts to mount and inflate the tires. Most combinations intended for tubeless will air up with a floor-pump if you remove the valve core to increase the flow into the tire. Stubborn tires require a ready source of compressed air. In lieu of a compressor, a cheap air storage tank can be inflated with a floor-pump to get the job done. - RC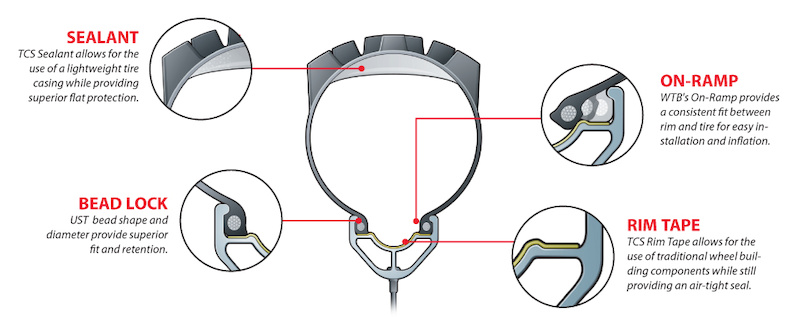 While this image is a bit of an advertisement, WTB's tubelesss ready rim and tire combinations illustrate all of the important aspects of tubeless system systems: The inner rim profile encourages the bead to seat and seal. WTB uses the rectangular, certified UST bead and rim flange interface, and a latex-based sealant ensures that the tire carcass is initially sealed, and that the tire will be self healing.
---
Fingers Locking Up on Downhills?
Question:
Roguee asks in the
the Downhill Forum:
My fingers are locking up a lot, I can't even enjoy rides any more because my fingers will be in agony on a two minute DH run. When I get to the bottom it takes about a minute for them to loosen up and then I can get the movement back. I was told I had my levers pointing down too low, so I moved them up (That actually worked for 2 or 3 runs and then the pain came back). Any suggestions on what I should do? I don't think I'm holding the bars too tightly and it's nothing to do with my suspension as it's happening on both bikes.
It sounds like you may have what I call A-Line hand, named after Whistler Bike Park's most famous trail. It's a common ailment at lift served resorts, where lap after lap of hard braking combined with the vibrations doled out by the miles of brake bumps can do a number on your hands, turning them into immovable claws by the end of the day. Adjusting your brake levers is a good starting point, but in addition to angle of the levers I'd also look at how far inboard the lever is. In most cases, there will need to be a gap in between where your grip ends and the lever body in order to achieve a comfortable position for one finger braking. I'd also recommend checking the lever reach (how far away the lever is from the bar). Having the levers positioned slightly closer to the bars can help relieve some of the stress on your hands.

Once you have your brake lever position sorted out, take a look at the grips you're using. Thick or thin grips are a matter of personal preference, and it may take some experimenting before you find a set that works, but a comfortable grip can be a big help. Your local bike shop should be able to show you a few different options.

Okay, your lever position is all set, you've got new, comfortable grips, but your hands still lock up - now what? It might be a matter of hand strength. You may not be holding on too tightly initially, but if your hands are getting fatigued it will force you to grip tighter and tighter with each run. There are a number of hand strengthening devices aimed at rock climbers that can work for cyclists as well. Don't overdo it, but work on steadily improving your strength until you can ride without pain. Of course, if the pain persists you should see a professional, a doctor or a physical therapist who can work with you to solve this issue. - Mike Kazimer
---
Dirt Getting Into Goggles?
Question:
Pinkbike user ZTSH asked this question in the
Downhill Forum
:
A mate of mine was saying his goggles fit perfectly snug to his face, with no wind into his eyes. Yet he still gets mud in his eyes when riding. He says its just going through the foam. Is this true or is he making excuses?
| | |
| --- | --- |
| | A phenomenon that has discombobulated downhillers for decades. Clean goggles - check. Goggles fit flush with your face, no possible way for dirt to get inside the goggles - check. Begin downhill run, spot chunk of dirt floating around, dirt starts tickling your eyeballs, enter jump take-off/entrance in to a steep root-fest/muddy off-camber rock garden, lump of dirt gets lodged in eyeball. How is this even possible? The main cause of this dangerous distraction is putting your goggles on to the back of your helmet in between runs. It's easy for mud to flick on to the back of your helmet when riding, in the exact place you would put your goggles, the mud gets knocked into the goggles when you take them off, and the next thing you know one eye is searing and closed, depth perception is disarmed and you can only guess how many milliseconds it will take to collide with the tree you are on a collision course with. The solution? Put your goggles in the bag they were supplied with, or double up the strap and wear them on your forearm, and most importantly always give them a really good shake before you don them. - Paul Aston |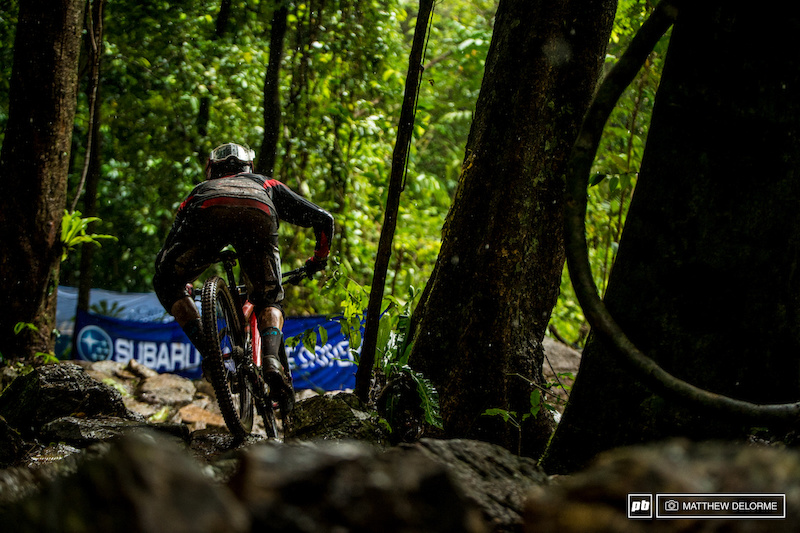 Placing goggles on the back of your helmet for your race-run is a sure-fire way to get mud in your eyes. Although Neko Mulally likes to make his own rules.
---
Have some unresolved tech questions? Jump in the
Pinkbike Forum
and we'll look to answer it for next time.