Here at Pinkbike we get inundated with all kinds of questions, ranging from the basic "Can I have stickers" to more in-depth, soul searching types of queries like if you should pop the question or what to name your first child.
Ask Pinkbike
is an occasional column where we'll be hand picking and answering questions that have been keeping readers up at night, although we'll likely steer clear of those last two and keep it more tech oriented.
---
Low Profile Pack for Park Riding?
Question:
Pinkbike user riggadon asked this question in
the Bikes, Parts, and Gear forum
:
I'm looking for a low profile/ slim hydration pack for riding DH at lift accessed trails. I need to be able to carry a tube, multi tool, CO2 cannisters, phone, keys.The bladder doesn't have to be more than 1L - I'll have no more than a few sips of water in it. So, a small amount of storage, no huge bladder, and slim profile that doesn't flap around whilst airborne. Any suggestions?
No one likes to makes the walk of shame at the bike park, that head down trudge back to the base area with your DH bike in tow simply because you couldn't be bothered to pack a spare tube and a pump. As liberating as it is to ride without a pack, carrying at least the bare essentials can make a day of downhilling go that much smoother. There are a few low profile options currently on the market, but two in particular caught my eye at last year's Interbike trade show. The first is Race Face's soon-to-be-released Stash Tank ($59.99), a light, breathable tank top that has pockets for a small hydration bladder and three separate pockets to hold the rest of the items you mentioned. The second possibility is Alpinestars' new Evolution jacket ($159.95), which offers back, chest, and removable shoulder protection, along with room for a hydration bladder on top of the back protector. Plus, there are a couple of smaller pockets in the kidney area that will accommodate your tube and tools. Both options will ensure you're not stuck by the side of the trail begging passing riders for tubes, and more than likely you'll end up being the one saving the day.

- Mike Kazimer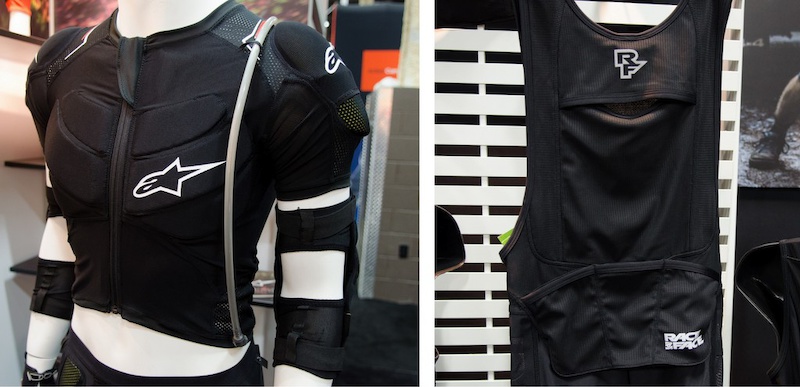 Alpinestars' Evolution jacket and Race Face's Stash Tank are both low profile alternatives to a traditional hydration pack.
---
OneUp One-By Conversion for My Ten-Speed Drivetrain?
Question:
Gmg454 asks:
All Mountain and Cross-Country Forum
I really wanted SRAM XO1 or XX1, in 1 x 11, but I didn't want to buy a whole setup (chainring, cassette, chain, derailleur and shifter = $$$$!). So, I ordered the OneUp 42-tooth cog ($100), and a 34-tooth Race Face chainring ($40). So, for $140, I'm hoping to have an 11 x 42 transmission, close to SRAM's 10 x 42. My fingers are crossed hoping this works. Is anyone running a similar setup? Or is it still too early? Am I missing anything?
At least two of us at Pinkbike are running a OneUp 11 x 42 one-by drivetrain and with good success, both in the shifting and durability departments. I started with the basic kit, like you are planning, with a 42-tooth cassette cog and a 34-tooth narrow-wide chainring. I have since upgraded to the optional 16-tooth cog, which neatly spans the big jump from the 15 to the 19 that is created by the need to remove the cassette's 17-tooth cog to make room for the addition of OneUp's 42. OneUp also makes a replacement cage plate that offsets the upper pulley, so that the standard rear mech' will more easily clear and shift to the larger, 42-tooth cog.

Both the addition of the 16-tooth replacement cog, and the Rad cage are not essential to your conversion, but they make it operate more smoothly throughout the range. OneUp sells the 42 and 16 as a pair for around 80 USD and the Rad cage runs between 55 and 35 USD, depending upon your mech. I assume that your Race Face chainring is a narrow-wide type, which should be considered an essential component to any one-by conversion.

Conversion kits like OneUp's make it practical for riders to enjoy the simplicity and lighter weight of a one-by drivetrain without shouldering the substantial expense of replacing every drivetrain component (including the freehub mech') with a SRAM 11-speed option. The only drawback of an 11 x 42 ten speed conversion is that you will not enjoy the extra top speed that is facilitated by SRAM's ten-tooth cog. - RC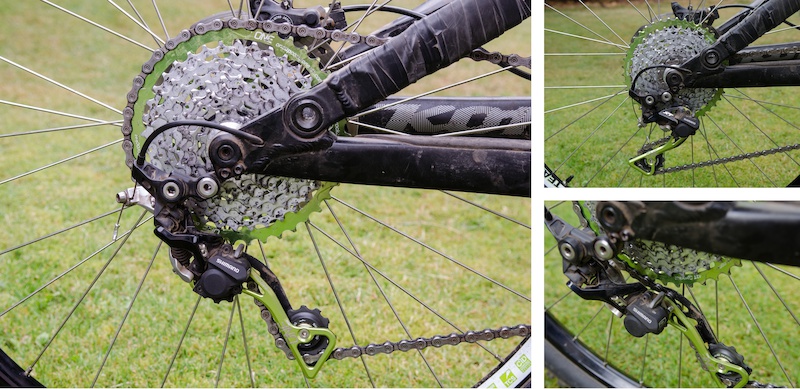 OneUp's Rad Cage and 16-tooth replacement cog were the missing links for riders who wished to convert to a one-by drivetrain by adding a 42-tooth cog to their existing ten-speed cassettes. We highly recommend them.
---
Best Protective Frame Tape?
Question:
Pinkbike user hardyk asked this question in the
Mechanics Lounge
:
Hey guys I was wondering what is the best tape you can use to protect a brand new frame? Cheers!
| | |
| --- | --- |
| | There are plenty of different clear tapes and vinyl's on the market, but as you mentioned further down the forum thread, you want to wrap a brand new frame entirely. I think InvisiFRAME could be your best option. UK residents can post their frames directly to Invisi and they will wrap your frame for you, or you can take it to a registered dealer and they will supply the kit and do it for you. If you reside elsewhere you can order the pre-cut frame kit for your bike direct from the InvisiFRAME website. There are plenty of kits for most bikes, but if they don't have the one you need they can supply a generic kit or design one specifically for you. They also do gloss or matte to keep your frame honest, depending on the original finish. I have had two frames covered previously with great success, the only place it can be visible is on the edges of the vinyl or around excessively awkward areas where there will be many cuts and angles. I never had any issues with discolorations or peeling, over time the matte vinyl will start to show up small scuffs and marks, but at least you know your frame is fresh underneath, the gloss vinyl can even be polished out to keep your steed sparkling. I can't comment on how difficult it is to apply the vinyl yourself, but I imagine with a clean workspace, patience and some spare time, achieving a decent finish should be easy. - Paul Aston |
---
Have some unresolved tech questions? Jump in the
Pinkbike Forum
and we'll look to answer it for next time.