Thanks Pinkbike for all the questions, fingers are killin me over here! I've got to run, sorry I couldn't answer the rest of the questions
For this edition of Ask Us Anything the man, the myth, the legend Steve Peat will be answering all of your questions. World Champ in 2009, triple World Cup Champion, 17 World Cup wins, 52 World Cup Podiums plus a
new film which chronicles his celebrated career "Won't Back Down"
. If you can't think of a question to ask Mr Sheffield Steel himself, you're having a laugh.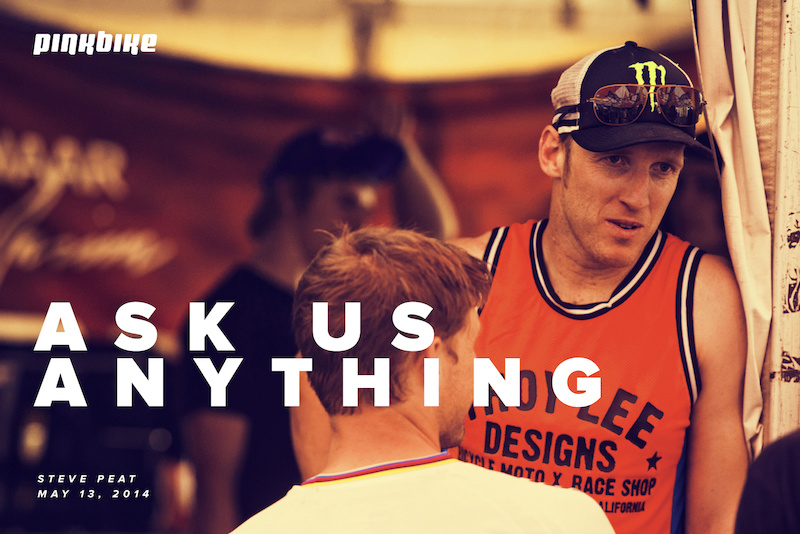 Starting
10:00am PDT / 6:00pm BDT Tuesday May 13
you can type your questions into the comment box following this article and Peaty will be on the other end to get back to you. Sometimes, your answer will pop up in a few seconds; others may take a while as Peaty will be busy responding to the flood of questions. Everyone who posts a question, large or small, will be taken seriously. To make the process as efficient as possible, try to follow these simple guidelines:
• Keep your questions relative. While this is an 'Ask Us Anything' session, the theme is 'Steve Peat!' Questions related to Peaty specifically are encouraged, but still feel free to ask whatever pressing queries you may have such as personal beer preference, etc.
• Stay on topic. Try to keep your questions on one topic if possible. You can always ask about another item later.
• Try to keep your questions to about 100 words.
• Ask Us Anything is a service to PB readers who are seeking helpful information, not a forum to broadcast opinions or grievances. If you do have a negative issue that you want to ask about, no worries, just keep your complaints relevant and in the context of a question so that it can be addressed in a productive manner.
• Use propping to acknowledge good - or not so good - questions. Bump them up or down to where they belong.
Clay Porter wanted to remind everyone.
The film will go live on iTunes on Tuesday, June 3rd
The film will be shown for free for 24 hours on PinkBike on Tuesday, June 17th
IMAGE BY NATHAN HUGHES