The B.C Supreme Court recently ruled in favor of Whistler Blackcomb when a rider sued after being critically injured while riding the park in 2009,
The Provence
reports.
Blake Jamieson had signed the Whistler Bike Park waiver that all riders are required to sign before being allowed to ride the world-famous facilities but claimed that Whistler Blackcomb "failed to warn him of the risks involved" and was seeking compensation as a result.
Jamieson is a graduate of the University of British Columbia and had been a volunteer Bike Park Patroller for three years prior to the devastating accident that resulted in him now being in a wheelchair.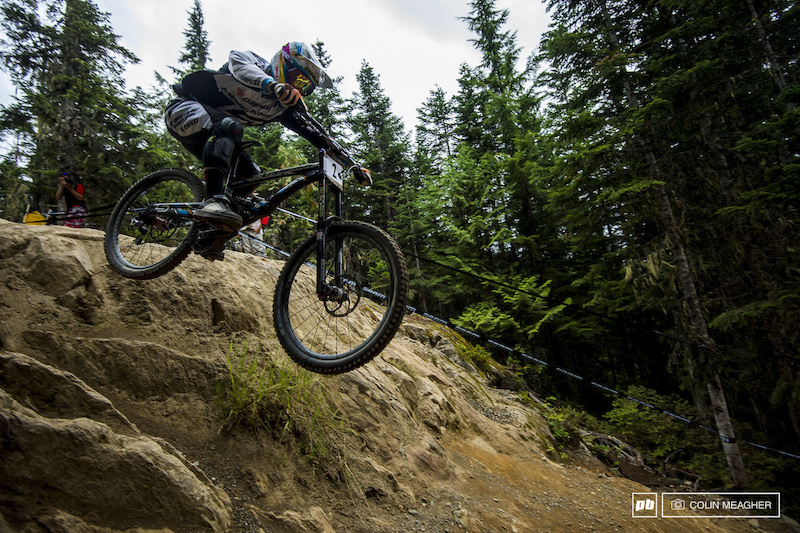 Loic Bruni, during the Crankworx Whistler Air DH, drops off the drop that caused the injury.
The accident took place on Whistler's world-famous A-Line rock drop—a feature that has a ride around and a number of options for dropping straight off it. It's claimed that Jamieson was attempting to pre-hop the drop—a move that takes considerable committment—but unfortunately, he caught his rear wheel on the end of the rock, causing the accident.
Despite being a volunteer patroller in the park prior to the accident, Jamieson claims that he "had no idea that a spinal-cord injury was possible and specifically that going over the handlebars was a common mechanism of injury".
In her ruling, Justice Neena Sharma found that the Whistler Bike Park's warnings of risk were reasonable and that someone who signed the resort's release would understand they were waiving their right to sue.
" … The Release is comprehensive, clear, and blunt. I do not see how any adult with basic reading skills could reasonably believe he or she retained the right to sue Whistler if they were injured using the park, even if Whistler was negligent," Sharma wrote.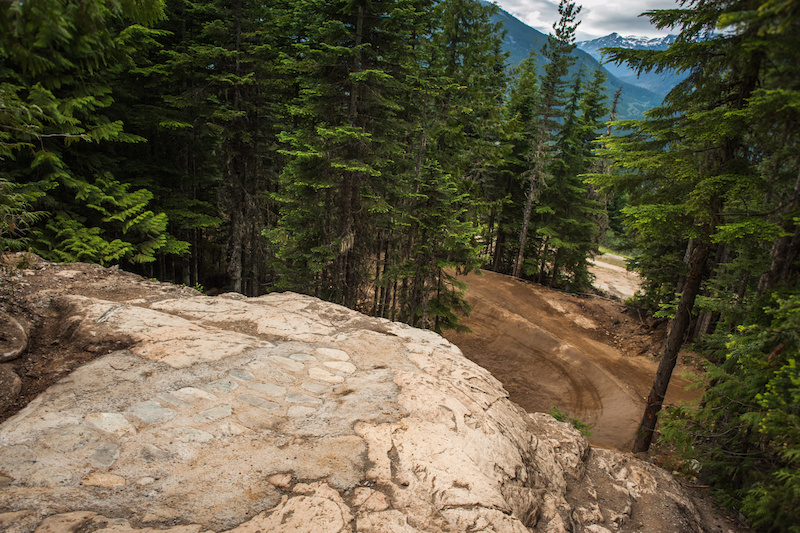 The A-Line rock drop in question.
Jamieson's lead counsel, Scott Stanley, said the releases remove the legal incentive for companies to protect customers.
"Essentially anyone who has signed a waiver for any activity in B.C. should operate on the assumptions that they have no legal recourse against the provider even if their conduct is egregious," he said in a written statement.
However, Robert Kennedy, counsel for the resort, noted that releases are unenforceable for minors, which he claims acts as "a huge incentive" to keep the premises safe. Kennedy said the case underscored why a release defense is important.
"If anyone had full knowledge and understanding of the risk of the sport it was the plaintiff in this case. And yet his theory of liability is: 'Oh, I didn't know I could get seriously hurt.'"
This is a big deal for anyone who recreates throughout B.C. drumming home that you are responsible for your actions, and that knowing the rights you're waiving is important to consider.