Reputable UK bike industry news source,
BikeBiz
, believe that mail order giant Wiggle is on the verge of absorbing its main rival, Chain Reaction Cycles. It's said to be highly likely that the sale will go through next week, according to multiple sources.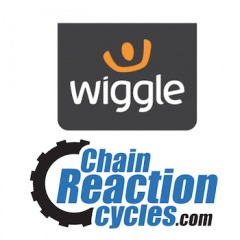 "Founded in 2009 as an offshoot from a Portsmouth bike shop, Wiggle grew and grew and was sold to Bridgeport Capital for GBP180m in 2011.

Chain Reaction Cycles sprang from a small bike shop in the tiny town of Ballyclare in 1989. The shop is now a barber's shop, a very small barber's shop. This was the second shop. The first, started in 1984, was Ballynure Cycles an even smaller operation. The business was founded by George and Janice Watson - their first sale was a chain link costing 11p.
When, in 1998, the business moved to Ballyclare the decision was made to change the firm's name, and Chain Reaction Cycles was born. The website was launched the following year.

Almost 40 percent of CRC's sales come from outside the EU, as dealers in Australia and America know only too well. Wiggle and Chain Reaction have been fighting head to head for many years, with Wiggle moving ahead of Chain Reaction in 2013 when sales at the family-owned firm dropped six percent to GBP145m. The Watson family is said to have a personal fortune of GBP200m."
-
BikeBiz
---
MENTIONS
:
@ChainReactionCycles
---