The Tour de France began in 1903, over seventy years before mountain biking's pioneers began drifting around corners in Marin County. Steeped in history and controversy, the Tour attracts millions of viewers every year, many who don't follow any other aspects of cycling, or even own a bike for that matter. Perhaps that's what makes it such a prime target for mountain bikers trying to snag a piece of the media coverage pie. Like a streaker running across the outfield during the World Series, every so often a mountain biker creates a splash during the Tour de France, shifting the attention for a brief moment onto the knobby-tired side of cycling. Here are three memorable moments where mountain bikers stole the show, at least for a few minutes.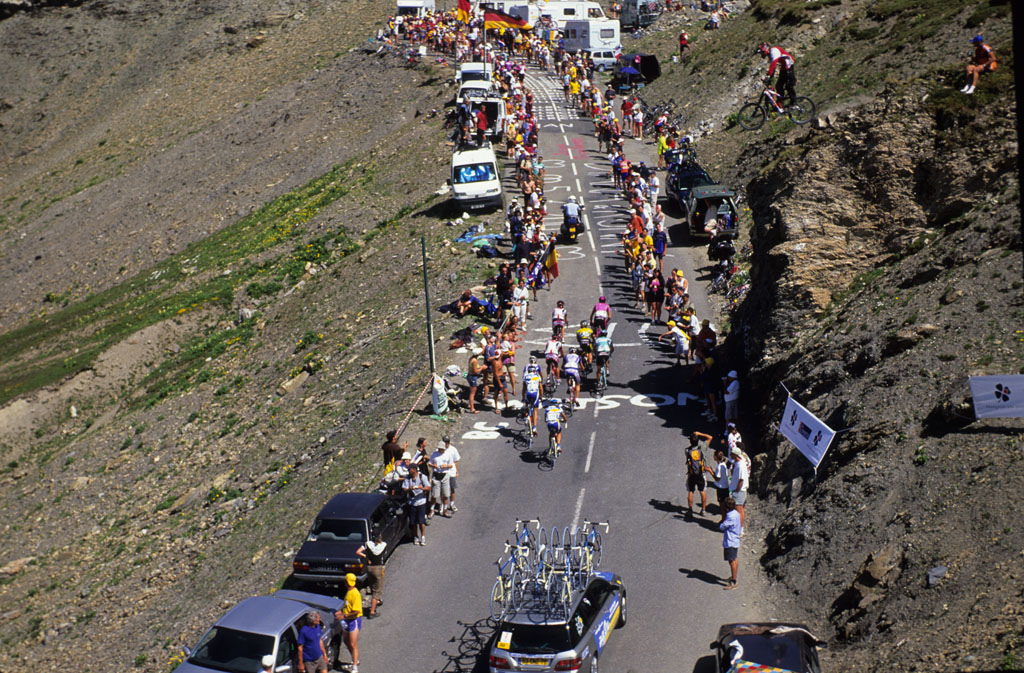 2003: Dave Watson's Road Gap
Dave Watson's huck back in 2003 is probably the most notable stunt, captured by the cameras of Freeride Entertainment as he launched over the peloton before getting bucked into the rubble below. He emerged without any major injuries, and earned himself a place in mountain bike history.
---
2013: Encho Rage Road Gap
The road gap the Encho Rage crew built over the course of several months may not have had as scenic of a back drop as Dave Watson's attempt, but the rider, Romain Marandet, managed to take off just as the race leader rode by in his yellow jersey, landing without incident on the other side of the road.
---
2014: Wheelie Man
Vincenzo Nibali was the winner of the 2014 Tour de France, but it was the helmetless guy riding a wheelie alongside the racer that pulled viewers' eyes away from the road bikers on the final day of the event. There aren't many details about the mystery rider, but his bike had disc brakes, wide tires and riser bars, so we'll add him to the tally as another mountain biker who shared the screen with the peloton.
---