potatochip
Member since May 29, 2018

16
Berkeley , California
Bikes n stuff
Block user
Recent

Selling
Apr 4, 2020 at 20:35
Apr 4, 2020
$120 USD
Up for sale is a Magura MT7 brakeset which has been ridden for a little over a year. These are honestly the best brakes I have ever ridden and I am only selling due to sponsorship conflict. The rear master cylinder and lever are new with only one ride on them. The front master cylinder and lever were replaced about 4 months ago. The rear will definitely need a bleed and new olive and barb. The front works but I would recommend bleeding it as well. No pads will be included but I can include some fairly new Magura rotors if you want them. Also have quite a bit of Magura royal blood mineral oil that I can include as well. The front hose measures 2.5 feet and the rear hose is just about 5 feet. Hit me up if ya got any questions!

Selling
Mar 15, 2020 at 14:41
Mar 15, 2020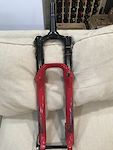 $500 USD
Up for sale is a sick 2019 Rockshox lyric RC2. This fork has been ridden for about 8 months by a 110lb rider and serviced regularly. This thing is insanely buttery and I would keep it if I could but unfortunately I have to sell it due to sponsorship conflict. There's one decent scratch on the lowers that's pictured and a couple of little blemishes here and there but overall it's in great shape. There's a tiny little nick on one of the stanchions that's also pictured but it was evaluated by a shop and does not affect performance at all. It's also red so you gain at least 69 horsepower! 170mm travel 29 inch wheel Boost spacing 51 offset Steerer 158mm length Let me know if you have questions Asking $500 for the fork with new seals and an oil bath or $450 as is.

Selling
Dec 19, 2019 at 19:00
Dec 19, 2019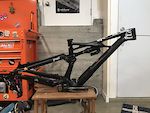 $825 USD
You tryna ride yo bike fast? You tryna beat Aaron Gwin and all those slow plebs? Look no further: I give you the fastest bike known to man. I've had this whip for a little over a year and treated her with the utmost respect and tender love. You looking for a downhill shredder? She's the one. An enduro bike? She's the one. Mullet bike? She's the one. Oh, but it has too much travel you say? Well take the skirt off and get those legs in shape, because I'm constantly smoking roadies on the climbs with this bad boy, so it ain't the bike it's the rider brah. This thing will shred faster than Sam Hill and Josh Bryceland on a twin NO2 boosted tandem 28.99 SRAM dub enduro rig. Buy this friggin' neckbreaker of a bike and not only will you be the fastest guy down the mountain, be winning world cups, but you'll have a multitude of beautiful ladies(or dudes) chasing you around. Hit my line on PB or by phone and I'll get you hooked up with this savage rig, be careful, not sure how many people are equipped for the sheer epicness of owning this rig, last person to test ride it just combusted into flames as soon as he threw a leg over. I'll also ship this puppy to you if you ain't around. Frame with a brand new headset, raceface affect 170mm cranks, freshly serviced buttery RockShox monarch plus rct and specialized chainguide: $850 INCLUDING SHIPPING IN THE U.S AND PAYPAL FEES!! Everything listed above plus a Magura mt7 brakeset with a brand new rear master cylinder: $1,000 Everything above plus a 6 month old rockshox lyric RC2 170mm in delicious red: $1,400 COMPLETE BIKE IS NOT FOR SALE!!

Selling
Dec 19, 2019 at 18:53
Dec 19, 2019

Selling
Jun 1, 2019 at 12:42
Jun 1, 2019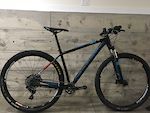 $950 USD
The time has come to sell my xc race bike. It is a 2014 Focus black forest that was ridden in its stock configuration for about a year and then was completely custom built about a year ago. The only things that are stock on the bike is the fork, headset and bars. This bike is super fast and even won the TBF 2018 xc series overall. It has been on the podium a lot and has a lot of life left in it for you! The rear rim does have some weird cracking issues going on but I am currently trying to get it warrantied by Stans. If I can't get it warrantied you can either buy a new hoop which is about $80 or just ride it like I have been doing for the past 4 months. Here are the specs: Frame: Focus Black Forest Fork: Rockshox Reba rl with floodgate adjust Shifter: Sram X01 Derailleur: Sram X01 Cassette: Sram X1 Cranks: Sram XX1 Carbon Wheels: Stans No Tubes Crest MK3 Hubs: Stans with 54t engagement Brakes: Almost brand new Sram Guide RS with a fresh bleed and brand new pads Rotors: Shimano Ice Tech. Rear rotor is almost brand new Chain: Sram X1. Fairly new Bars: Concept CEX 720mm Tires: WTB Trail Boss Front 80%, Maxxis ardent race rear 40% Stem: Raceface Ride 60mm Seatpost: Thompson Elite Weight: I'm pretty sure it sits at around 23.5lbs Buyer pays shipping and paypall fees. Does not come with pedals or bottle cage.

May 18, 2019 at 13:23
May 18, 2019

Selling
May 18, 2019 at 13:18
May 18, 2019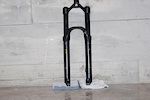 $335 USD
Do you want a fork that will take your riding to the next level? Are you an enduro bro tryna get the kom on your local dh trail? Do you want to spice that bike of yours up a bit? Then this bad boy is for you! This is a 2018 Öhlins RXF 36 fork that is off a 2018 specialized enduro. It has been ridden for a little less than a season by a 13 year old who weighs 110lbs. Cosmetically, it is in pretty good condition. It has some scratches here and there but the stanchions are clean. The only caveat is that it needs a rebuild. I talked to the Öhlins guys at sea otter this year and they said it would be about $100 for the service. All of the adjustments work and it holds air fine, it just needs the service because it is a bit sticky. I am only selling it because it's a little too much fork for me being only 110lbs. The fork is currently sitting at 160mm of travel and the steer tube is cut down to 5.75". Will come with crown race and star nut already installed. It is a boost 15x110 fork that fits 29ers and I believe it can also fit 27.5+. I cant find the axle right now but if I find one laying around ill include it. I am willing to negotiate on the price. Cheers! *mudguard is not included
Load more...