querc
Member since Dec 21, 2012

Online
55
Halifax , Nova Scotia
Block user
Recent

Selling
Apr 17, 2022 at 17:33
Apr 17, 2022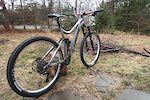 $2500 CAD
2015 Lenz Sport Lunchbox Size XL Rawthic finish Pike Wheels: Flows, Hope Pro 2 Evo XX1 crank, 28t ring, 11-42 11sp cassette. XT shifter. New XT derailleur. New XT brakes One-up dropper DHF and Aggressor tires, almost new. Highly capable bike, very active and effective suspension, stiff frame, 157mm rear axle. Bike is in excellent shape. I am the original owner. I will miss it! I need to downsize my bike gear. Will ship at buyer's expense.

Apr 7, 2022 at 18:20
Apr 7, 2022
Video: Christina Chappetta & Tom Bradshaw Ride the Deserts of Arizona - First Impressions
Greater Tucson has a good thing going on. Nice variety, and one of the features is the ability to camp right by the trails. Mount Lemmon riding? USFS campground at Molino Basin, and as long as you don't mind pedalling uphill you can ride Lemmon without shuttling. Riding at Tucson Mtn Park (aka Starrs Pass)? Camp at Gilbert Ray campground. I love riding straight from the van or tent. Also, shout-out to the SDMBA and TORCA associations for working with the County to make Tucson awesome for us visitors.

Selling
Mar 20, 2022 at 11:19
Mar 20, 2022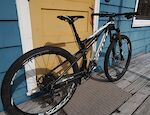 $2000 CAD
Scott Spark Premium 700, size small HMX SL carbon frame, Scott's topend carbon frame 120 mm travel, front and rear Syncros wheels with DTswiss built hubs Shock: Fox Factory Nude, Kashima, remote lock Fork: Fox Factory 32mm. No marring or scratches on stanchions Syncros carbon bar and stem Reverb dropper, works great XO1 11 speed derailleur and shifter XTR M9010 crank set, scuffed, with brand new NSB NW 32t chainring SRAM PCX1 chain. Brand new. SRAM 11-42 cassette. Brand New. Shimano SLX and XTR brakes, mix from replacement of levers in 2020. Sold by original owner (my 110lb wife). Drivetrain wear items are brand new as they have been replaced for sale Functionally excellent. Lots of cosmetic scuffs typical of a well used, well loved mountain bike. Fast, light, top end bike for XC and trail riding, suitable for someone in 5' to 5'4" range. A second wheelset, Stans Crests, is also available. Message for more info.

Dec 10, 2021 at 11:14
Dec 10, 2021

Oct 13, 2021 at 9:45
Oct 13, 2021

Sep 8, 2021 at 9:32
Sep 8, 2021

Nov 29, 2020 at 12:45
Nov 29, 2020

Aug 29, 2020 at 17:59
Aug 29, 2020

Dec 31, 2019 at 6:02
Dec 31, 2019

Dec 19, 2019 at 4:51
Dec 19, 2019
Load more...