[YT=https://www.youtube.com/embed/an5o3roWLZM]
Recently we created a video player that is simple, fast and works on the majority of browsers old and new. Here are some features...
1. Highest Quality on the Internet
Added 1080p quality and increased the bit rate of our conversion to show the best quality of your videos. Four versions of all videos will be created when you upload.
1080p = 1920 x 1080 at 4.0 Mbps
720p = 1280 x 720 at 2.5 Mbps
480p = 640 x 480 at 1.2 Mbps
320p = 480 x 320 at 0.5 Mbps
2. Short Cuts
Click on video - starts/stops video
Space bar - starts/stops video
3. Slow Motion Controls
We added the ability to view the video frame by frame. This is especially useful when you are viewing a jump or trick and want to analyze how it's done.
Right arrow - Very slow sub frame slow motion forward.
Left arrow - Slow motion back by keyframe.
4. Faster Video Conversion
We reworked how our conversion system functions and added extra servers to speed up and handle the growing popularity. When you upload a video, four separate convert jobs are spawned on different servers to convert the video into different qualities in parallel.
5. Html5/Flash Embed
Iframe default embed, so when you embed Pinkbike videos they will auto-detect mobile devices and play correctly on devices that don't have flash.
6. New Embed Options
You can now alter certain elements of an embedded video.
Color: Select a different color for the video accents/controls to match the site you're embedding to.
Autoplay: Add an autoplay option to start the video immediately when page loaded
Loop: Will loop to the beginning when video gets to end
Show/Hide : You can show or hide the headshot, byline, and title
7. Larger Video Format
You can now click the expand button on video pages and have all the videos you watch expand to a wider format. Your choice will be remembered.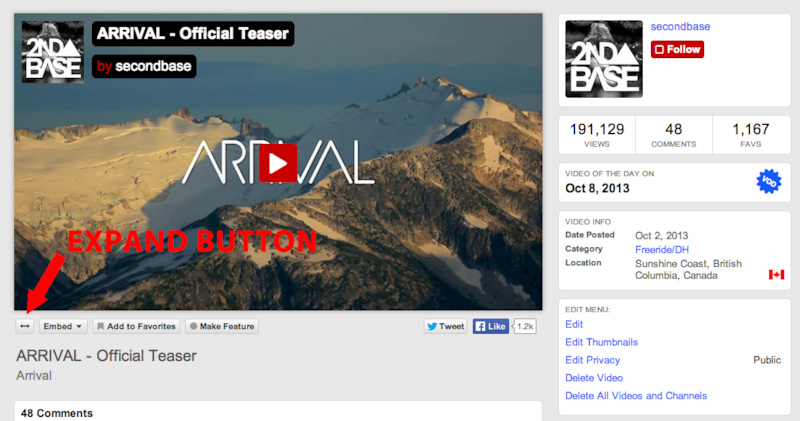 Click to expand
8. Personal playback settings
When you go to "Edit Profile" for your user, you can set a few playback settings that work for your account.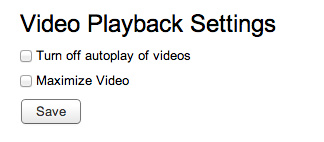 We will be adding additional features so stay tuned.