raphy777
Member since Aug 18, 2006

Pitt Meadows , British Columbia
Block user
Recent

Oct 16, 2020 at 17:29
Oct 16, 2020

Selling
Oct 16, 2020 at 17:26
Oct 16, 2020
$997 CAD
Hey all, I'm putting my DH bike up for sale to put some money towards something that fits me a bit better. This is the bike that got me back into riding this season and it's been awesome! It's a custom build so here are the specs; -Marzocchi 888 RC3 EVO Ti V.2 -Marzocchi Roco WC shock -Avid XO levers w/ Code calipers (200mm front, 180mm rear) -Raceface Atlas bars & stem (~800mm) -FSA headset -Specialized DH front wheel w/ Butcher 2.5" -Mavic 823 disc rear wheel w/ Hadley hub and Minion DH f 2.5" -Shimano Saint shifter and derailleur (9spd) -Shimano Saint cranks -Shimano XC pedals -Shimano Saint 36t chain ring -E.thirteen chain guide Everything works great on the bike, but it does have normal wear and tear. Suspension linkage bearings replaced at the beginning of the season. Message if you have any questions, cheers! https://www.bikes.com/en/bikes/flatline/2013

Aug 9, 2020 at 13:59
Aug 9, 2020

Selling
Aug 9, 2020 at 13:55
Aug 9, 2020
$1600 CAD
2018 Transition PBJ for sale. The bike is in good shape, I just dont ride it anymore, I'm doing a lot more trail riding now. -21.5" Large/Long frame -Pike DJ 100mm fork -26" wheels -Avid mechanical disk brake -Fresh lower leg service and seals on fork

Jan 28, 2020 at 17:56
Jan 28, 2020

Selling
Jan 28, 2020 at 17:45
Jan 28, 2020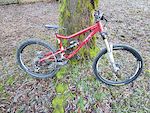 $450 CAD
2008 Devinci Frantik for sale or trade for large frame dirt jump bike. -Medium size frame (180mm/7" travel) -Fox Van R rear shock (w/ rebound damping adjustments and 400lb spring rate) -Rockshox totem fork, 180mm/7" travel (w/ mission control flood gate, compression and rebound damping adjustments) -Avid juicy 7 brakes -Sram x5 shifters -Sram x7 rear derailleur -Shimano Alivio front derailleur -Alex Rims FR 32 wheels -Daredevil hubs -Truvativ Ruktion cranks -FSA the PIG headset -Daredevil bars -Lockon grips -New suspension linkage bushings I bought the bike but realized after riding it a few times that it's a bit small for me and I'd rather have a hardtail for park riding. Everything works great on the bike and it's super plush for soaking up gnarly trails. I'm looking to sell or trade for a dirt jump hardtail with a large/long frame, so send me pics if you've got something like that. Thanks for looking!!!

Jan 21, 2020 at 8:22
Jan 21, 2020

Selling
Jan 21, 2020 at 8:21
Jan 21, 2020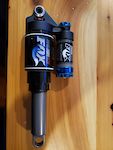 $100 CAD
Good condition Dhx 5.0 air, rebuilt since off last bike.

Selling
Jan 18, 2020 at 16:09
Jan 18, 2020

Sep 15, 2012 at 16:23
Sep 15, 2012
Load more...