Leogang, Austria hosted the third Downhill (DHI) stop of the UCI Mountain Bike World Cup presented by Shimano. Cloudless skies, hot temperatures, and a bone-dry high-speed track meant a welcome change for riders and teams after the first two World Cups of the season were heavily affected by the weather. Tahnée Seagrave (GBR) qualified in second behind World Cup Overall leader Tracey Hannah (AUS) but showed the fastest pace on race day to take her first ever World Cup win.
The men's race saw some insanely tight racing until Loris Vergier (FRA) blew away the crowd with a run that seemed unbeatable. Aaron Gwin however never got the memo and well and truly proved that Leogang is his territory and took his third straight win in Leogang. are the 5 things we have learned from the third DHI World Cup of the season:
Missed the race? Fear not. You can re-watch the entire live broadcast and all the highlights from Leogang on-demand and anytime on
Red Bull TV
!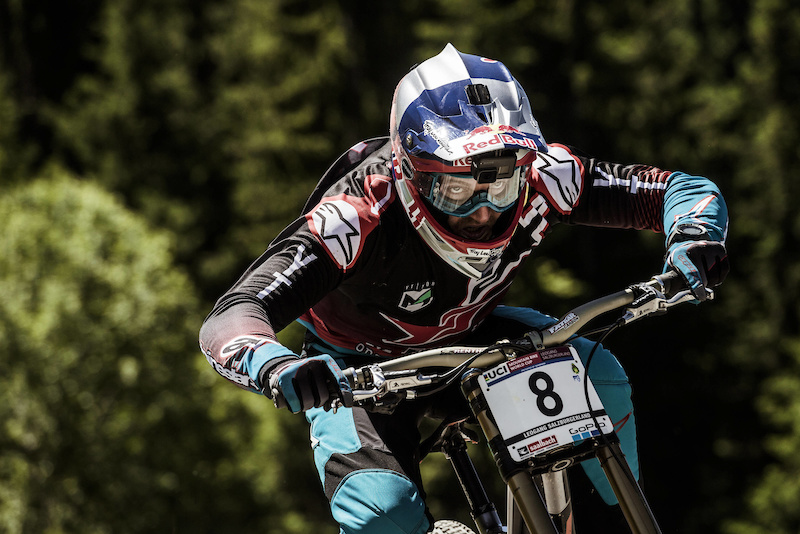 Aaron Gwin pinning it down the 'Speedster'
1. A Perfect Day for Racing
Leogang greeted riders with cloudless skies, hot temperatures, and a bone-dry 2.6-kilometer-long high-speed track. After the first two UCI Downhill Mountain Bike World Cups of the season were heavily affected by the weather, the hot and dry conditions in Leogang provided a welcome change and equal conditions for all riders. The result was an awesome day of tight racing for the sports-mad Austrian fans and livestream viewers.
2. Seagrave Wins Her First World Cup
After being in contention over the last couple of seasons and several podium finishes including two 2nd-place finishes in Leogang, British rider Tahnée Seagrave stormed to her first ever World Cup victory, celebrating the biggest win of her career just days before her 22nd birthday. Tracey Hannah and Myriam Nicole (FRA) took 2nd and 3rd respectively.
4. Tight Competition for the World Cup Overall Standings
The battle for the season-long overall World Cup title it's truly on but so far no one has managed to carve out a comfortable lead. One result off the podium could be the difference between leading the ranking and finding yourself outside of the top five on both the women's and men's side.
Having not finished off the podium this season, Tracey Hannah defends the number one plate with her 2nd place in Leogang, and is in the lead with 635 points. Tahnée Seagrave and Myriam Nicole round off the Top 3 and are only separated by four points, having 504 and 500 points respectively. Missing the races in Fort William and Leogang with a shoulder injury, defending World Cup Champion Rachel Atherton (GBR) has fallen to sixth place with 290 points.
On the men's side of things, Gerg Minnaar (472 points) defends the number one plate but has Aaron Gwin (434) hot on his heels. The consistent performance by Australian Jack Moir this season sees him move into third with 349 points, just three points ahead of Marcelo Gutierrez (COL) who has 346 points.
5. The Crazy 2017 Season Continues
The 2017 UCI Mountain Bike Downhill World Cup is one of the most competitive seasons in recent history with 3 different winners in each of the 3 first stops in both the women and men's races. Tahnée Seagrave, Tracey Hannah, and Rachel Atherton have all been on the top of the podium this year. On the men's side Aaron Gwin, Greg Minnaar, and Alex Fayolle (FRA) each have won in a distinctive fashion. So far no rider has managed to truly separate him- or herself from the competition and the result is an exciting, close and very entertaining season still lying in front of us.
Myriam Nicole racing to third place in Leogang.
Re-watch round three of the UCI Mountain Bike World Cup 2017 free of charge and on-demand at
redbull.tv/uci
and get the latest on everything bike related on the Red Bull Bike Channel at
redbull.tv/bike
. Red Bull TV is available on connected TVs, gaming consoles, mobile devices and more. For a full list of supported devices,
visit this page
.
Watch the 2017 UCI Mountain Bike World Cup presented by Shimano – LIVE on Red Bull TV
April 30: Lourdes, France (DHI #1), Replay of live broadcast available on demand, anytime
May 20, 21: Nové Mesto, Czech Republic (XCO #1), Replay of live broadcast available on demand, anytime
May 28: Albstadt, Germany (XCO #2), Replay of live broadcast available on demand, anytime
June 4: Fort William, Scotland (DHI #2), Replay of live broadcast available on demand, anytime
June 11: Leogang, Austria (DHI #3), Replay of live broadcast available on demand, anytime
July 1, 2: Vallnord, Andorra (XCO #3/DHI #4), Live on Red Bull TV 11:00am/10:00am UTC
July 8, 9: Lenzerheide, Switzerland (XCO #4/DHI #5), Live on Red Bull TV 11:00am/10:00am UTC
August 5, 6: Mont-Sainte-Anne, Canada (XCO #5/DHI #6), Live on Red Bull TV 5:00pm/4:00pm UTC
August 26, 27: Val di Sole, Italy (XCO #6/DHI #7), Live on Red Bull TV 11:00am/10:00am UTC