When you ride and race bikes in your teens and early twenties, the adult world largely grants you a pass. You're still a kid and society accepts that you might occasionally hurl yourself down a hill on a bike, racing a clock that only you and a handful of other misfits are watching.
But as you get older, and especially after you get married and have a kid or two, you may notice that the neighbors will whisper as you hose down your bike in the driveway for the third time that week. Or that passersby might stare as they see you wielding a spade amongst a crowd of 14-year-olds at the dirt jumps.
And God help you when you show up for work with a cast or any other sign of bike-induced trauma. The respectable types at the office never get tired of posing inane questions like, "Getting a bit old for that, aren't we?"
I didn't foresee this, but now that it's upon me, it makes me worry. I suspect this is because, somewhere deep inside, I realize that the distraction of bikes has probably cost me more than the hours or dollars I've spent riding, racing and digging.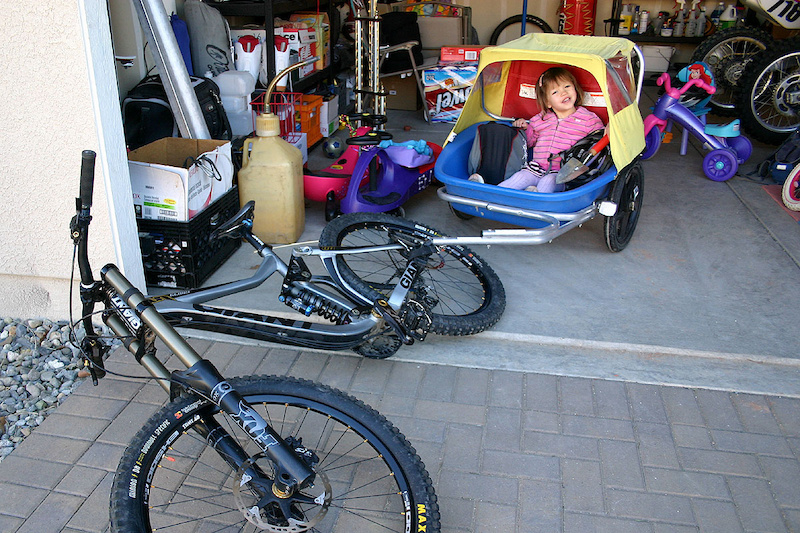 When you have kids, your race bike may take on unexpected roles.
If I spent as much time trying to improve my career as I've spent trying to improve my turn-exit speed, I'd probably be typing this in a corner office. Except I wouldn't be typing this - I'd surely be working on some more profitable project, the likes of which I can't imagine because I have such a hard time concentrating on things that aren't riding fantasies.
Riding has surely taken a toll on my family life too. My wife didn't find it hard to cope as I raced motocross for years, but by now even she is a little tired of my endless fascination with tire pressure, results sheets and far-off racetracks, which has remained the same even as I've exchanged combustion engines for pedals.
Even my five-year-old daughter understands my weakness. "Look, daddy, a free mountain bike!" she'll shout when she wants to divert my attention so she can grab a handful of Oreos from the cupboard.
It all makes me think that I should shift my focus and stop dreaming so much about next weekend's riding trip, stop spending so many hours scouring the Internet for the best deal on a set of Ruffians, and stop letting my daughter make off with so many Oreos. If I could only temper my obsession with riding, I would surely be a better earner, citizen, husband and father.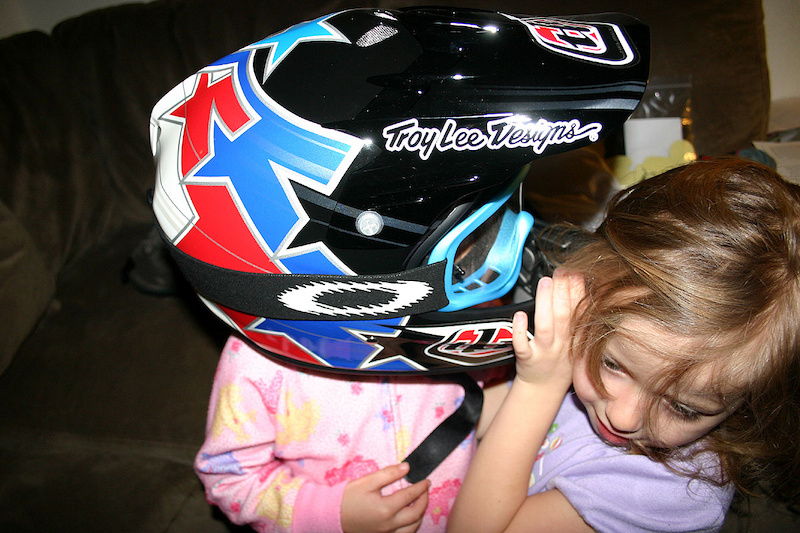 Same goes for your gear.
But there is a snag, and it involves the time I've spent injured and away from my bikes. Being hurt forces one to temporarily experience the world as a non-rider, and sadly, I've been forced into that role plenty over the years.
My brain has a trait that bumps up anxiety production when I'm not physically active enough. When I am not forced into confronting a starting line or sketchy double on a regular basis, my brain begins producing its own worry over much less pleasant topics: nuclear war, violent crime, infectious diseases, economic turmoil. If I'm not riding, I am soon a ball of anxiety, obsessing over things that I usually have little control over.
Luckily, when the distraction of riding comes back into play, I am somehow able to shelve those worries and go back to meditating on the merits of spray chain lube versus the drippy kind. And while that may seem like a form of avoidance, it sure beats the hell out of lying in bed and contemplating the national debt or the weapons' arsenal of Kim Jong Il.
So I'm not sure how I could give up riding without replacing it with some other distraction. I suppose that compared to the time-honored gentlemanly pastimes of drinking, watching TV and shooting pool, racing a bike down a hill isn't the worst form of medication to rely upon. If it weren't for the occasional highside-to-concussion, I'd even say it's one of the healthiest coping mechanisms around. And before anyone suggests that I look into a safer sport, such as golf, I say to them: Stop. I am being serious here, and absurd suggestions like that are of no help.
One perk of getting older, however, is that you can eventually teach your kids to shred.
Still, I'm likely to remain conflicted as I grow older and the pressure for me to leave racing behind increases. It may be difficult for awhile, but I am hoping I will eventually find peace in the grips of a sport that most of the world assumes is for kids. Otherwise, I may end up in that corner office, obsessing daily about nuclear proliferation and spending my evenings at the pool hall.
I think my wife and kids would prefer a bike racer any day.