ribena1234
Member since Aug 14, 2010

Brighton , United Kingdom
Block user
Recent

Sep 15, 2021 at 0:48
Sep 15, 2021
Field Test: 2021 Commencal Meta Power - The Aluminum Sledge Hammer
I've got one of these. It's great, but theres another flaw with ebikes not really being mentioned. The nearly 1000 motor is treated as disposable. There are no spare parts available. Third party suppliers make kits for *some* of the bearings but that's it. It's not like you can ride the bike without it either! A common fault is a torque sensor error, a tiny part that results in a bill for a new motor outside warranty. .. and is a 2 year motor warranty acceptable? (Especially on bikes as expensive as the Yeti??) But even with a big warranty, you still need spare parts. All it takes is a crash or pedal strike and it's new motor time!

Apr 1, 2021 at 5:13
Apr 1, 2021

Jan 29, 2021 at 12:29
Jan 29, 2021
Pinkbike Poll: How Long Do Bike Parts Last?
Oil started leaking out the top of the damper on my lyriks. The seal is not included in any seal kit sold by Rockshox. In the end I followed a video someone had made on youtube and found the seal somewhere else with a bit of hassle. Why not just make it available?! No-one wants to ditch a fork/damper for a seal costing pennies, and not everyone has a warranty (e.g. on 2nd hand bits)

Sep 10, 2020 at 14:48
Sep 10, 2020

Sep 10, 2020 at 14:46
Sep 10, 2020

Selling
Jan 11, 2020 at 14:44
Jan 11, 2020

Selling
Jan 11, 2020 at 14:34
Jan 11, 2020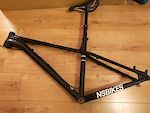 $180 GBP
This is a great little frame, but unfortunately, I've bought the wrong size :( It's had a handful of rides (two young children and too many bikes mean it's not been used as much as it should), now up for sale. Bought in July 2019, so still 6 months or so left on the warranty (not that I forsee many problems!) Comes with: - Brand X headset also purchased July 2019 and in great condition - seatclamp - other bits that came with frame (rear axle, cable holders etc) ** Does not include the dropper post, I need that for the new frame! ** For 142x12 rear hub I used a 36t chainring and it cleared the frame fine. 30.9 seatpost 130mm - 150mm forks. 65 degree head angle, 73 degree seattube. For other specs see below Regarding sizing, NS bikes say... We recommend the S size for riders up to 172cm, M size for 170 – 182cm and the L size for riders over 180cm. However, I am 5'11/180cm and found it a little small for more cross country type riding. Can be collected form Southwick or Burgess Hill (work hours) by arrangement Price doesn't include postage From website: NS Bike's Eccentric Alu EVO 27.5 Frame is perfect for those who like to go full gas on the trails. Tough, aggressive and super-versatile, its AL6061-T6 alloy frame is butted and custom formed to be strong and overbuilt, yet it's still lightweight and highly responsive. The frame also has cable routing for a dropper seatpost and is compatible with up to 150mm travel forks. Slack Geometry The ideal platform for your ultimate Trail or All Mountain ride, NS has assembled the Eccentric Alu EVO 27.5 with a geometry that's modern and radical. Offering a long reach and super-slack headtube, it puts you in the ideal position to tackle the most technical trails with ease. Features: Material: AL6061-T6, custom formed and butted tubes Recommended Fork Travel: 130-150mm Headset Type: Integrated tapered IS42/IS52 Steerer Tube: Compatible with standard 1 1/8" or tapered 1.5 - 1 1/8" steerer tubes BB: Threaded 73mm (No ISCG mounts) Max Chainring Size: Up to 34T (SRAM XX1 up to 32T) Front Derailleur Routing/Clamp Size: Not compatible (1x drivetrain only) Cable routing: Stealth cable route with rubber grommets in seat tube for dropper post Seatpost Size: 30.9mm Seatclamp Size: 34.9mm Max Seat Post Insertion: 270mm (S), 300mm (M & L) Wheel Size: 27.5" Max Tyre Size: 27.5" 2.4" Rear Dropout spacing: 142x12, NS axle included Brake Mount Type: Post mount disc brake mount, Max Rotor Size: Up to 185mm Weight: 2.2kg (M size) https://www.chainreactioncycles.com/ns-bikes-eccentric-alu-evo-27-5-frame-2019/rp-prod165875

Jun 4, 2019 at 7:49
Jun 4, 2019

Selling
Jun 4, 2019 at 7:47
Jun 4, 2019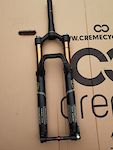 $250 GBP
Fox 34 Factory forks, 130mm travel. Recently had a lowers service, and work great. Very supple. All dials working fine. One paint chip on kashima coat on fork stanchion, though it is flat and does not affect function. Some chips to paint, including on the arch which i've touched up with gloss black paint.

Selling
Jun 4, 2019 at 7:44
Jun 4, 2019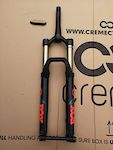 $250 GBP
Fox 34 performance w EVOL spring upgrade Originally 120mm travel, but upgraded to 140mm with 2017 EVOL air shaft (larger negative air volume) Great condition, only a couple of tiny chips in the paint. Stanchions unmarked. All levers and adjusters work. Had a lowers service not too long ago with all the correct Fox oils used. The rebound dial no longer "clicks" because it seized last year as the ball bearing used to make the clicks corroded, so i removed it during a service and greased the rebound adjuster rod instead. Should have no further problems with the knob seizing!
Load more...