Lauf TR29 Cross Country Fork
Benedikt Skulason, inventor and founder of Lauf Forks, understands that his 60-millimeter-travel composite leaf-spring suspension fork will not sell to the Pinkbike crowd, but at half the weight of a conventional XC slider, the TR29 has already attracted the attention of top Icelandic XC racers.
The Lauf TR29 fork
looks like it would not last more than a minute on the dirt, but it has passed the stringent European EN safety standards that every suspension fork must undergo before it can be commercially sold. Lauf means 'leaf' in English and refers to the leaf-spring action of the R29. Stacked in threes, two pairs of leaf springs form a parallelogram that produces 60 millimeters of undamped suspension travel. A 15-millimeter through-axle keeps the right and left sides tracking each other, so that the wheel will not wander. A disc brake is mounted to the right-side axle link, and reportedly, because of the fork's parallel spring action, braking forces are rendered neutral. The fork and axle carriers are carbon fiber, but the six leaf springs, which are bonded permanently to the fork components, are constructed from a high-strength fiberglass called 'E-Glass,' which is used extensively in advanced composites because of its resistance to fatigue. Lauf TR29 forks will cost $998 USD and Lauf expects to be shipping the first production models near January 2014.

(From left) E-glass composite leaf springs are grouped in threes and bonded into the fork to form a parallel linkage. The axle carrier swings up and forwards until it hits a pair of rubber bump-stops. The key to the fork's actuation is a stiff through axle. The Lauf fork uses the Maxle system.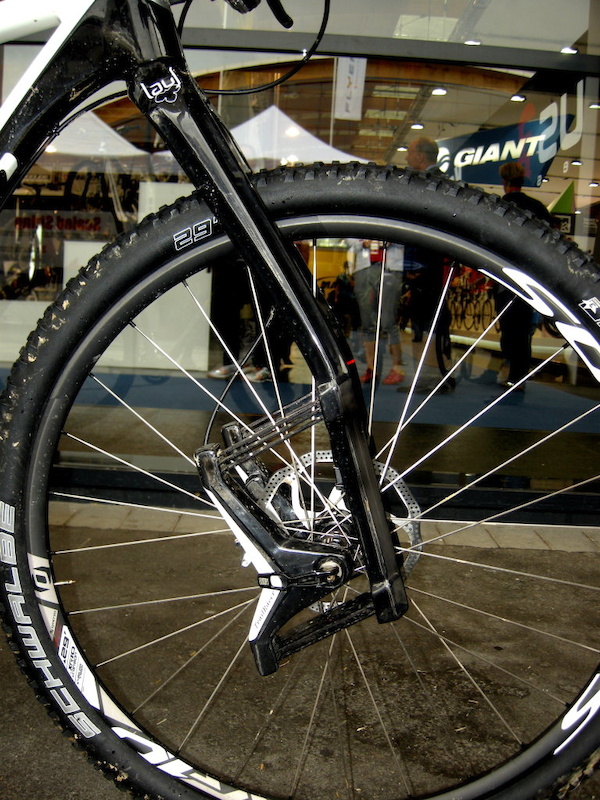 Technically, the Lauf TR29 fork is a pivotless, trailing link suspension.
Laugh if you want, but while we were discussing the fork with its inventor/designer Benedikt Skulason, Specialized's design and marketing crew looked quite interested when they popped over to inspect and try out the novel design. The Lauf TR29 has no hinges, seals fluid or sliding parts, and it weighs only 998 grams. Benedikt Skulason hails from Reykjavik Iceland, and he says that he got the idea while he was designing prosthetic limbs. Skulason has had plenty of experience with composite springs, which are used to provide support and feedback in artificial legs and arms. Carbon fiber, he says, is too brittle to be a reliable spring, but E-Glass reportedly can be flexed three times beyond the fork's design requirements before it shows signs of failure. The Lauf fork is available in three spring stiffnesses, and a multitude of colors. The fork's tapered steerer tube is also carbon fiber.

What to we think? As crazy as the Lauf TR29 fork seems at first glance, it makes sense for riders who don't need or want a lot of suspension travel - or who are turned off by the threat of future maintenance and the complication of telescopic suspension forks. Skulason admits that the TR29's leaf spring design is limited to the most sophisticated elite XC customers on one hand, but he says its application may have more widespread success among the sport's least technical riders. Its simplicity and potential reliability would translate well for urban commuter bikes.
Lauf Forks
---