Pinkbike Product Picks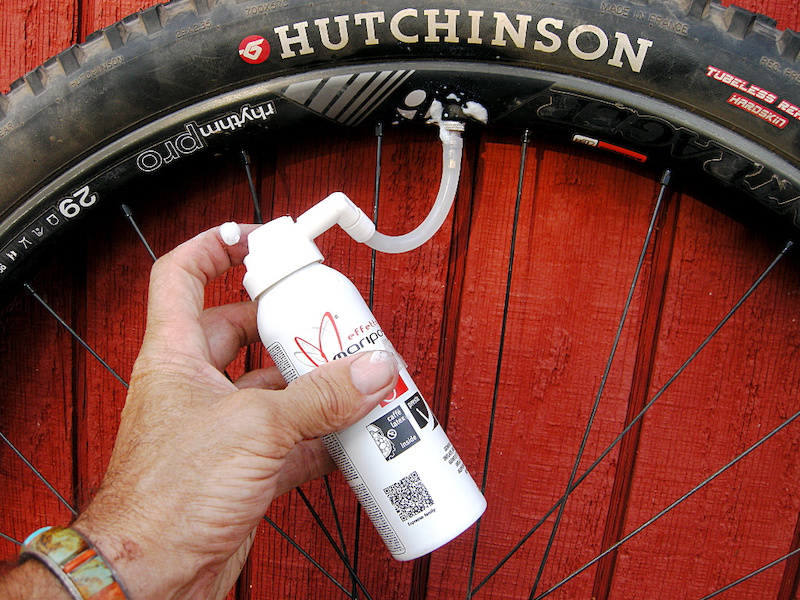 Effetto Mariposa's Espresso Doppio sealing tube pushes or threads onto a Presta valve. At peak pressure, foam will escape around the stem unless the tube is secured tightly with your fingers.
Effetto Mariposa's Espresso Doppio is a 125 ML aerosol tire inflation device that contains the Italian accessory maker's well reviewed latex-based
Caffelatex
liquid sealant. Effetto Mariposa launched the double-sized inflator in response to the popularity of its 75ML Espresso inflator that was designed for road bike tires. The lightweight aluminum canister is charged with propane gas, which liquefies under pressure and thus increases the volume available, which is necessary to fully inflate all-mountain or DH-width tires.
Cantitoe Road
, the North American distributor of Effetto Mariposa products, says that the smaller particle sizes used in the Espresso Doppio's sealant are designed to pass through a Presta valve mechanism, and yet will assist the latex solution to seal holes up to five millimeters. They also warned that the chemical makeup of the Caffelatex sealant will coagulate with existing Stan's fluid inside the tire and form a hard rubber blob unless the combined fluids are not washed out of the casing, post ride. The Doppio's gas charge is intended to fully inflate one 2.35-inch 29er mountain bike tire to race pressure, which is roughly two bar, or 30 PSI. The simple flexible tube is designed to grip Presta valves tightly enough to afford a good seal and a push-button valve, protected from accidental release by a break-off plastic cap, controls the delivery of gas and juice. MSRP is $17.95 USD.
Cantitoe Road

Espresso Doppio inflate and repair cartridges are small and light. The safety cap means that it can be stashed in hydration pack or a jersey pocket with assurance that it will not spew on other contents. Three small nails were used to emulate multiple punctures such as those inflicted by agave plants. The foaming action of the Doppio's Cafelatex sealing fluid is reported to keep the liquid in contact with the tire or tube to seal punctures more quickly.
Pinkbike's Take:
The Espresso Doppio passed the three tests we require from all inflation and sealing devices with different degrees of success. They must reliably dock on the valve stem and inflate at tubeless or tube-type tire without leaking to full pressure. The Doppio passed the first trial with a very good, but imperfect score - inflating a 29 x 2.25-inch tire to 32psi with enough gas volume in reserve to belch sealant and gas past two 3-millimeter holes for ten or twenty seconds while the stuff was sorting out a plug. The sealing tube could not withstand the pressure and began to hiss foamy sealing gunk past the valve stem as pressure neared 1.5 bar (about 22psi). Finger pressure kept the gas and fluid from escaping further.

The second test, whether the sealant can quickly and successfully plug realistic-sized punctures, was passed with an average score. I drove three nails into a tubeless tire, each slightly under 3 millimeters in diameter. When one was extracted, Espresso Doppio easily plugged it with a loss in pressure from 32psi to 30psi. Pulling the second nail reduced the tire pressure to 25 psi and the time-to-seal was about double that of the first puncture. Pulling the third nail almost put the Doppio out of business, as it appeared that there was not enough sealant remaining in the tire to plug the last puncture. After some drooling, bubbling and hissing, the tire stopped hemorrhaging gas at 17psi - which is still enough pressure to ride out of the mountains or finish a race lap if the rider is careful.

The third trial is whether or not the seal is permanent and reliable, and in this case I would say a qualified, 'yes.' After the third hole was plugged, I attempted to re-pressure the tire to 30 psi, which is my typical setup. Two out of the three punctures re-opened and did not reseal until the tire pressure returned to 20psi. A day later, I re-inflated the tire to full pressure and it remained sealed to present. The bottom line is that Espresso Doppio would be perfect for tubeless competitors who have suffered a burp or a minor puncture and need to get a tire sealed and up to racing pressure in a hurry. Similarly, gravity riders who typically don't carry tools or a pump, could tape a Doppio to a frame tube, where it would be a tool-less fix for a burp or a puncture. For trail riders who carry spares and are not pressed for time, however, the 18-dollar price of the Espresso Doppio could buy a tube, with plenty left for a post-ride beer or burrito, and the fix would be more reliable.

- RC