rideidaho
Member since Nov 22, 2014

Male / 23
Sun Valley , Idaho
Block user
Recent

Sep 10, 2020 at 11:43
Sep 10, 2020

Sep 10, 2020 at 10:54
Sep 10, 2020

Selling
Sep 10, 2020 at 10:52
Sep 10, 2020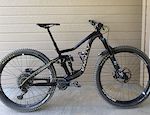 $2500 USD
Selling my medium 2019 LT fugitive. I have had an awesome time on this bike and it still has a lot of life left. Shimano XT 4 piston brakes, Deity Cockpit, little frank crank action with a GX and X1 crank, but you would never notice. Also one chipped tooth on the XO cassette also doesn't make a difference I can attest to that. Overall the bike runs great just cosmetic wear. I also have an extra front wheel I could throw in if interested. Aluminum bike and if you have heard anything about Knolly's they are bomb proof. I'll get more photos up soon. Hope to pass it on to someone else to enjoy the ride.

Selling
Sep 10, 2020 at 4:24
Sep 10, 2020

Added 1 video
May 12, 2020 at 8:53
May 12, 2020

Jan 21, 2019 at 15:53
Jan 21, 2019

Selling
Jan 21, 2019 at 15:53
Jan 21, 2019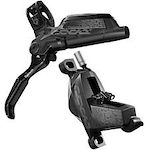 $200 USD
Selling my Code Rs off of my M Knolly Fugitive. Never been ridden on.

Oct 4, 2018 at 9:15
Oct 4, 2018

Selling
Oct 4, 2018 at 8:58
Oct 4, 2018
$2500 USD
I am selling my limited edition Knolly Delirium. It is currently set up as an all mountain trail bike running 170/170 front and rear. It has been ridden for about 6 months now and I am just switching to more of a trail bike now. This bike can also run a dual crown fork on this bike if you would like. Components: Fork: Rockshox Lyrik 2017 (170) Shock: Fox float X2 (170) Seat Post: (Fox transfer 150mm kashima coat) Saddle: (Brand new) ergon all mountain saddle Brakes: Shimano Saint (slightly bent right lever works fine though) Wheels: Set of flow MK3 wheels with NEO center lock hubs (have 6 bolt mounting adapters) Rotors: (Brand new) TRP rotors 203mm front 180mm rear Tires: WTB Convict tough casing (ridden 10 times) Drive train: (Brand New Gx derailleur) 1x11, Race face atlas cranks and 32 tooth chain ring XO1 Shifter Race Face Atlas Cockpit with 780mm bars and diety grips Fresh cable and housing for shifter and cleaned and greased chain. Please contact me with any other questions. This bike rips and is super fun in the bike park and pedals fantastically. All around ripping machine, Knolly does it best. There are a few dings on the frame from riding, noted in the pictures and a scratch on the lower of the fork. Other than that it is in sweet condition and the Raw frame helps keep it looking like new.

Dec 9, 2017 at 23:19
Dec 9, 2017
Load more...