rmcizmas
Member since May 1, 2017

Male / 52
Henderson , Nevada
52, 10 grandkids, love to build, ride, snowboard, e-skate
Block user
Recent

Feb 16, 2019 at 23:12
Feb 16, 2019

Selling
Feb 16, 2019 at 23:09
Feb 16, 2019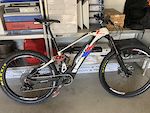 $5495 USD
2018 Winner of Design & Innovation Award for E-MRB category!!Best of the best! Look it up, do your research. This is a 8K bike I bought as a demo bike as I build custom ebikes and wanted best of the best Class 1. has about 200km on it ( about 124 miles) that's less than 3 full charges! Legal for all Class 1 like Bootleg Canyon. I've ridden Bulls, Haibike, you name it and this crushes them all. I doubt you'll even find available in US. It's 2018 with Brose S motor with way more power than Shimano Steps or Bosch system. 29"front 27.5 Plus rear Coilover 180mm RockShox 180mm Fork 203mm Guide brakes Dropper post Maxxis tires Custom rims with red aluminum nipples, sapim spokes Titanium alloy shock mount Everything is best of best! Fantic win the 2018 ebike races for Class 1 over Specialized, Haibike.... Test rides available in Anthem Trail System about 100 yards from my front door! BikeSpeed chip and 34T ring also available at cost as options. This chip allows for 20 mph speed restriction to be removed with full speedometer and odometer accuracy and no power assist limitation! Pedal easily over 30mph.

Sep 20, 2017 at 9:23
Sep 20, 2017
The 5 Most Popular Demo Bikes at Bootleg Canyon - Interbike 2017
That's funny you would make such a statement about ebikes, yet it was probably about 70 percent or better of the bikes there! I was there both days and saw the sea of ebikes with nothing but smiles on everyone riding them! Go ahead, keep hating, but they are not only here to stay but will easily overtake ALL of MTBing the way snowboarding disrupted skiers on the mountains! This is a fact and they are about the only growth segment in all of biking other than slight increase in BMX. Anyone reading Bicycke Retailer sees the stats regularly and this cannot be argued! Plenty of room for fun and enjoyment for everyone! Bootleg is my home riding spot and I loved seeing the sea of ebikes enjoying the trails this week! It's everyone's land.... not just the pedal only guys that think it's theirs exclusively! Be safe and more importantly be kind and tolerant. Your earlier comment only encourages the continued divide and if it's a war your looking for sorry to tell you but you have already lost because ebikes are here to stay!
Load more...