One of the toughest parts of living in the Northeast is keeping your love of mountain biking alive through the dead of winter. Riding outdoors can be down right brutal and there's only so much the Internet can do to keep the flame lit. It's usually right around mid-February that I say to myself that this whole mountain bike thing will never happen again.
Since December of 2009, riders in the Greater Toronto Area have had a wicked tonic for the winter blues - the Joyride 150 Bike Park. I visited Joyride for the first time in mid-February and it didn't take much time to realize what a profound impact the park can have not only on your riding skills, but also your mental psyche.
I live in Buffalo, about two hours from Toronto and once a week for the last month I've been heading up to Joyride. My main goal at Joyride was to work on my jumping skills. When I lived in Whistler five years ago, I was able to get to a modest skill level. Since I've moved back to the East Coast, all of the jumps near me are pretty techincal BMX style jumps that are way beyond my ability, so my skills have gotten pretty rusty.
The thing that I noticed on my first visit to Joyride is how well they have taken the 'intimidation factor' out of every kind of riding. I was able to start out on the pumptrack and get my flow back a bit. Once I spent some time there, I moved over to the small jumps and figured those out. It was an easy transition to the larger set and now I have my eye on the big line.
For me it was about dialing in jumps, but the great thing about Joyride is how so many styles of riding can coexist under one roof. It's wild to be riding on the XC track, up in the rafters, and see a train of riders on the big line of jumps rising to your level. It's cool to see young kids getting into riding as well as parents and older riders rekindling their love for the sport. Hang out there for an afternoon and you'll run into every level of rider from first day beginners to World Cup Cross-Country racers to Pro BMXers. Here's what a couple of the locals had to say about their experience at Joyride 150.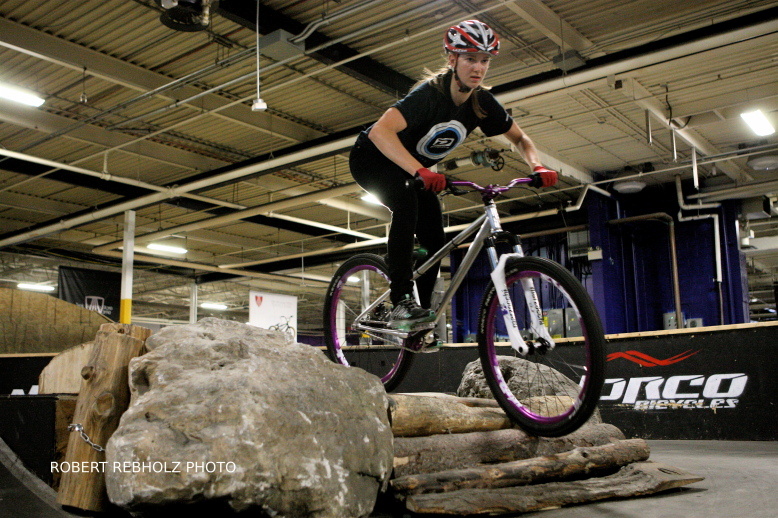 | | |
| --- | --- |
| | When I first started here three years ago I couldn't hop a log and now I race on World Cup courses. Everyone is so close on fitness on the circuit, so if you can work on drops and riding rock gardens in the winter it gives you an edge once the Spring comes. - Haley Smith- Norco World Cup Cross Country racer |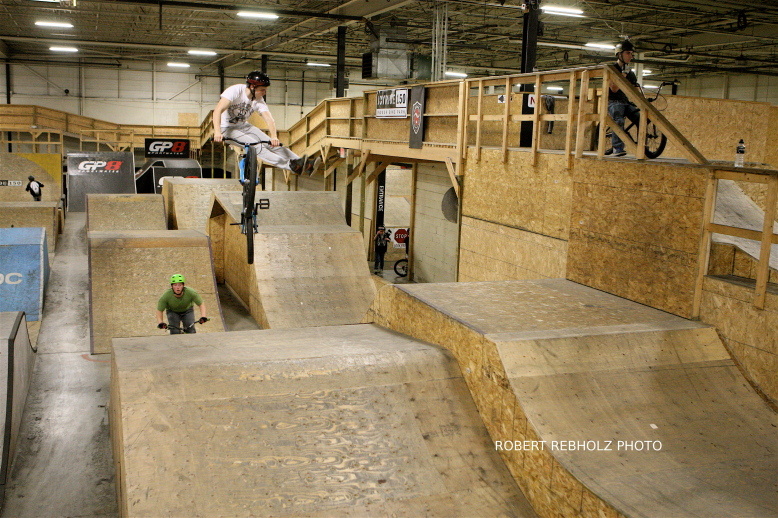 | | |
| --- | --- |
| | When I first came here I couldn't get through the beginner line of jumps. After three season of riding here I can jump everything and throw tricks comfortably. I'm looking to do some slopestyle competitions this year as well. - Matt Bolton |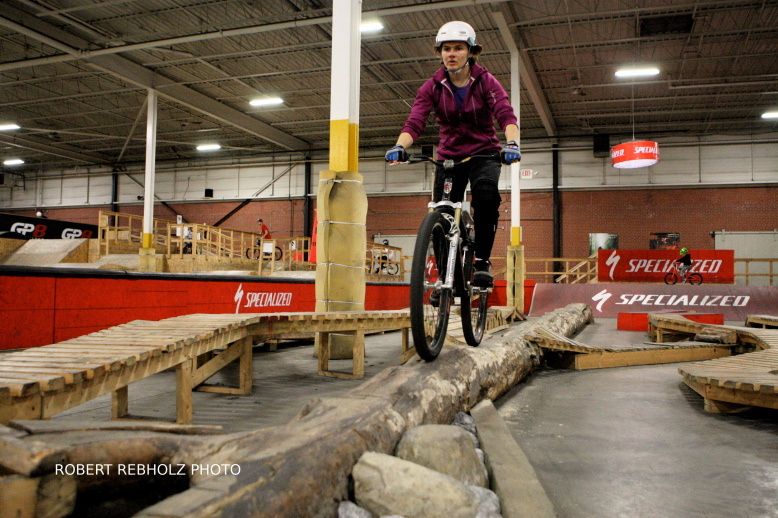 | | |
| --- | --- |
| | I have two little guys now and they love coming here. Sebastien is five and a half and when I first brought him here a few years ago he was on a run bike. Now he is on a pedal bike and loves hitting the blue jumps and even the foam pit. It's been great to see his confidence grow. - Cecile Gambin- Former Canadian National Downhill team member |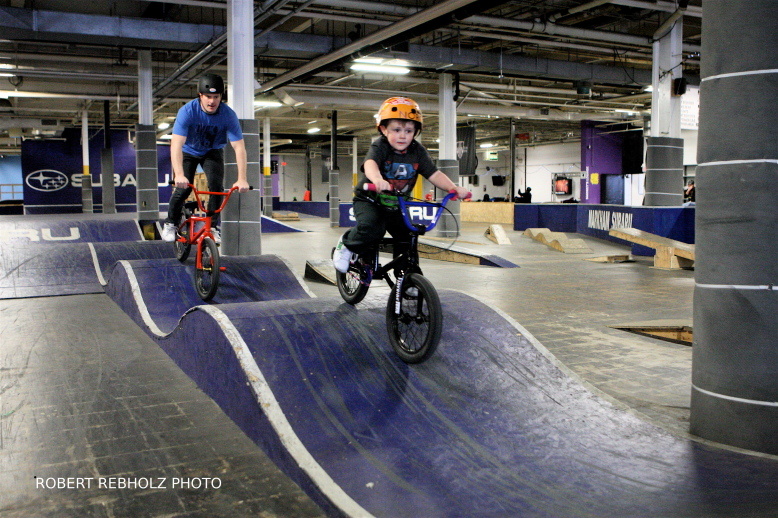 | | |
| --- | --- |
| | I've been coming here with my three-year-old son, Will, since November and we love it. He started on the strider and since January he's been on two wheels and he's progressing really quickly. I'm into it full on as well. I went from knowing nothing to being able to ride fakie, all the jumps and most recently foot jam tailwhips. It's funny asking a kid who is fourteen for riding tips, but everyone has been awesome here. - Kyle Osborne |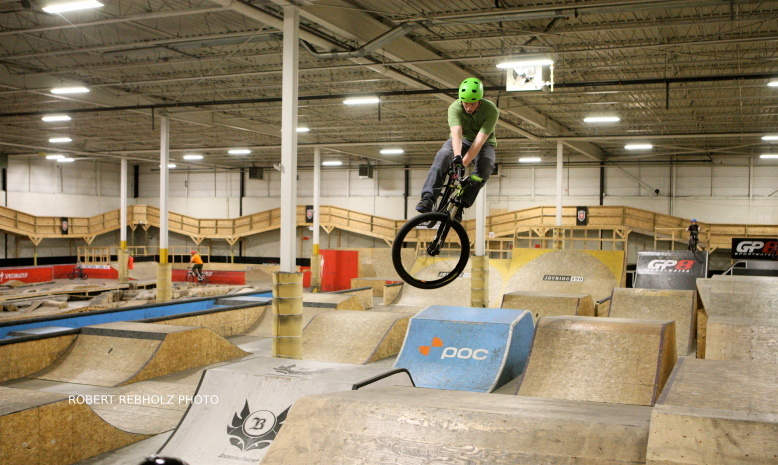 The owners of Joyride 150, Scott Bentley and Mark Summers, were good enough to sit down with me and have a chat about their inspiration for creating the park, the ups and downs and the relationships they've built through the process.
How did you get inspired to build this place?
Scott
: Mark said he was planning a trip to Ray's in Cleveland with his family and asked me if I wanted to join him. My wife thought it sounded like a cool idea and she pitched the story to Discovery Television. We went down there and shot a story on Ray's and I absolutely loved his idea and wanted to help him get exposure.
Mark
: It was a long time after we returned that we started to think about how cool it would be to have something similar to Ray's up here. Scott and I were working on an industrial renovation in a big warehouse, fixing it up for someone else and got to thinking if we could make it happen. We put together a business plan and decided that it just might work.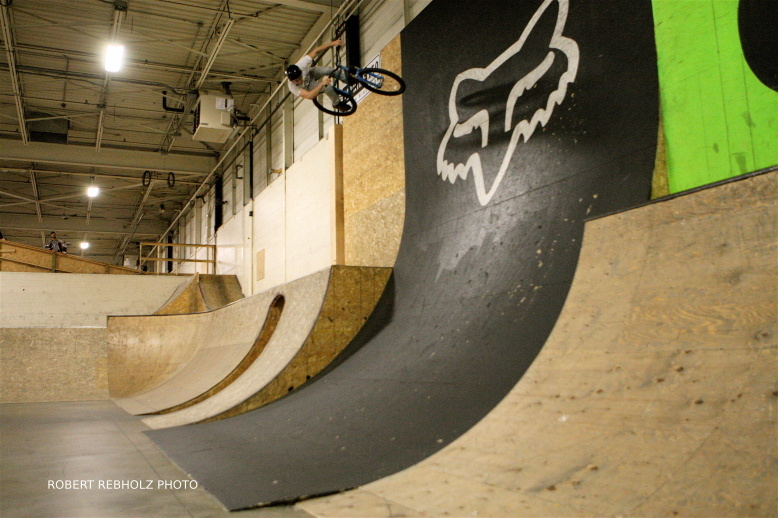 What was the hardest part of getting the place going?
Scott
: Finding a facility and a suitable location at the right price was really difficult. We searched a radius of an hour's distance from the GTA and found nothing. We'd pitch our idea and people would just turn us down. Even if people had empty buildings they just turned us down. At one point we thought we were not going to get be able to get it done because we couldn't find a facility. Eventually someone came to us and offered us this place and it all worked out.
Mark:
The hardest part for me has been everything that comes along with running a business like this. Dealing with the red-tape bureaucracy and time lines can be tough.
How was the building process?
Scott:
It was hard to get over the sheer vastness of the space. It was intimidating to see that empty space and have to fill the whole place with things you want to put in it. Once we finally got the place in September, we were putting in 100 hour workweeks for three and an a half months to get the place open by winter break. It was great to see all the overwhelming support we got from volunteers who wanted to come out and help. It was also very cool to be able to work side by side with my father for the project, because I only get to see him three or four times a year.
How has the response been?
Mark:
It's been overwhelmingly positive. Everyone coming in the door is here to have fun. How many businesses have that kind of awesome clientele? It's great to see all the little kids getting into it as well as the older guys learning how to jump again.
Scott:
We're growing at a good rate and gaining more and more traction. We're able to offer more programs as we grow as well. Besides our 'learn to ride' programs we are doing summer camps, after school programs, police bike training and programs that reach out to at-risk youths. We had the opportunity to bring in a group of severely handicapped kids and wheel them around the park on the rollers and show them people riding the big jumps. That was a really special experience to be able to share the experience of riding with someone who isn't physically able to on his or her own.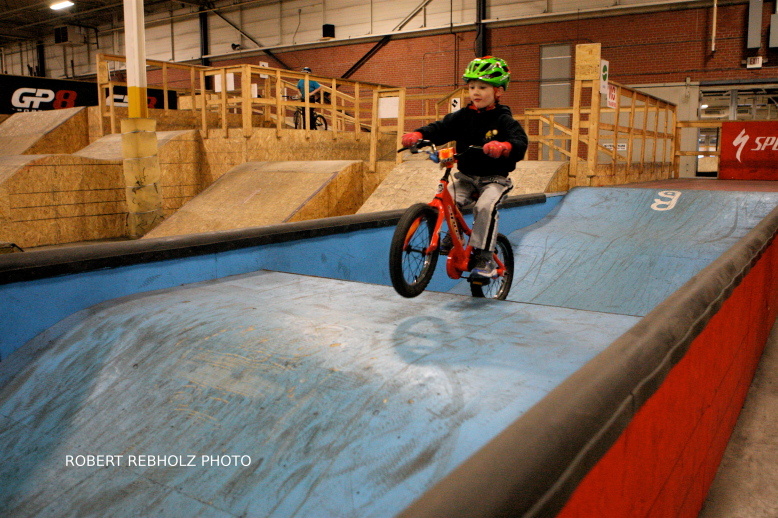 It seems like your focus in the park is really getting people who've never ridden a bike before into it. How do you do that?
Scott:
Well the intimidation factor can be huge at places like this for people who are new to it. For us it's about opening up and building stuff for beginners to progress and take away that intimidation factor. We're creating new cyclists every day. People with no exposure to biking can come here with nothing and we'll set them up with a bike and a lesson. Within a few weeks they start to learn the ropes and they're off buying a new bike.
We are actively trying to pursue programs that will help people transition into other disciplines of cycling as well. We'll take BMX guys and give them a cross-country bike and take them on trail ride. Or maybe someone who never has ridden road or raced mountain bikes on a road ride or take them to an eight-hour XC race. If you can bring down the intimidation factor, you break down the barriers to a new discipline of cycling and make the sport stronger on a whole.
Mark:
I think what's great about this place is the camaraderie between different types of cyclists under one roof. We hope to break down the barriers between the different styles of riding. We're trying to show people in one building a bunch of different styles of cycling. Our goal is to create more and more lifelong cyclists.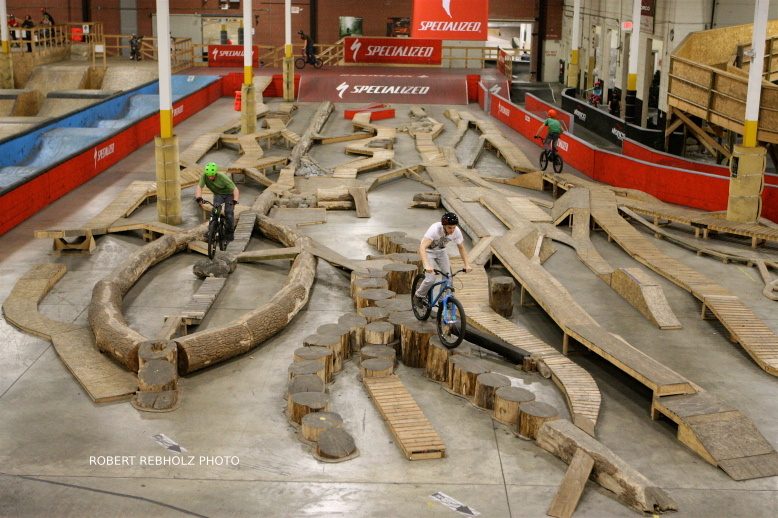 You've talked about the beginners, but I see a lot of nasty rippers in this park as well. What does Joyride do for the high-skill segment?
Mark:
I think we give them a place where they can progress their riding, just like anyone else who comes through the door. We really try to listen to guys like Brett Rheeder, Drew Bezanson and our employees like Brandon Webster who just got back last week from Simple Sessions in Estonia. Last week we had the Red Bull Performance Camp here and we had some of the top riders in the world like Daniel Dhers, Corey Bohan and Daniel Sandoval getting ready for X-Games at the same time as a youth group was learning to ride.
Any parting words?
Mark
: For me it's been great to work with my family on this whole project. My wife does the books, my eldest son does much of the design work, my daughter takes care of Twitter and Instagram and my youngest helps with various jobs. It's been so cool taking our love for riding, we all raced mountain bikes for years, and then channeling that into this place.
Scott:
Ultimately, we were looking to build a community and we feel that we've done that. The bike community here is thriving and you can sense it the moment you walk through the door. It makes coming to work every day feel not much like work at all. Working with family has been great for me as well.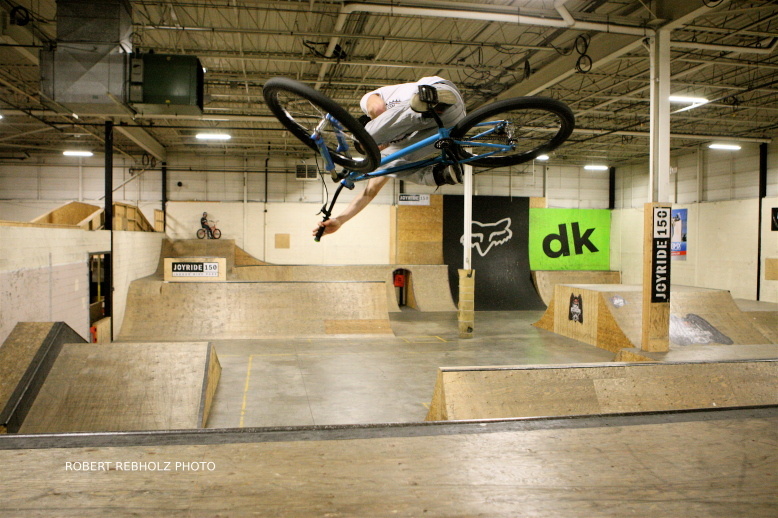 Thanks again to Mark and Scott for rolling out the red carpet for me on this project and allowing me great access to the park and introducing me to tons of awesome local riders. Thanks to Haley, Kyle & Will, Cecile and Sebastien, Matt Bolton, Sean Maule and all of the other locals who I had a chance to meet during my time at Joyride. Also thanks to Carter Holland at Black Market, Jim Cielencki at Sunday Bikes, Scott Boyd at Hayes Group, and David Parrett at LH Thomson for setting me up with a terrific bike to ride at Joyride. Big shout out to Jeremiah Stich and the boys at Bert's Bikes for setting it up for me.
Joyride 150
is open year round, so go check it out for yourself!
Here's a vid by BMXFU featuring hometown boy Drew Bezanson killing Joyride 150
: