robiredale
Member since Jul 26, 2012

Male / 37
Peebles , Scotland
Block user
Recent

Jan 10, 2021 at 8:47
Jan 10, 2021

Selling
Jan 10, 2021 at 8:44
Jan 10, 2021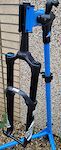 $200 GBP
RockShox Pike RCT3, 150mm travel, Non-boost, 650b, 15mm axle. Steerer is 180mm long. 42mm offset. Great fork for a trail bike. This one has a Vorsprung Luftkappe installed in it, which increases midstroke support. The left stanchion has a few scratches, one of which is quite deep. Its never affected the fork's performance or service intervals. Speaking of which, the fork is due a service and is priced accordingly. The lowers also have the usual marks on them as would be expected from a well used fork. Postage would be in addition to advertised price at buyers expense. Item located in Peebles.

Jan 10, 2021 at 8:27
Jan 10, 2021

Selling
Jan 10, 2021 at 8:16
Jan 10, 2021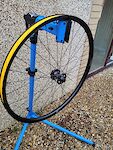 $70 GBP
Nukeproof Neutron V2 Front Wheel, 650b, Non-boost. 29mm internal width. Used twice, so very good condition for a second hand item. Includes tubeless tape, does not include valve. Postage would be in addition to advertised cost and at buyers expense. Located in Peebles. Item webpage here: https://www.chainreactioncycles.com//nukeproof-neutron-v2-front-wheel/rp-prod195300?utm_source=CRM&utm_medium=email&utm_campaign=OrderConfirmation&utm_content=GB

Jan 10, 2021 at 7:59
Jan 10, 2021

Selling
Jan 10, 2021 at 7:58
Jan 10, 2021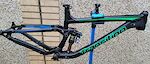 $400 GBP
2017 Transition Scout frame only in medium. This is one of my favourite bikes I've owned - however, I'm moving to a 29er trail bike for this year. It has 125mm of rear travel, not the 120mm advertised above (there's no option to list 125mm!). It's a brilliant bike that you can ride wherever you want pretty much. This is a non-boost frame. The good: It's fully functional, with no dents. There is no play in the bearings, and the shock works as it should. It comes with a headset and a Shimano XT bottom bracket, both of which have plenty of life left in them, as well as the rear axle and QR seatclamp. It is running a Fox Float X shock, which is substantially better than the RockShox Monarch it replaced. The not so good: You can see in the pictures that the rear triangle has blue decals, the front green. The original rear triangle developed a crack around the brake mount and was replaced under warranty, but they had no green ones! No problems since (about two years). There's quite a few areas around the frame where the paint has rubbed off. The worst area is around the bottom of the downtube near the bottom bracket, caused by an evil bike rack. There's some rub on the underside of the top tube due to the use of a frame strap, and inside the rear triangle due to tyre rub. I've tried my best to capture the worst of it in the pictures. I can provide more images if needed. Whilst they are working fine at the moment, I would budget for the replacement of the bearings and a shock service. Its been a couple of years since they were looked at. Whilst the mileage hasn't been that high over that time as its been run as a second bike, definitely factor this in. I've priced it with this in mind. Transition's archive page for this frame is here: https://www.transitionbikes.com/Support_Archive_VersionDetail.cfm?ID=11 Postage would be in addition to advertised price at buyers cost. Frame is located in Peebles.

Dec 14, 2020 at 6:24
Dec 14, 2020

Afternoon Ride
Load more...