rollertoaster
Member since Nov 26, 2007

O+
Male / 44
Santa Fe , New Mexico
Block user
Recent

Selling
Nov 1, 2019 at 16:07
Nov 1, 2019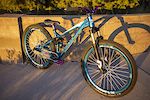 $1700 USD
morpheus v slope. slopestyle bike I don't ride it anymore sad to see it go but I don't have room for it. marzocchi slope cr 100mm fork fox rp23 shock (frame has 80mm of stiff travel) spank spike bars 40mm rise (powdercoated) spank spike 50mm stem shimano zee rear brake custom wheel build. spank tweet 28 rims on hope pro 2 evo hubs schwalbe table top tires deity vendetta v.3 cranks with ti spindle profile sprocket deity pivotal saddle and post twenty6 pedals with ti axles.

Nov 1, 2019 at 12:29
Nov 1, 2019

Selling
Apr 7, 2018 at 16:07
Apr 7, 2018

Apr 7, 2018 at 15:54
Apr 7, 2018

Selling
Apr 7, 2018 at 15:49
Apr 7, 2018

Mar 13, 2018 at 8:05
Mar 13, 2018

Mar 2, 2018 at 7:00
Mar 2, 2018
Surly Dirt Wizard Tire - Review
I'm over the whole Plus thing, but I have spent considerable time on dirt wizards so I'll share my experiences. grip is fantastic, rolling resistance is far better than expected. I would run 18f/21r psi on 45mm internal rims. I have flatted them a couple times but the were always repairable with a plug and the casing is pretty burly so flats are rare. What really surprised me is the durability of the tread given how much grip they have. I got close to 500 miles on a rear before I felt it could use replacement. I get nowhere near that amount of mileage out of my normal tires. FWIW i've had about 4 dirt wizards and about 1500miles of hard riding on them

Selling
Feb 16, 2018 at 7:14
Feb 16, 2018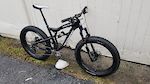 $2550 USD
Foes mutz full suspension fat bike size L I don't ride it anymore and need the $ for a new bike 120mm rockshox bluto BOS Void air shock Race face sixc carbon handlebars 787mm Esi extra chunky grips Shimano m8000 brakes and drivetrain groupset 11-4211spd cassette 30t oval chainring Sram carbon crankset 170mm Works components-1.5 angleset KS lev ti 150 dropper (sram x9 lever actuator Wtb pure V saddle Hope 183mm 2 pc rotors Carbon 85mm rims (tubeless) with sarma 120pt hub On one Roater front tire Vee H Billie rear tire Also including a new in box carbon rim and a new in box vee H Billie tire

Selling
Feb 12, 2018 at 5:31
Feb 12, 2018

Feb 12, 2018 at 5:27
Feb 12, 2018
Load more...