rondizzle08
Member since Aug 2, 2013

Male / 39
Albuquerque , New Mexico
Block user
Recent

Feb 8, 2019 at 11:02
Feb 8, 2019

Dec 16, 2018 at 12:40
Dec 16, 2018

Selling
Dec 16, 2018 at 12:33
Dec 16, 2018
$800 USD
In excellent condition Nukeproof Mega 275 frame in size medium and red/silver. Weighs 8.2 lbs w/out BB or headset. No cracks in the frame, no shock leaks, and bearings are in smooth and tight condition. I only had this since August so it has limited mileage. Only a few paint chips in the rear as to be expected. Most of the frame was covered in frame protection. It does come with a Nukeproof headset zs44/56 that was installed but i removed it to use my own FSA headset so it's virtually new. I bought this frame brand new only 4 months ago for $1579, it's yours for only $800! She's a ripper but unfortunately i'm riding a lot less now since my kids are now in school so i'm thinning my quiver. My loss is your gain. PayPal only and buyer will pay half (1.5% of agreed sale cost) of Paypal's fee. Buyer also pays shipping, contact me for quote with shipping cost.

Dec 7, 2018 at 13:21
Dec 7, 2018

Dec 7, 2018 at 12:46
Dec 7, 2018

Nov 9, 2018 at 11:10
Nov 9, 2018

Oct 21, 2018 at 20:47
Oct 21, 2018

Oct 16, 2018 at 15:19
Oct 16, 2018

Selling
Oct 16, 2018 at 15:11
Oct 16, 2018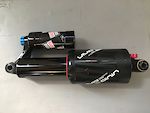 $100 USD
Up for sale is a 2015 Vivid Air R2C in 8.5" eye-eye and 2.5" stroke length. This is in very good condition. It hasnt been used since the summer of 2015. I sold the frame I used it on a long while ago and I've finally got around to getting rid of it. Only $100 obo. Shipping costs vary depending on location so contact me for an estimate. Only PayPal accepted.

Sep 28, 2018 at 11:10
Sep 28, 2018
Load more...