"
Built For Success
" – Part 1
by Todd Schumluck
Hello Pinkbike readers. Since this is my 'maiden voyage' in contributing columns to Pinkbike, I should take the time to introduce myself. My name Todd Schumlick, I am from Pemberton, BC, and am the owner/operator of
PerformX
. I have spent the last 13 years training top athletes in motocross, downhill, snocross, snowboard and other action sports athletes. My downhill athletes include Steve Smith, Remi Gauvin, Kyle Sangers, Miranda Miller and Tyler Alison. My background includes a degree in kinesiology, certification in sports nutrition, national strength and conditioning association professional certification, and various sports performance courses I've attended over the past 20 years in the industry. Most importantly, the many years of hands on experience and development. As for my own two wheel background, as a kid it all began as a competitive BMX racer, later in life turning to a mountain bike and motocross enthusiast and recreational competitor.
As for PerformX itself, it includes motocross, downhill and other action sport-specific training services, motocross and downhill schools and camps, and a motocross and downhill team.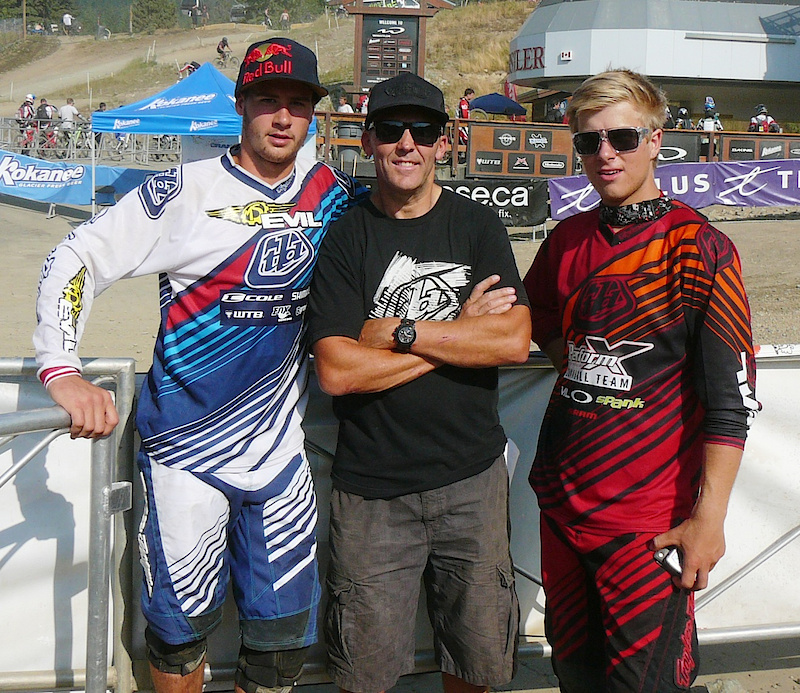 Todd with Steve Smith and Remi Gauvin at Crankworx 2010.
Let's move onto a column I've had in mind, appropriately named "Built To Succeed." As my first column, I think it's a good place to start. Why? Let me explain.
As a professional "trainer," I am the first to admit that fitness and nutrition, in my opinion, are not the most important aspects in downhill racing success. I've been fortunate to be around world-class athletes for some time now, so I guess you could say I have seen "what it takes." This includes what I like to call the five D's: desire, determination, dedication, drive and discipline; and the two A's: ability and attitude.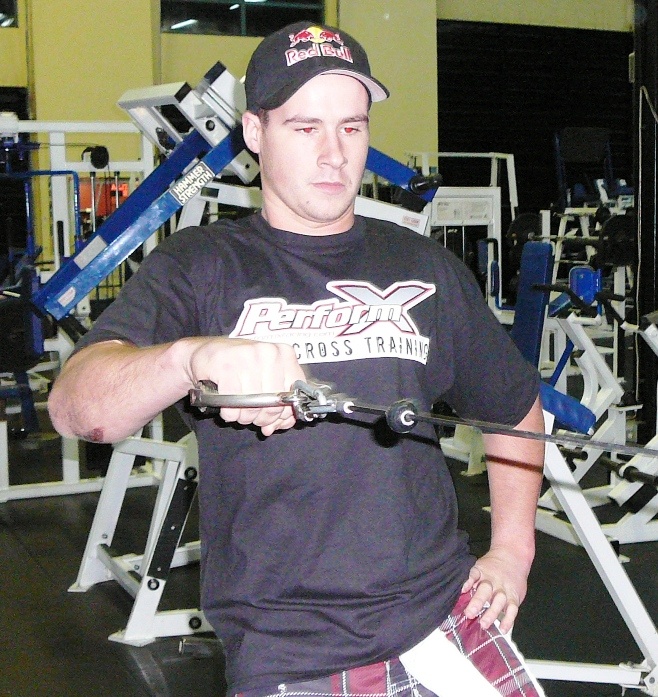 Steve Smith has been training with Todd for a few years now...it's working.
I guess I could have named this column "Built To Win," but in truth, not all of us can win. What we are capable of though, is success. To expand, I also don't believe championships, wins, money and/or fame dictate success either. What I do believe, is that anyone who can put in an effort that is equal to or greater than the requirements of their goals is a success. I guess this goes beyond downhill racing and sport as well, as this holds true to life. I say all this because I'm 42. That doesn't mean I'm necessarily wise, it just means I have some experience from being surrounded by elite athletes, those pursuing dreams, and I guess life general. Trust me, nothing will be more satisfying than someday knowing you put in an effort that properly matched your goals…dreams. This is how I approach the development of all athletes I assist. With a bit of guidance, I assist them in properly setting goals, both short and long-term, and then together developing a plan that will help them getting there.
To further expand on some goal setting, I'll use the following as an example
:
1. Long-term goals for 20____ season:
a)
Racing Performance
:
a. Technically
b. Physically
c. Mentally
b)
Practice Performance
:
a. Technically
b. Physically
c. Mentally
c)
Training (fitness) Performance
:
a. Physical assessment/fitness test
b. Verbal assessment
c. Strength and weakness/priorities
d. Schedule and testing
2. Short-term goals __________ to __________ (usually 3 – 4 months) that will assist me in reaching my long-term goals:
a) Training (fitness)
b) Nutritionally
c) Mentally
d) On-bike practice (weather permitting)
Now this is a basic example of assessing and setting goals. We use this type at our MX and DH camps, but would go in to further depth with the athletes we assist in Level 2 Training such as Steve Smith, Remi Gauvin, Kyle Sangers, Miranda Miller, and Tyler Alison.
That should give you enough to think about for now. Next column, I will expand upon how to set such goals, and what you should know before making such commitments. Look for "Built For Success" – Part 2.
Until then,
Todd Schumlick
PerformX
Here's a season recap of PerformX Downhill Team racer Remi Gauvin, talking about goal setting, training and achieving goals: