With more than 20 kilometres (12.7 miles) in distance, nearly 800 metres (2,578 feet) of climbing and just over 1,000 metres (3,502 feet) of descent, the Kaslo Sufferfest's Monster Enduro on October 3rd promises to be one of the most challenging mountain biking events of the year.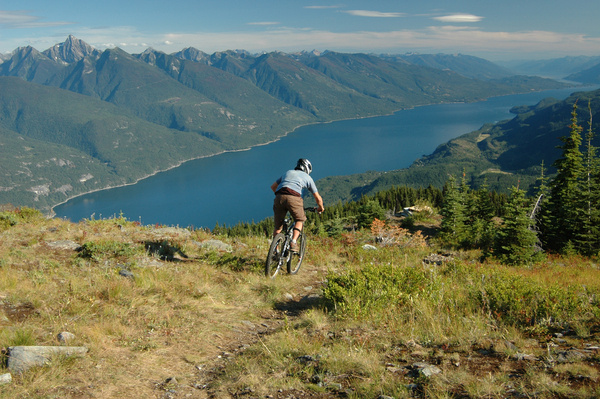 The start of the Monster Downhill after climbing 11k...hold on! Doug Pyper image.
The race will see riders climb the relentless forestry road over 11 kilometres to the top of Mt. Buchanan where racers will begin the 8.8k/1,068m descent down the southeast side of the mountain on the legendary "Monster Downhill" trail, which comes complete with steeps, jumps and all the technical sections you can handle. The clock won't stop running, but there will be awards for split times for the fastest up and fastest down, as well as overall. And to top it off, there will be an optional 10-foot drop just before the finish line to wow spectators!
For a great GPS profile of the course, check out these links:
http://connect.garmin.com/player/39236455
http://connect.garmin.com/activity/39236455
Race co-director Shon Neufeld, co-owner of Kootenay Mountain Sports in Kaslo, has enlisted some eager rider volunteers to do remedial work on the infamous Monster trail.
"Things are shaping up nicely. There are bypasses for all major jumps, and any of the natural drops in terrain on the course are less than 3 feet," says Neufeld. "Racers will have a great time, Monster is a blast! The lower section is very flowy & you can really get your speed up."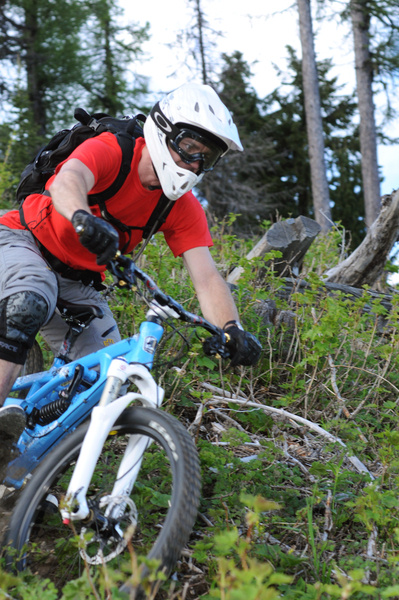 The Monster can eat you. Doug Pyper Image.
The Sufferfest will also include 10 and 25 km trail run races, as well as a kids' run or bike race along the Kaslo River Trail.
"We're eager to see the running community compete on the same morning and in more or less the same place as the mountain bike crowd," says event creator and co-director Janis Lampimaki of Kootenay Mountain Sports. "They are really quite different groups and we think it will be exciting for everyone to see all the action of different events at the same time."
All races will finish on Front Street in downtown
Kaslo
in front of the historic Kaslo Hotel overlooking spectacular Kootenay Lake. Front street will be blocked off, and a professional race announcer will be covering the race and live video feed to be shown at the Hotel.
Need the extra push to get in gear and race this Monster? Awards include:
• $100 prime for the fastest overall male and female to the top of the mountain
• $100 prime for the fastest male and female downhill split
• WINNER will receive $125 cash, NRG merchandise, a $100 Kootenay Mountain Sports gift certificate, free entry to Kaslo Suffer Fest 2011 & winners trophy
• 2nd place will receive $50 cash, $50 Kootenay Mountain Sports gift certificate and a free entry to Kaslo Suffer Fest 2011
• 3rd place will receive $25 cash, a $25 Kootenay Mountain Sports gift certificate and free entry to Kaslo Suffer Fest 2011
Anyone who wants to be part of this event's first edition on Sunday October 3rd, be it as a spectator, volunteer or participant can get more information by checking out the event website:
http://www.kaslosufferfest.com
or by calling Kootenay Mountain Sports at 250-353-2245.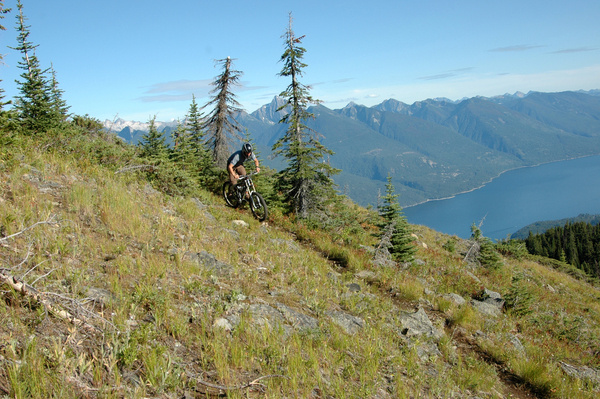 Views abound if you can get your eyes off the trail. Doug Pyper image.