by Ryan Kuhn
photos by Logan Swayze
Last fall, Whistler-based
Professional Mountain Bike Instructor (PMBI)
owner/director Paul Howard brought together a team of highly respected professional racers and coaches to develop and refine a new Level 3 Coaches Certification course. Combining real world race experience with established and innovative professional coaching techniques, this new certification aims to provide the training and tools mountain bike coaches need to successfully prepare aspiring and accomplished athletes.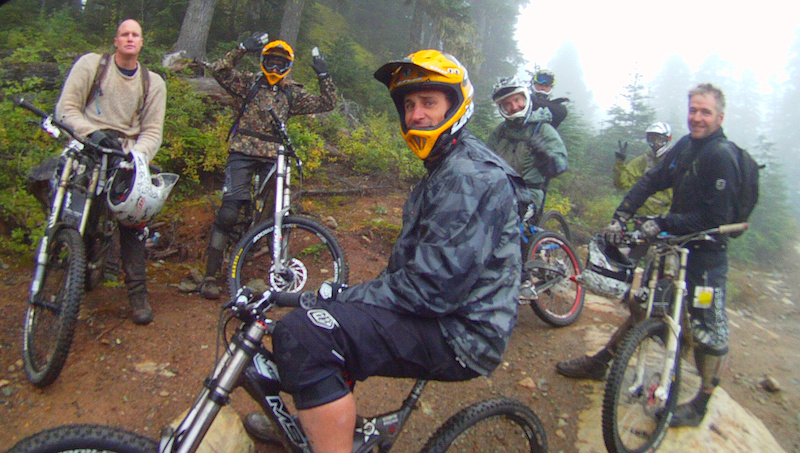 Chris Kovarik and other professional coaches and racers gathered in Whistler last fall to help develop the Level 3 Coach Certification.
Chris Kovarik, a renowned World Cup Downhill competitor and certified PMBI Level 2 instructor, was one of the coach certification development session participants. Chris recently began instructing riders through
Kovarik Racing
with his wife and 2011 Canadian National Champion Claire Buchar.
| | |
| --- | --- |
| | There is a lot of information and resources that need to be developed into a program that can offer athletes successful development opportunities, technical skills are great, but without proper coaching, mentoring and mental/tactical development, an athlete can only go so far. - Chris Kovarik |
Paul is building the Level 3 certification based on the principles of his Level 1 and 2 Instructor courses. The idea is that the first step to becoming a coach is to become an instructor first; learning about teaching the sport and gaining long-term experience as an instructor is a key training element when developing and training new coaches. The PMBI 1 and 2 courses train instructors how to teach recreational, non-competitive riders. As such, the goal of the new PMBI 3 course is to help provide the industry with a gap between the two teaching streams of instructing and coaching, and train coaches how to teach aspiring or active competitive mountain bikers.
These focus on fundamental skills of body positioning and balance, gears and braking, line selection, direction control, pressure control and timing and coordination. While beginner riders will focus on the first two skills (Level 1), intermediate to advanced riders (Level 2) focus on all aspects of these fundamental skills, advancing their abilities from bike operation and body position to pressure control, direction control and timing and coordination as it relates to all the fun aspects of mountain biking – cornering, drops and jumping.
The Level 3 certification takes this a big step forward, focusing on coaching technique and strategies to identify opportunities for skill improvement, helping the racer self-coach, and utilizing advanced coaching skills such as terrain selection, competition preparation, course evaluation and strategy, and the Performance Affecting Factors (technical, equipment, mental, physical and the environment).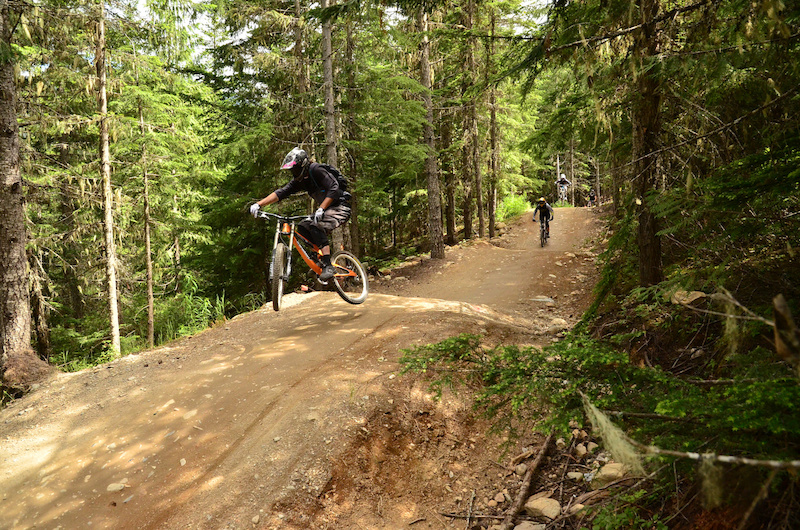 Paul Howard, owner/director of PMBI, leads instructors during a Level 2 session last summer.
Ken Doraty, a participant in the coach certification session, is a Whistler Bike Park Coach and Staff Trainer and is certified as a Level 2 Canadian National Coaching Certification Program (NCCP) coach and a Level 4 Canadian Ski Instructor Association Instructor (CSAI) instructor. Here's his take on the PMBI Level 3 certification:
| | |
| --- | --- |
| | We all brought some real world experience and proven coaching experience to the table. We also found that no matter what the sport, coaching was coaching and our collective theories were our common ground to meet on and develop from. Having athletes Andy Bostock, Chris and Claire there to validate our concepts was exciting. I do believe this will be of extreme benefit to coaches wishing to develop athletes as part of a team or club. - Ken Doraty |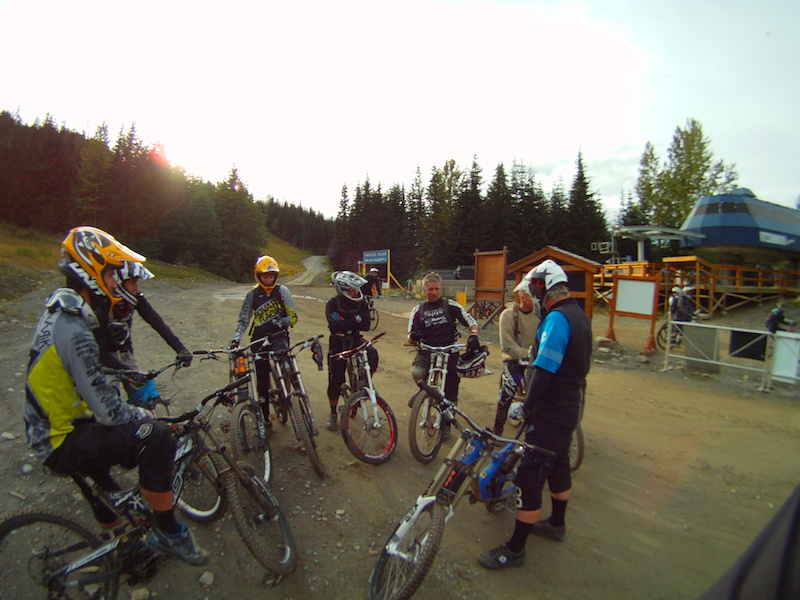 Ken Doraty practices leading the PMBI Level 3 development session participants through a coaching session.
Being able to ride and teach mountain biking is one thing, but training other instructors how to teach is a completely other skill set and so requires a different background of training and expertise, explains Paul. All the PMBI course instructors are a minimum of CASI/CSIA (Canadian Snowboard Instructors Association) Level 4 certified. To help put this into perspective, there are about 30,000 CASI snowboard instructors in the world and from this there are only about 50 CASI Level 4's.
| | |
| --- | --- |
| | Creating a unified platform, in line with coaching standards across multiple disciplines, will bring legitimacy to the sport, the athletes, and will raise the standard of coach/athlete interaction and ultimately the athlete's ability to produce when the moment comes, - John Shelly, a past World Cup Snowboard Athlete and Coach, PMBI Level 2 and CASI Instructor, and coach certification session participant |
David Gagnon, a former World Cup cross-country athlete and one of only a handful of CASI Level 4 Examiners in the world, also participated. Coming from a cross-country background, David provided a unique perspective on training and coaching to the gravity disciplines.
| | |
| --- | --- |
| | All the skills we covered, the way we used the terrain and the different ways we developed each and every skill blew me away, I felt like I was a good guinea pig to all of the sessions we tried. I improved so much. I discovered how to handle my bike all over again! - David Gagnon |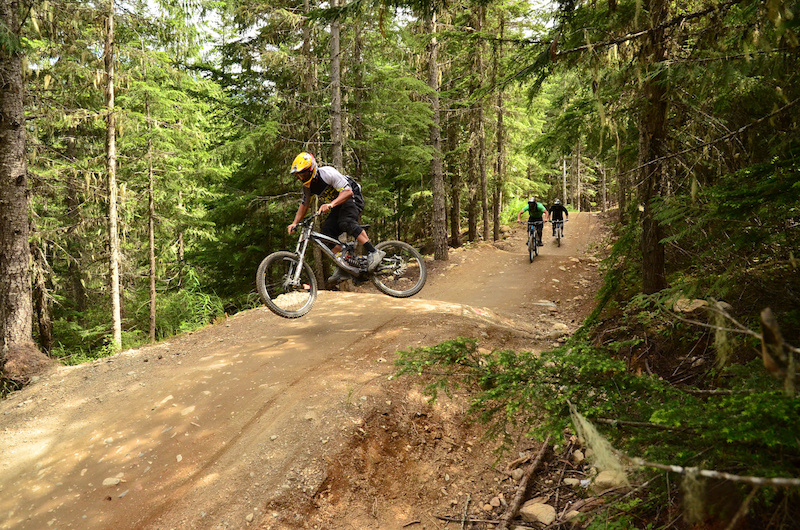 Sharpening the knife: Chris Kovarik cuts to the chase.
The PMBI Level 3 Coaches Certification will be delivered for the first time in the fall of 2012. Participants will have to have completed the Level 1 and 2 training. Following the Level 3 session, coaches will be required to implement and develop a "portfolio" of their coaching activities for the next year, followed by a one-day coaching evaluation before being fully certified.
PMBI began in 2006 and for the past four years has doubled the number of certified instructors every year, and appears to be well on the way to doing the same in 2012. Courses are scheduled from May to September in Canada, USA, Australia and the UK. Last year, a number of professional racers (Kovarik, Anka Martin and Katie Holden to name a few) took the PMBI training as they either began their careers in coaching or were looking for the best information out there.
| | |
| --- | --- |
| | PMBI benefits greatly from having such a high level of expertise in the instructors, coaches and racers across a multitude of sports that are involved in its development. PMBI is quite unique in this respect. Being able to compare our standards of training and certification courses, not just to other mountain bike courses, but also to ski and snowboard courses (which have been around for over 40 years) - is invaluable. This enables us to constantly strive for, and hopefully achieve, the best instructor programs not just in the mountain bike industry, but the instructor training industry as a whole. - Paul Howard |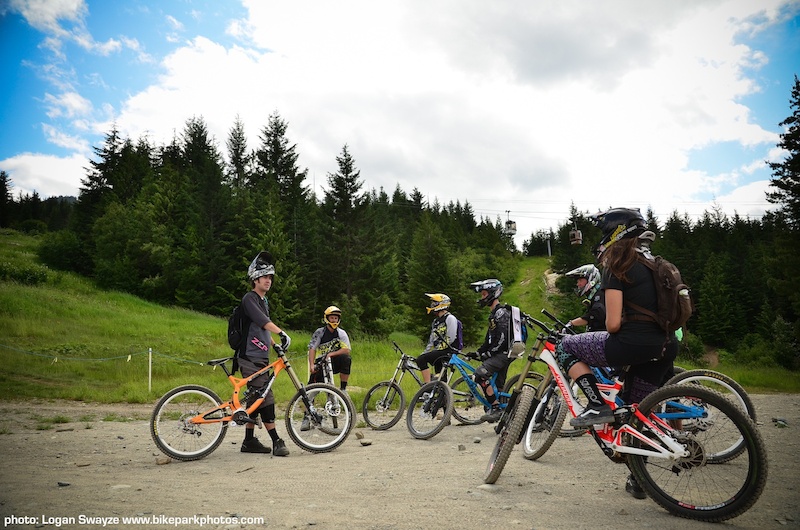 Paul soliciting feedback. The Level 3 development session was as much about learning from others as it was trying out innovative coaching techniques.
For more information, visit the
PMBI website
or contact Paul Howard at
zep_techniques@mac.com
.
Ryan Kuhn is a Pinkbike contributor and is the co-manager and coach for the PerformX Young Guns Downhill Team. He lives in Rossland, BC.