Steve Smith and PerformX owner/trainer Todd Schumluk have teamed up to offer a highly focused, racer-oriented 4-day camp in Whistler Sept. 30 to Oct.4. Looking to take your game to the next level? Read inside...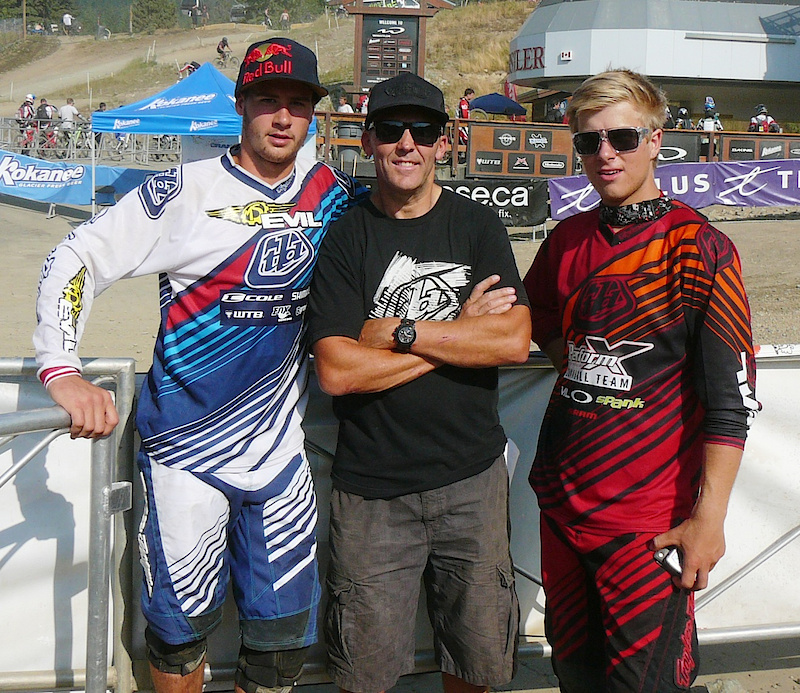 Steve Smith (Evil) with trainer Todd Schumlick and PerformX racer and Canadian National Champion Remi Gauvin.
Date: Sept. 30 – Oct. 3 (4 days)
Location: Whistler – Pemberton, BC
Details:
- On-bike coaching with World Cup competitor Steve Smith; including bike set-up, rider evaluation, technique and rider position instruction, specialized braking, cornering, and jumping drills, line choices, and more World Cup secrets. Learn what has elevated Steve's success.
- Level 1 fitness, nutrition, and mental development program with Todd Schumlick of PerformX; trainer of Steve Smith, 2010 Canadian Jr. Champion Remi Gauvin, and 12 national motocross championships (PerformX Level 1 Training is reg. $1000.00)
- Accommodations, camp transportation, and meals included. Eat, sleep, and experience 'what it takes' for athletes to reach their highest potential. Much will be learned off the bike as well. (If not needing accommodations, contact us for discounted pricing)
- Price $1750.00. Includes optional continuation into the PerformX DH Academy or Level 2 Training.
- Limited space, reserve your spot now.
Added note: This is a race development camp, not a recreational or party camp. Come prepared to work hard, absorb all valuable information, and enjoy learning how to reach your highest potential.
Reserve your spot at info@performxracing.com. Feel free to email or call us at 604.935.9484 if any further questions.
Perform at your best in 2011! Learn more about
PerformX
and read an
interview with Stevie
.