sa00ara00ah
Member since Feb 17, 2007

Duncan , British Columbia
Block user
Recent

Sep 11, 2010 at 16:30
Sep 11, 2010

Sep 6, 2010 at 15:42
Sep 6, 2010

Jul 9, 2010 at 10:19
Jul 9, 2010

Jul 2, 2010 at 14:06
Jul 2, 2010
hi dave again is the remedy still for sale.thanks dave.

Jul 1, 2010 at 23:36
Jul 1, 2010
please email me back m8.thanks dave.

Jun 16, 2010 at 11:04
Jun 16, 2010

Jun 15, 2010 at 22:20
Jun 15, 2010

Jun 15, 2010 at 22:17
Jun 15, 2010

Selling
May 25, 2010 at 8:09
May 25, 2010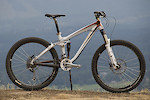 $1000 CAD
$1000 for the frame and shock, or $2450 for the full bike. Bought from the Trek Bike Store (aka Pro City Cycle), in Victoria, as "A" stock (not demo or test bike or anything) in September. Cost $4200 + tax new. Size small (fits 5'0" to 5'9"). White and bronze colour. Frame comes with Fox RP23 XV (extra volume) shock, headset, and seatpost and seatpost clamp. Will include fork (RockShox Lyrik IS Air, two-step 115-160) with frame for $450. Will sell as frame and shock for $1000, or full bike for $2450. Full bike specs: http://www.trekbikes.com/ca/en/bikes/2009/archive/remedy8 Will come with a different crankset. In excellent condition. A few tiny scratches on the seatstay (not noticible) and in fork decals. Small paint chips on bottom of chainstay from chain slap. Only used for XC, no freeride or drops or anything. This is the 2009 model, and has more travel than the 2010, and is more "all mountain", whereas they turned the 2010 Remedy into more of a trail bike with less travel. I believe the frame geometry is identical though. Selling because I broke my road bike and need the money to replace it. Will ship at buyer's cost.

Selling
May 25, 2010 at 8:02
May 25, 2010
Load more...