saltheguinea
Member since Aug 11, 2015

40
Gunbarrel , Colorado
Block user
Recent

Jan 19, 2020 at 14:40
Jan 19, 2020

Selling
Jan 19, 2020 at 14:40
Jan 19, 2020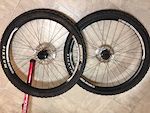 $80 USD
Selling these as I upgraded. If you're looking for a decent set of wheels for an inexpensive build, then look no further! The front rotor was bent in shipping, I tried to true it...maybe you'll have better luck than I. 15x100, 12x142 hub spacing, Shimano 9/10 speed freehub. Ardents have plenty of life left, look pretty new to me actually. I work in Denver, live in Boulder so could meet you around the area. Thanks!

Dec 22, 2019 at 17:10
Dec 22, 2019
X-Fusion Sweep RL2 Fork - Review
Three years after the fact, but I don't give a shit - I'm chiming in anyway. First, we need more Vernon! He, Levy, Kazimer, Guy Kesteven, Josh Patterson, and Chips are some of the best bike reviewers in the biz. Period. Anyhow, hands down I'd take a Pike over anything any day. Haven't ridden a DVO yet, but have had several Pikes and loved the shit out of each one. Having said that, I had an old X-Fusion Velvet that was a 26er that they had approved for 650b use, one of the first forks on the market to be a-ok to run on a tweener wheel. Mine was so cheap it only had rebound adjust; if I was going out on a long mellow ride I'd make it a lock-out by airing it up to it wouldn't move! Not responsible, but hey it worked. I rode that fork for 3 hard season and only maintenance it saw was stanchion wipedown after each ride. I'd ride in winter, snow and slush piled up on the seals so much it looked like a slushy. All summer long in dusty dry conditions. It never complained. And, even thought it was a 32mm stanchion unit it was crazy precise and predictable. Such a damned good fork, for any amount of money. Eyeing a bike w a Sweep on it and relishing the idea of owning an X-Fusion again!

Oct 11, 2019 at 7:06
Oct 11, 2019

Sep 9, 2019 at 11:08
Sep 9, 2019

Selling
Sep 9, 2019 at 11:07
Sep 9, 2019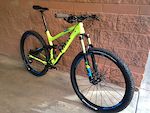 $1800 USD
Selling a 2016 Trek Fuel EX 9 29er, size 19.5 Virtual (18.5 actual) that is in excellent condition! New Bontrager XR3 (Team and Expert, 2.3r 2.4 f) tires with fresh Bontrager sealant just applied. Extras includes both SRAM XD and Shimano freehub drivers, new Bontrager bolt-on grips (ESI Chunky installed), new Geax Goma 2.35 tire, 2 Schwalbe Racing Ralph 2.25 tires (new bike take-off), Lezyne side entry composite bottle cage, and Crank Brothers Candy and Eggbeater pedals (with full-price, no BS offer). Wheels are SRAM Roam 30 with upgraded ratchet driver, so engagement is near instantaneous. As you may know, 2016 was kind of a special year for the Fuel EX because Trek worked a little magic on the geometry. They shortened up the chainstays, and lengthened the top tube ever so slightly, made the bike a bit less XC, a bit more Trail, but not too enduro (like the 2017 geometry migrated to, they only had this geo for the 2016 year). Here's a good link for for the frame geo, and keep in mind there's an adjustable link in the suspension linkage that allows the bottom bracket to raise or lower by around 5mm or so, and steepen the head tube angle to a tick over 69 (from 68.8) thus making the bike pretty versatile. I'm 6'1" and it fits well with an 80mm stem, dude I bought it from was 5'10" and had a 50mm stem on it. My inseam is 32" and the exposed seat post you see is set for my leg length. https://www.vitalmtb.com/product/guide/Bikes,3/Trek/Fuel-EX-9-29,16832#product-specs Bike has boost spacing front and rear, and Yes, 27.5+ wheels/tires fit on it up to 3.0! Again, more versatility. In addition to new tires, the rig has brand new Shimano SLX brakesets, new saddle, new SRAM 1150 cassette (10/42) and upgraded Sram X01 rear derailleur (11 speed), and a fresh coat of car wax (yep!). Guess that's about it. Change your subject line to something witty so I know that you're not a bot. Thanks. This is a great deal on a great bike, I bought this rig hoping it would reinvigorate my interest in riding, but since I got it, it's just sat in my kitchen and I have zero interest in riding now, so decided to sell it and spend more time hiking and fishing. Thanks for looking, have a good one.

Aug 3, 2019 at 19:56
Aug 3, 2019

Selling
Aug 3, 2019 at 19:55
Aug 3, 2019

Jul 1, 2019 at 5:56
Jul 1, 2019

Selling
Jul 1, 2019 at 5:55
Jul 1, 2019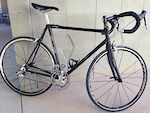 $500 USD
Have a Look KG381 road bike for sale. Frame size is 56cm, 56.5 effective top tube means this is good for riders 5'9-6'. Beautifully handcrafted carbon frame rides like a dream! Comes equipped with a full Shimano Ultegra 9 speed gruppo, including cassette, brakes, and front derailleur. Crank gearing is 53/39. Wheelset is high-end Mavic Kysrium Elites, tires Rubino Pro Slick 700 x 23. Carbon ergo handlebars, 40cm wide. Fizik Alliante saddle. This would make a great entry-level road bike for someone aspiring to do some bigger organized events. Everything is in great shape and ready for you to pile up the miles! Feel free to ping me with questions.
Load more...