Redbull Joyride was quite the competiton, there was big name sponsors, over 25,000 spectators, and a near perfect slopestyle course with media coverage galore. This was the biggest and badest event of the slopestyle freeride tour. Everything was perfect, except for two very important things that you need to be ready for a contest like this one. Number one, I was in the middle of recovering from a torn rotator cuff and a separated AC joint in my right shoulder. Number two, because I was injured for most of the ridding season Joy ride was the first real freeriding I had done since my crash back in June at the Teva Mt games in Colorado. So I was very sore and very unpracticed which really affected me during this competition.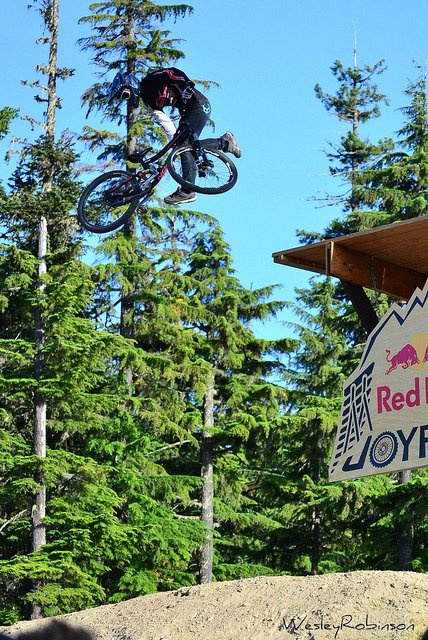 It took me a while to get comfortable with the course but once I did I felt pretty good about it, but being comfortable with the course and being comfortable unleashing your tricks on it are two different things. the Teva best trick contest helped a lot with this, as there is just the little bit of pressure from the media and spectators that gives you that confidence boost so you can start unloading your bag of tricks on the monstrous jumps and step downs. The best trick went awesome! I landed a clean superman back flip and a dialed flip whip on the big step up jump and landed a back flip and almost a super flip off the Kokannee Cabin step down, I also kicked my first tail whip of a step down and landed it pretty good, so i was super happy about that. it felt good to get the shoulder loosened up a little bit and land some solid tricks.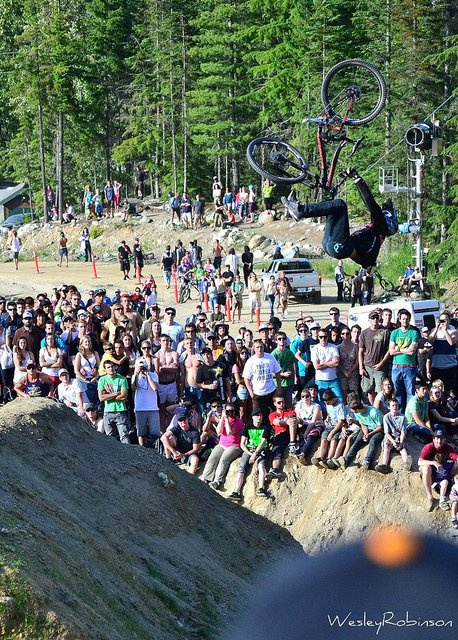 When it came down to the big day I was feeling really good and ready to pull a solid run together, my goal was to achieve a top 10 position by the time it was over.
My first run consisted of a tail whip, flip whip, tail whip, 360, and a back flip. the run was pretty sketchy and I slipped my peddles twice which lost me a lot of points and my finals score was a 58 which wasn't going to get me where I wanted to be. I was super happy to have got my first run done with and made it down to the bottom. I still had one more chance to try and make the top 10. on my second run I knew If I wanted to get a score high enough for top 10 that I was going to have to add a trick that I hadn't done in a while. a 360 tail whip on the first big hip after the drop-in. I decided to go for it and I was going way to fast for the jump and I over rotated to explosion!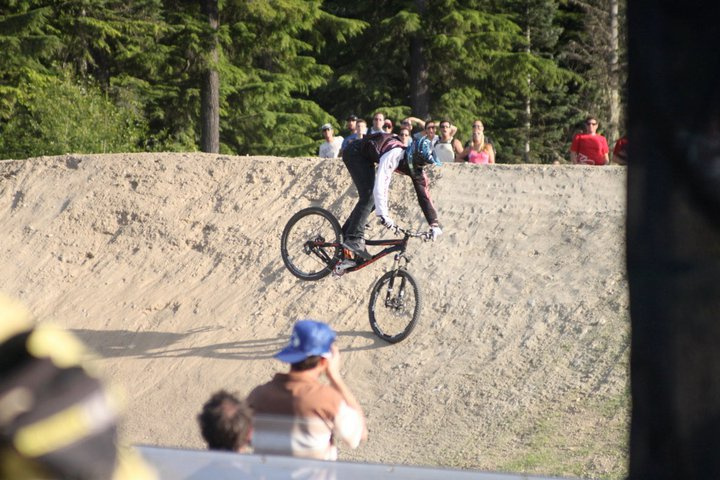 Myself about to land 450 and crash after my 360 tailwhip attempt.
That was it for RedBull Joy ride 2011. I ended up with 13th place And had such a fun time ridding with everyone, cant wait till next year!
Here is a rad little video of the event put together by Levi VK, we plan to be filming lots together in the off season so keep your eyes open for some new stuff coming soon!!
Thanks to:
Norco Performance Bikes
Teva Shoes
Shimano
Kenda
Rockshox
Pinkbike.com
Camp Of champions
Demon Dirt
Demon Dirt