Royal Racing Hope Shell Jacket
So as a Christmas present from Santa I ordered one of these from CRC at a penny shy of £63. It turned up and out of the box it came, being honest my first impression was IS THIS IT?? I mean £63 for something so thin, hardly any liner and a bit of ventilation in the back, I was very close to returning it and get my money back. However then I started to look at it closely and noticed a few nice things about it, a few things I liked indeed. The stitching and big chunky zip are first class as is the micro fleeced lined and taped neck, the pocket is easy to access given the location and size of zip and the lycra cuff and waist trim were going to keep the wind and water out. Sizing is a bit on the big size and I ordered a large and am usually around a 38-40" chest and this felt a bit big, however I decided to keep it as I can get armor under it when required etc.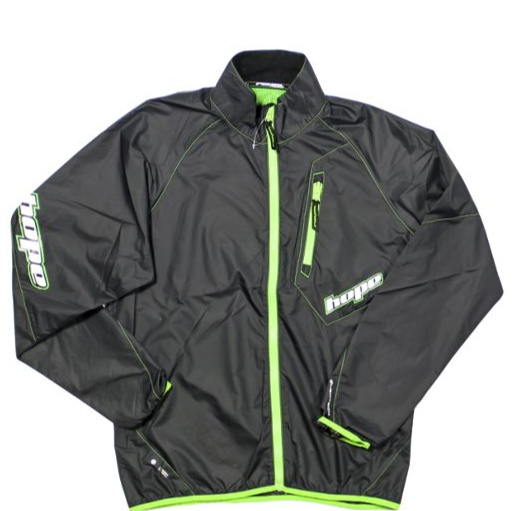 So on to the trails it went.
Yep in a typical English winter off I went with my usual base layers on and this packed in my bag, I must say this packs down extremely well indeed into its chest pocket (imagine a cheap stowable pack a mack and then half its size – its tiny). So there I was over the woods on my favourite trails doing what I call mountain biking and so many others call "enduro" and it started to shower, quite a bad shower at that. So out came this jacket and on top of my base layers it went, now I must say that this jacket is there to keep you dry not warm and dry, it is not a winter coat it is a light weight rain / wind jacket pure and simple. However if you have layered correctly you should find it well suited and breathable, the back ventilation does help but being honest the best form of ventilation if things get too hot (which they haven't for me) is to drop the front zipper a bit. Being made from Pertex classic material it kept me dry for a further 1 hour of trail riding and also during the 5 mile road ride back home, next step was to whip it off hang to dry (which happens rapid as its quick drying) then fold back up into the pocket and stow in the bag for next time, and that's now what happens with it time and time and time again – it just stays in the bag as an essential part of my kit, and it looks pretty fly too!!
So all in am I glad I kept it?? Yes is the answer as it does everything I want and looks the business too (my daughter Hope also approves for obvious reasons).
Take it easy
SR