SR's Rant!– Straight To The Point
Man there has been something bubbling in me for a while, not the past few weeks or months but the past few years! I have to call it and ask, what has happened to the downhill trails? I remember downhill when I started and it used to be trails that were worn into the natural landscape paired with the odd feature – Moelfre, Nantmawr Quarry and Hopton (all local to me at the time) were great examples of this, beds of roots and rock where you made it through by the skin of your teeth!! Make no mistake, trail builders had spent time there but the lines etc had been built naturally over time using the landscape with the odd man made feature chucked in for good measure, and you know what? We all rode them and rode them good on little hard tails (my trustworthy DMR Sidekick) and 150mm max travel dh bikes (like my early Norco in 2002) and enjoyed them tremendously. I remember following my portly brother down Moelfre on his little Foes with 100mm travel at the rear – he was like a scalded cat, no one could keep with him just through his sheer balls and have a go at most things attitude. Few places have managed to keep this mentality but the places that have and realise this I think will grow in popularity, speaking to Si at FlyupDownhill at Forest Of Dean recently cemented this with me- he wholeheartedly agreed and actually (with the help of Dean Trail Volunteers) created a new line called Bottle Opener which gets back to this natural ethos and feel of riding non manicured trails (not like a canal towpath through the woods), another great place that springs to mind like this is Revolution Bike Park in Wales, these guys have also stuck to their roots of making demanding technical dh trails that may alienate the new breed of DH rider. I think the new breed should have a go at these kind of trails because in reality mountain biking should be (to me) just that, biking over natural terrain as fast as you can with the biggest grin you can get and a sense of achievement at the end, not wimping out when we see a rock garden or a 20 meter section of roots (but hey its ok because I can clear the double / gap that others can't)!
This is what I'm talking about – yes yes yes!!
gnarr
No No No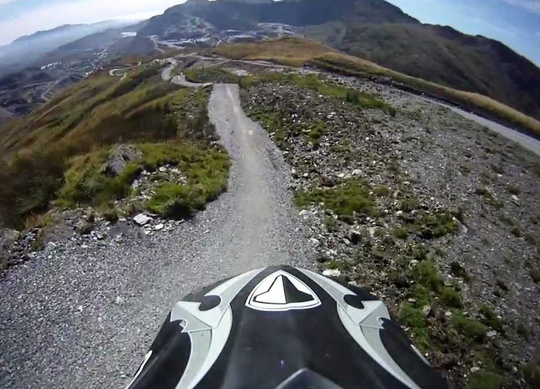 Then we hit 2010 – now, where approx 25% riders turned up at Llangollen in 2014 and went home because the track was too gnar!! I mean seriously WTF!! I realise the track is demanding but seriously, this is what's needed in the sport. Now there is no doubt that trail bikes have evolved over recent years getting lower, slacker, longer (and bigger wheels) and they are capable for the majority of UK DH, however when riders are turning up to UK DH venues with the latest £5k 200mm travel carbon wonder bike and won't ride it down a UK DH TRACK, you have to question it! These guys have to try riding natural features – IT WILL HELP THEM and in turn help the sport. You can even now see some World Cup rounds becoming more tame with the like of Pietermaritzburg as a great example, if the bikes are getting better then make the tracks more demanding so they warrant a dh bike, in short (IMO) you should not be able to ride a trail bike at a Worlds DH race, forget the rules – THE TRACK SHOULD NOT ALLOW IT! Another great example of natural trails with big features has to be Dan Atherton's Hard Line – it really mad me smile and wander about how many pros would turn down the chance of riding it.
Anyway – as usual post if you agree or disagree, this is what this site is for…….YOU!! WW.LIFEONBARS.CO.UK