Giant's Reign X1
looks to be one very capable do-everything type of machine. With 6.7inches of rear travel paired up to a Fox 160mm fork, the Reign X1 is looking to reign over the downhills, but still be able to get back to the top without too much hassle. For 2010 Giant redesigned the frame to eliminate the pierced downtube and shed some weight, something that can only help the bike's performance. Have a look inside to read
two rider's perspectives
on the revised X1!
Read on...
Getting Ready to Ride
The Reign X1 is ready to drop into some gnarly North Vancouver terrain after climbing to the top
The Reign X comes in five sizes - X Small (15"), Small (16"), Medium 18"), Large (20") and Extra Large (21"); the medium being the size that was tested. For 2010 the front hydroformed triangle lacks the penetrated downtube near the bottom bracket and has a tapered head tube. The exaggerated sloping top tube allows for greater standover when things get tricky and the new downtube sees a different shock placement with clearance for the shock piggy back without needing to be pierced, as well as a water bottle. The cables are routed below the down tube. The seat tube has a bulge where the linkage plate is attached, and this determines how low the seat can be dropped. The continued use of Giant's own '
Aluxx
' aluminum hydroformed tubes creates light weight and strong tubes. Common to all Giant full suspension mountain bikes since 2005 is the
Maestro
Suspension.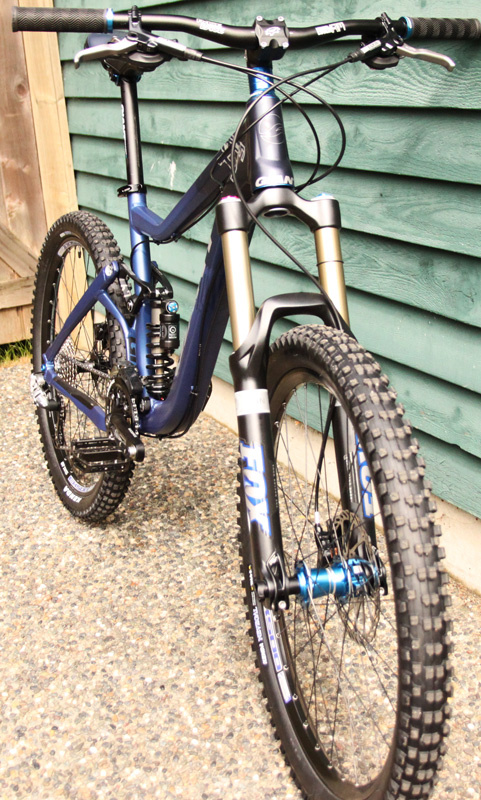 Giant Reign X1 dating profile picture: looking for a rider who doesn't mind suffering all day to get to the goods, and once they are there they'll be o.k. getting a bit wild. Must have an open mind and be willing to experiment in the bike park
The rear triangle is connected to the frame via the two stout linkage plates. Bearings are used in the pivots and all are covered by dust caps. Vertical tubing between the seat and chain stays increases rear triangle stiffness. The chain and seat stays have a tapered construction to reduce weight and maintain stiffness and the 12x135mm rear thru-axle accommodates a Maxle Lite.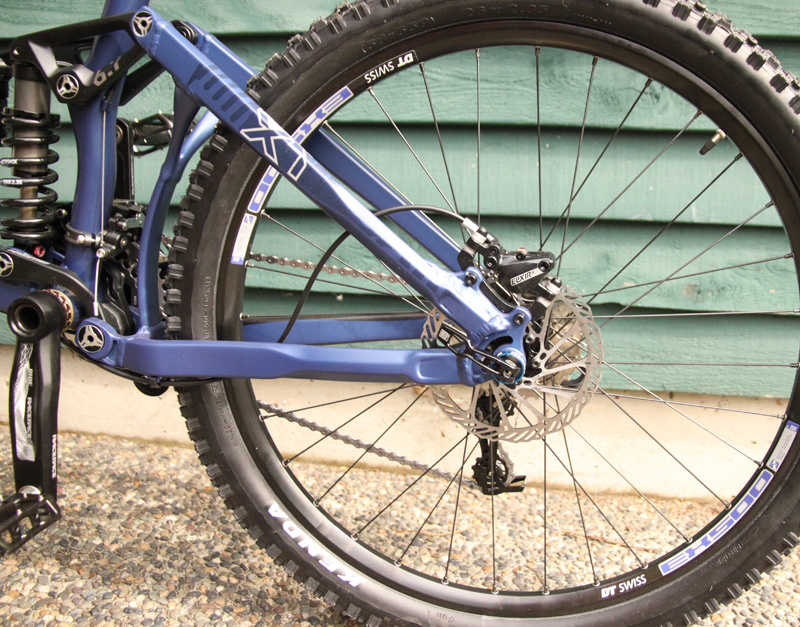 The X1's rear end is tied together with a stiff and convenient 12x135 Maxle Lite thru-axle
Maestro Suspension
Using a simple mnemonic - 4-2-1- the Maestro suspension is made up of four pivot points and two linkage plates that create one floating pivot point. This allows the rear wheel to travel along a vertical axis path as the bike travels through its suspension. This design separates pedaling and braking from suspension movement allowing the suspension to work independently of these forces. The Maestro suspension results in a linear spring curve to provide consistent suspension performance. This suspension is on all of the Giant performance full suspension bikes. Utilizing different shock placements and linkage plate sizes creates different travel across the line that best suits the bike's intended use.
The Maestro suspension claims
No power loss while climbing due to the floating pivot point that moves with the suspension
Braking does not influence suspension
No pedal kickback since the forces on the chain remain constant
Linear rising rate suspension. As the bike travels through the suspension it will absorbs small bumps early in the travel and absorbs larger bumps deeper in the travel
More information on the Maestro system can be found
here
.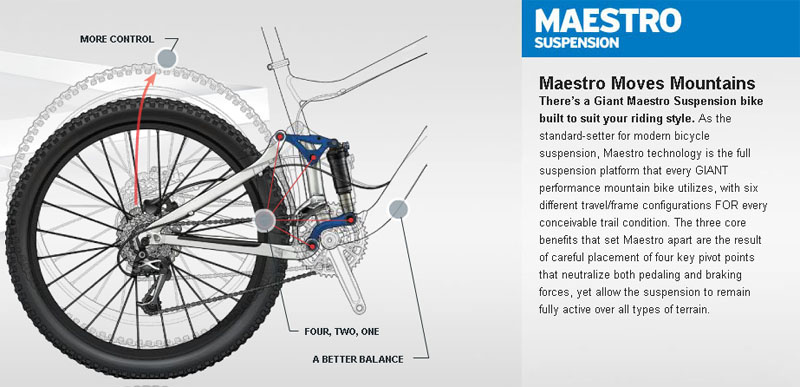 Giant's Maestro design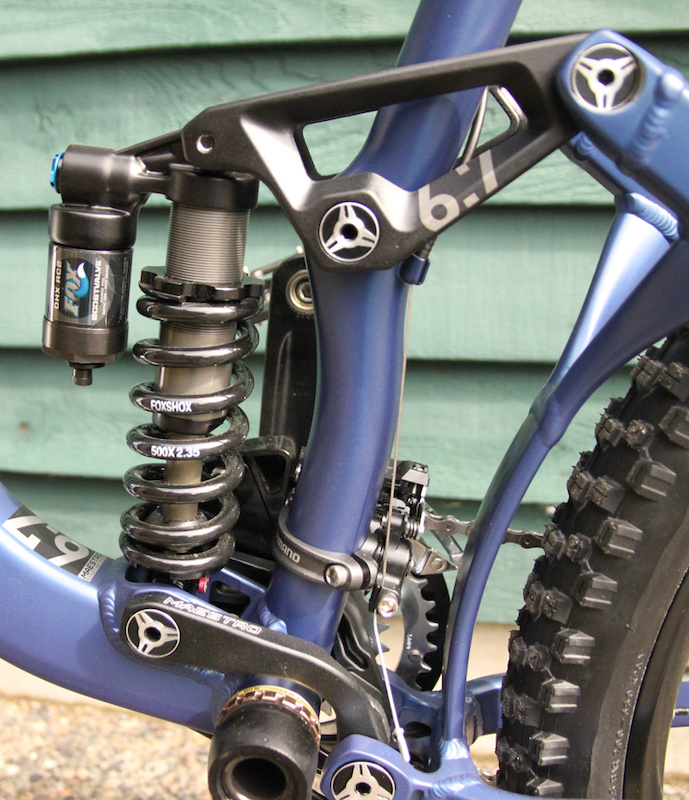 Up close and personal with Maestro. Note the stays are attached to the main triangle via the short linkage plates, as well as the vertical brace between the chain and seat stay. This addition increases the stiffness of the rear triangle
Giant Reign geometry, size medium

:


| | |
| --- | --- |
| Head angle | 67 degrees |
| EFF Seat Angle | 72.5 degrees |
| Top Tube | 590 mm |
| Chainstay | 434.3 mm |
| Bottom Bracket | 13.75 mm |
| Standover | 749.3 mm |
| Wheelbase | 1140mm |
Up front you'll find a
Fox 36 Vanilla
with 160mm/6.3inch of travel and weighing in at 5.26lb (
with tapered steerer
). The 36 looks to be well matched for this bike, offering a stiff and confidence inspiring front end. External adjustments of low and high speed compression, coil spring preload and rebound allow ample adjustment to suit any riding style or situation. The Fox fork's FIT damper with hydraulic bottom out resistance keeps the weight low by reducing the amount of oil used for damping by using a bladder instead of an open bath system. This also increases low speed compression adjustability. The 20QR tool-free axle system with the stepped thru axle combined with 36mm stanchions make this model a good choice for riders looking for a beefy front end. The tool-free axle system facilitates removal of the wheel quickly and effortlessly. As this is a coil fork, consideration must be made on how the spring suits the rider. A too stiff or too soft spring will affect the performance of this bike so anyone considering purchasing a coil fork needs to ensure they have the appropriate spring for their bike.
Fox looks after the rear suspension as well with their
FOX DHX RC2
, featuring low-speed compression adjustment (
blue knob on piggy back
), adjustable bottom-out force control via Schraeder valve (
set between 125 - 200psi
), coil spring preload, and rebound adjustment by turning the red dial. This is a simple shock with ample adjustability chosen for its reliable performance, cost savings, and that this suspension design does not require compression adjustment. Giant recommends running between 25 and 30% sag for their Maestro bikes. Again, performance is dependent on the shock spring being appropriate for the rider.
The Specs

:


Frame and Size

Giant Reign X1
• Tapered headtube, ISCG-05 tabs
•medium Frame
•6.7" of travel

Rear Shock

Fox DHX RC2

Fork

Fox Vanilla R

Headset

Integrated Cartridge

Crankarms

Race Face Ride AM

Bottom Bracket

Race Face

Chainring

24/36 w/bashguard

Cassette

Shimano HG50 9speed 11-34T

Rear Derailleur

Sram X9

Shifter

Sram X7 Trigger w/ Matchmaker

Handlebar

Race Face Evolve AM

Stem

Race Face Evolve AM

Brakes

Avid Elixir 5 185mm Front/160mm Rear rotors

Wheelset

DT EX500 w Giant Tracker 20mm front, DT Swiss 340 w/12mm axle rear

Tires

Kenda Nevegal 26x2.35"

Saddle

Fizi'k Zeak w/7mm Manganese rails, custom for Giant

Seatpost

Giant Connect SL, 30.9

Retail

MSRP $3889.00 CAD
---
The Ride
Sharon's Impressions:
About me:
I am 5'9", weigh 154lbs. I have been riding since 1991. As mentioned above I come from an XC hard tail background, but have moved with technology and ride a Titus RacerX for XC, a Turner 6 pack for DH and Shore riding and a Knolly Endorphin set up for more freeriding/shore/technical XC riding.
This bike was provided to two other different style of riders to get their impressions for a more well rounded review.
When you first sit on this bike you notice that the cockpit seems shorter than its stated 23.2" and the bike settles firmly into the suspension. This shouldn't be surprising given that the suspension is designed to resist this initial input. When pedaling on flat terrain you do feel the suspension working and some may want Propedal in this situation, but when pedaling the bike on loose, rocky, and more technical terrain the suspension action didn't inhibit pedaling. The Maestro suspension is designed to separate pedaling and suspension forces and it certainly feels like they have accomplished this.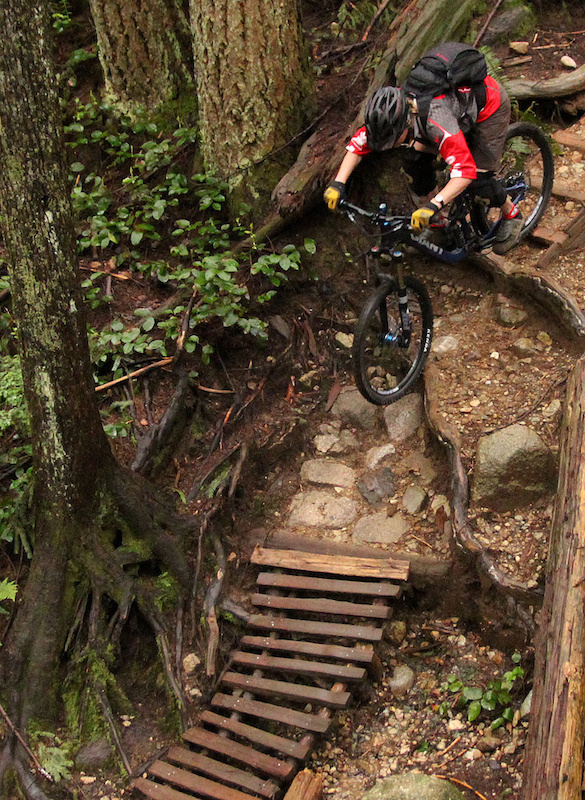 The Reign X1 on a typical wet day in North Vancouver. Rider: Sharon Bader, Trail: Ladies Only
Watch the video to see the Reign X1 take on Ladies Only
The bike came with a 500lb spring. I took the bike to
Suspensionwerx
in North Vancouver to ensure I had the best set up with this coil bike. While there I exchanged the 500lb spring with a 400lb spring to provide 23% sag. This was matched with 21% sag in the fork with a medium spring. Shock preload was set to one click in, propedal was set 4 clicks in and 170lbs psi was in the boost chamber. Rebound was adjusted as trail conditions warranted. The rebound adjustment knob was a bit inconvenient to get to as it was between the frame mounts for the shock, I'm not sure how this could be remedied. The fork preload was set 5 clicks in. The lack of an adjustable fork was noticeable on technical climbs, but on longer fire road ascents it wasn't an issue.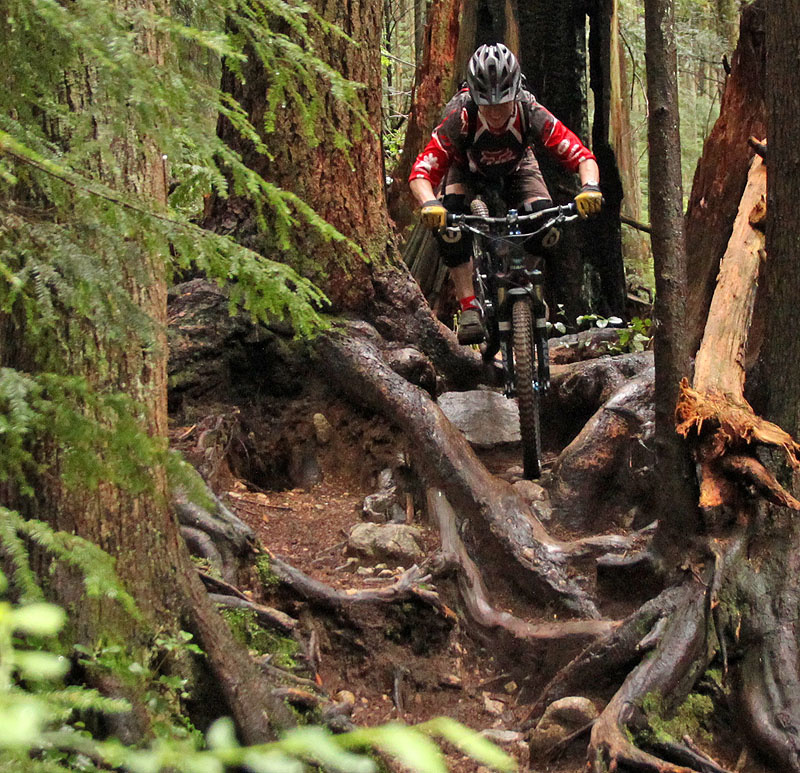 Sharon getting back to her roots
This bike was ridden on slow technical North Shore Trails (
Ladies Only for example
), the Whistler Bike Park, a 1200m fast shuttle descent in desert terrain, and more cross country type trails of Squamish (
Credit Line for example
). The Giant Reign X1 was very capable on slower technical trails. The Fox Vanilla fork could be pointed anywhere and it would float over whatever obstacle lay in front of it and the rear of the bike tracked well on these technical trails. One aspect of these trails is that the rider must stop suddenly to change direction and this bike was very adept at doing so. On slower speed jumps or drops of small to medium size the bike felt firm and supple.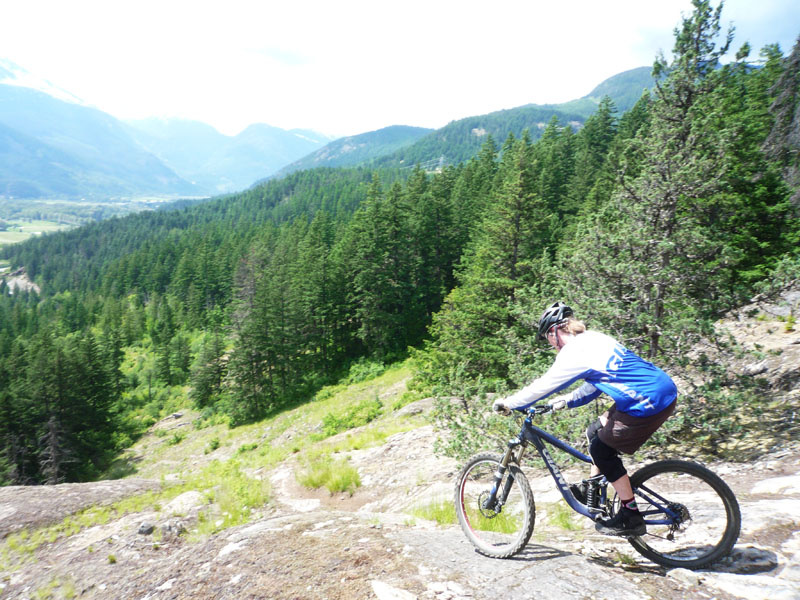 Ever ridden Grumpy Grouse in Pemberton? If you aren't going to ride this section you better hope that you have some sticky soled shoes to walk down it! Sharon about to roll over the knuckle and into the silliness - Hell ya!
The Reign X1 on video in Pemberton and Squamish
The X1 shined in the Whistler Bike Park while on the technical single track black diamond trails like Schleyer, as well as more intermediate trails like Angry Pirate. While I did not ride it down A-line, another tester did, he felt that the bike under performed on this jump trail and we later determined that a stiffer shock could have helped in this situation since another tester here also felt the bike performed better on jump trails after replacing the 500lb spring with a 550lb spring.
The Reign X1 also spent some time in the Whistler bike park as well!
On faster shuttle trails that are not very technical the bike was good. While it did get tossed around more than a downhill bike, it handled great for a 6.3inch all mountain machine. The Vanilla fork was again a factor in keeping the bike going straight and fast. The rear just had to follow and it did, but with some deflection when the terrain got rough. I'm sure this could have been compensated for by quickening the rebound. Shuttling on trails consisting of rock slabs, rocky loose chunder and roots, the bike rode well. The suspension was also able to soak up the loose rocky sections and track smoothly on the rock slabs. This bike was best on technical trails that demanded the right line choice.
On bigger jumps the brake cable would get stretched below the down tube. While there was a zap strap to keep the cable on the frame, this was easily broken. Even when the zap strap was replaced you could see the cable stretch between the two zap strap attachments. A cable reroute may be in order?
Overall Impression:
Great all mountain bike that handles technical terrain with confidence. While the rear suspension was active during climbing, in that you could see the suspension compress, it didn't affect performance significantly. The 34lbs was noticeable, but acceptable considering this is a bike geared more toward downhill performance. While the shorter cockpit was noticeable it didn't make climbing uncomfortable. The good standover also added to confidence in more technical terrain since it made bailing less frightening. The Fox Vanilla is an incredibly plush fork that didn't make you hesitate to plunge into the most technical terrain, the rear suspension soaked up most bumps, but did get thrown around in rough terrain at higher speeds. This wasn't that much of a factor though with the firm stiff Vanilla fork. The frame is tough and even handled hard days of shuttling.
---
Lee Lau's Impressions:
I'm 160 lbs, a bit more aggressive than Sharon, but by no means a big hucker. I'm not a finesse rider, but like steep technical trails.
Climbing
This is a decent workhorse when pointing uphill, but bib-short wearing uphill time trialists should look elsewhere if they want a sprightly climbing steed. As expected for a bike for this intended use (
ie strong downhill bias
), the weight, geometry and lack of adjustable height front fork works against you. The Reign X1 wallows up climbs as well as can be expected. Another issue I found is that the plushness of the coil suspension definitely works against you when you're working the Reign X1 hard in singletrack. This is especially an issue when you're pedaling over up-and-overs. Despite the BB height of 13.7", I would repeatedly bash the BB or stuff pedals into the ground as the rear end compressed. Another issue is the Reign X's lack of seatpost adjustability due to inability to drop the seatpost very far into the frame. This can be fixed by using a double clamp post or remotely operated telescoping model.
Downhill
I initially took issue with the Reign X1. I felt that the rear end was vague, especially when cornering hard at speed. I then found loose bolts in the linkage and tightened them up (
had to take off the driveside cranks to do which was a pain in the arse
). Following this housekeeping the bike changed and was precise in downhill mode. I did find the rear shock a bit hard to tune and there was a lot of playing around with air pressures in the booster valve before I got rid of harsh clunking on bottom-outs, but once it was dialed I felt very happy with the bike's performance.
With properly tuned suspension and a tight rear end , the bike feels precise when cornering, jumping and rolling off the steeps. Having said that, I still felt that The Reign X1 is a bit vague at high speeds. I'm not sure why given that it's relatively slack and given that I swapped out the kevlar bead 2.35 Kendas for 2.5 downhill tires for the Whistler Bike Park and 4,000 ft downhill shuttle laps in Lillooet. This is admittedly a subjective impression.
About those parts...
• The saddle is a very important part of a bike. Most bikes are equipped with a male specific saddle and this bike is no exception. The Fi'zi:k Zeak saddle made custom for Giant had a convex shape that was difficult to fit and taint for this test rider. Replacing and adjusting the saddle was very easy on the Giant Connect SL seatpost. You did have to ensure the bolt was tight since a hard hit on the seat could cause it to suddenly become nose up. One allen key was all that was needed and the seat was easily moved and adjusted on the rocker seatpost attachment which also had an adjustment level indicator. Saddles are a very personal thing though, if you don't get along with the Fi'zi:k, get your dealer to swap it out for you at the time of purchase.
• The Avid Elixir 5 brakes had very good power and modulation. These 395g brakes are the workhorse of the Elixir line. Not flashy, but consistent performance at a great price. They do require a 3mm allen key for reach adjustment though. Even on a sustained 7km descent with a 1200m vertical drop these brakes did not fade or lose their modulation.
• The SRAM X7 shifters with matchmaker clamp worked flawlessly. Matched with the SRAM X9 rear and Shimano SLX front derailleur, the drivetrain was consistent and predictable. The chainguide was another story though...
• The Race Face Atlas chainguide would move towards the rings when hit from underneath. This would result in a quick chain derailment. The chainguide had to be relocated and tightened often.
• The
DT EX500
rims at 500grams are able to go tubeless and are classified as a durable cross country or all mountain rim. Coupled with the Giant Tracker 20mm front hub and 12mm DT Swiss 340 rear hub, the wheelset proved to be tough and durable. The Kenda Nevegal 2.35 Stick-E tires are a great addition and worked well in the terrain tested.
• The 27" wide stock handlebar felt a bit short and I'd like to see manufacturers supply longer handlebars that a rider can cut down to size. Also I don't particularly care for soft squishy grips, but much like the saddle, this is down to a rider's preference.
In summary
, the Reign X1 is mainly a downhill biased bike that can be pedaled uphill in wallowing, but reasonable fashion. Having said that, it's not a dedicated downhill sled by any means. For me, it was a bit of a confused bike, but I prize uphill ability in my do-everything bikes so keep that bias in mind when considering my comments. If you're a rider more along the lines who tolerates uphills, but wants to bomb tight technical downhills at slow to moderate speeds, then this is a fine bike for you.
Visit the
Giant website
to see their entire lineup.
Does the Giant Reign X1 tickle your fancy? Tell us what you think about it below!
Must Read This Week