Fox 3rd Annual Santa Cruz MTB Festival provides fun and entertainment for mountain bike athletes and fans of the cycling industry in Aptos, California
Join us for an exciting two day event that includes an exposition area with activities for bike enthusiasts, family members, and friends.
Mountain Bikers of Santa Cruz (MBOSC) have announced the schedule of Expo Area activities and vendors for the Fox 3rd Annual Santa Cruz Mountain Bike Festival (SCMBF) at the Aptos Pump Track and Post Office Dirt Jump Park in Aptos Village, California on April 14th and 15th, 2012 – the weekend before the Sea Otter Classic in nearby Monterey. The SCMBF is Santa Cruz County's premier mountain biking event, bringing together a mix of competitive racing, fun rides, skills clinics and a deep list of industry manufacturers and retailers with booths and demo products. Proceeds from the 2012 event will benefit projects and organizations that support mountain biking in Santa Cruz County.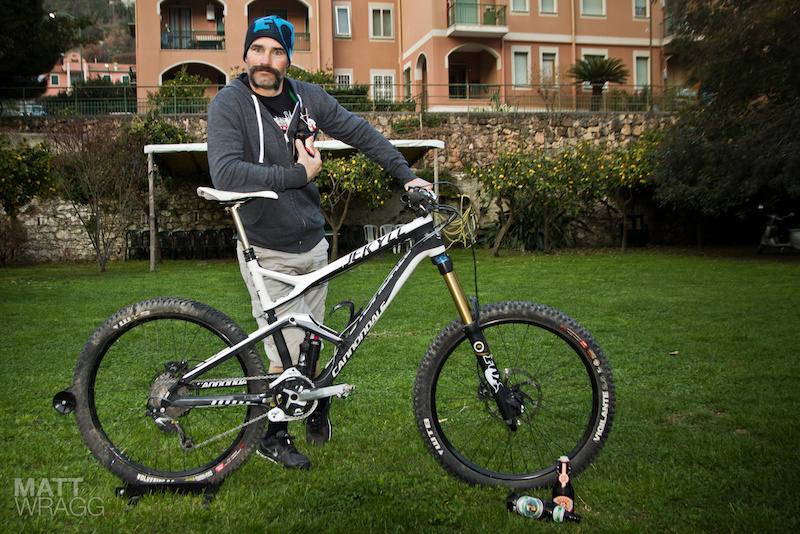 Can Mark hold it down in his back yard?
Professional Mountain Bike Racers Participating in the Bell Super Enduro at Demo
This year introduces the Bell Super Enduro, the first sanctioned race in Soquel Demonstration State Forest. Mark Weir, Ross Schnell, Jason Moeschler, Jeff Kendall-Weed, Aaron Bradford, Duncan Riffle, Ariel Lindsley, Abigail Hippely, Kathy Pruitt, Matthew Slaven, Mary Moncorge, Ben Cruz, Barry Wicks, Katie Holden, Mike West, Nathan Riddle, Curtis Keene, Henry O'Donnel, Max Houtzager, and Joanna Petterson will join the field of 50 talented riders selected out of 177 applicants. Racers range in age from 18 to 57, including 8 women and 19 racers from Santa Cruz County. The field is evenly divided between racers over 30 and racers under 30. Race participants were selected on their ability to finish the intensely rigorous race within an allotted time. Spectating encouraged, shuttle ride up to the race venue available. Preview the downhill Special Stages as seen by Race Manager Evan Turpen:
Special Stage 1 - Ridge Trail
Special Stage 2 - Sawpit Trail
Special Stage 3 - Braille Trail
$10 Off Event Registration through March 25
The Super Enduro field is full, but registration is still open for the Specialized/Scotts Valley Cycle Sport Short Track, Epicenter Pump Track Pandemonium, and Black Market 831 Jump Contest. Save $10 if you register by March 25. Bike Skills Clinic participants can also enjoy savings when registering for the Short Track or Pump Track competitions at amateur level. On-line registration for all events closes Wednesday, April 11 at 11:59 pm.
Family and Spectator Friendly
Spectators, racers and riders will enjoy multiple activities in the Expo Area. Bike aficionados can visit industry vendors, test ride demo bikes from some of the leading bike manufacturers on the planet, and take a shuttle to the top of Soquel Demonstration Forest. Buy or maybe even win some of the mountain bike gear on offer by festival sponsors. Bike jumpers can push their limits landing on the Big Air Bag supplied by Whistler's Camp of Champions. Kids aged 3-12 can take a fun lap around the short track or try their skills at the Kids' Rodeo. Spectators and participants alike can imbibe in herbal energy drinks, vitamin water, coffee, food, and beer. Special events include a shuttle ride for spectators of the Bell Super Enduro bike race and a Saturday after-party open to all participants, spectators, and volunteers featuring Oakland funk/reggae/rock band WhoGas which takes the stage at 5:30pm.
The SCMBF will be held at the Barry Swenson Builders property, Aptos Village, California, from 9am-7pm Saturday and 9am-4pm Sunday. Admittance to the Expo Area is free. Beer, food and SCMBF merchandise will be available for purchase during the event.
SCMBF Sponsors:
SCMBF title sponsor
Fox
of Scotts Valley, California is joined by event sponsors
Bell
,
Black Market
,
Epicenter
,
Specialized
/
Scotts Valley Cycle Sport
, and
WTB
. Other generous sponsors include platinum level
Adventure Sports Journal
,
Barry Swenson Builder
,
www.pinkbike.com
,
Bicycle Trip
,
Bike Magazine
,
Bike Monkey
,
Caletti Cycles
,
Dirt Rag
,
Family Cycling Center
,
Gamut
,
Light & Motion
,
Pivot
, and
Saris
; gold level
American Medical Response (AMR)
and
Clif Bar
; and silver level
Bike Station Aptos
,
ProGold Lube
,
DZR Urban Cycling Shoes
,
Mass of One
,
Shuttle Smith Adventures
.
Expo Area Booths and Events Include:
Bike Industry Vendors
Local Bike Shops
Bike Media Representatives
Bike Demos
Shuttle Rides
Camp of Champions Airbag
Kids' Rodeo
Saturday After-Party
Food Court
Beer Garden
Raffles
Spectating Opportunities
Volunteer Opportunities:
Those interested should send contact information to volunteers@santacruzmountainbikefestival.com. Volunteers will receive food and drink, swag, a raffle ticket, and enjoy the festival.
For event registration, full schedule times, directions, parking and and other festival details, please visit the
SCMBF website
and follow SCMFB on
Facebook
and
Twitter
The mission of the SCMBF is to celebrate mountain biking in Santa Cruz County by bringing people together to spectate and participate in competitive and recreational mountain bike events, to create a festival bringing the community together, to advocate for an active outdoor lifestyle, and to promote the world class mountain biking facilities and riders of Santa Cruz County.
Expo & Demo Inquiries:
expo@santacruzmountainbikefestival.com
Sponsorship Inquiries:
sponsors@santacruzmountainbikefestival.com
Volunteer Inquiries:
volunteers@santacruzmountainbikefestival.com
Event Inquiries:
events@santacruzmountainbikefestival.com
Marketing & PR Inquiries:
marketing@santacruzmountainbikefestival.com
General Festival Inquiries:
info@santacruzmountainbikefestival.com