shuman96
Member since Oct 16, 2005

Male / 39
Asheville , North Carolina
Block user
Recent

Aug 18, 2021 at 8:14
Aug 18, 2021
Tested: How Much Slower Are Idler Bikes For Climbing?
There is a slight increase in drag for sure, but when climbing tech, the increase in traction from the HSP on my Druid has allowed me to clean climbs I have never cleaned, keeps me on the bike etc...which seems faster than walking. Almost all my climbing best have come on the Druid. With that said, if you don't keep your drivetrain clean, and lubed, you will experience more drag/power loss from the idler

Selling
Jul 30, 2021 at 7:24
Jul 30, 2021
$3300 USD
Who doesn't love a Ti Hardtail? Hate to sell, but my ankles and back need the squish these days. Honzo is the classic AM hardtail, and titanium just makes it timeless. With the dual position Pike it lets you climb at 120mm and descend at 150mm Large titanium Honzo Rock Shox Pike RCT3 Dual position 120/150 (Fresh Rebuild) Industry Nine Torch UL235 System wheel set Maxxis Rekon 2.4 F/R Thomson 150mm Stealth Dropper post Thomson 50mm stem with Deity Blacklabel Platinum bars Deity Lockjaw grips Chromag Trailmaster LTD saddle brown Race Face Turbine Cranks Shimano XTR 11sp shifter and Derailleur XT cassette XT Brakes $3300 Wanted to list now, but unable to ship until around August 13

Jul 29, 2021 at 14:50
Jul 29, 2021

Selling
Jul 29, 2021 at 14:40
Jul 29, 2021

Jun 22, 2021 at 4:08
Jun 22, 2021

Selling
Jun 22, 2021 at 4:08
Jun 22, 2021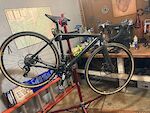 $1049 USD
Selling my wife's CX bike. Lightweight aluminum frame with carbon fork. Couple scratches on the frame, but everything in great working order. 2017 (I think) Cannondale CaadX sz 46cm(XS) good for 4'11' - 5'5 Lightweight aluminum frame with Carbon fork Shimano 105 2 x 11spd STI groupset Cannondale Si crankset TRP mechanical disc brakes WTB wheels with wtb Riddler tan wall tires 37x700 Great shape, $1049 obo

Selling
May 31, 2021 at 11:55
May 31, 2021
$160 USD
SLX m7100 brake set Great shape, light use. Parting out the bike they were on $160 for the set. Rear brake is currently routed internally on Large hardtail frame, will require new olive and barb and bleed by purchaser

Selling
May 31, 2021 at 7:14
May 31, 2021
$400 USD
Would like to trade my non boost Fox Factory Fit4 34(120mm) with remote lockout for a 130-140mm Pike or Ohlins rxf34. Can add cash on my end for the right fork. Boost or non boost is fine Would sell outright for $400

May 30, 2021 at 18:24
May 30, 2021

Selling
May 30, 2021 at 18:23
May 30, 2021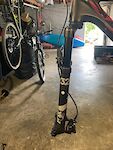 $350 USD
Lightly used 2020 Fox 32 Stepcast Performance fork. Non Boost 15x100 with QR axle included. Tapered Steerer Tube is cut at a bit over 7.25 inches Stanchions are clean, fork has maybe 50hrs on it since service $350 obo
Load more...