RESULTS
Full Results from Sports Timing Services.
Juvenile Men
Purvis makes his tenth career win the most important one with over a 4.5second lead on the rest. Is this the new Danny Hart?
PURVIS James Team CHR 2:54.061
ROBERTS Hugh Descend Hamsterley 2:58.675
HATTON Charlie Pedalabikeaway/Flyup Downhill 2:59.059
Youth Men
You know the name, 1st at the iXS Cup U17 at Innerleithen earlier this year, Vernon one second up today, I know Fox his race kit sponsor are stoked for his win but having to wear the National Champs jersey on the flip side always upsets the jersey sponsors. I've seen Bryceland grow up over the past ten years, is this his shadow? Yes, future World Champ? Captain 23 make note.
VERNON Taylor Bike It/Fox/Maxxis/Mojo/Scott 2:38.184
WESTON William Madison Saracen Downhill Team 2:39.208
HAVARD Callum Team Skene/Mojo 2:39.713
Grand Veteran
Stannah Stairlfts Stuttard left his retirement bungalow to pip the favourite Steve Felstead by less than a second.
STUTTARD Howard Ride On/Slik/Muc Off 3:06.178
FELSTEAD Steven 3:06.937
MOLLOY Paul 3:25.446
Veteran Men 45-49
Cobb managed to stay upright for a change, he crashes big! You can tell the older category vets as they are that old they don't even know how old they are. Little entered the 40-44 category and only when the BC Comms clocked his DOB they moved him over.
COBB John Mulebar 2:50.396
LITTLE Peter Pedalabikeaway/Flyup Downhill 3:02.370
TAYLOR Greg Rave Racing 3:04.709
Veteran Men 40-44
Pagey adds to his BMX World Bronze medal onboard his new prototype Scalp.
PAGE Nigel ChainReactionCycles.com/Nukeproof 2:41.051
HOWARTH Darren Grizedale MTB 2:44.696
TALLONTIRE David Uplift Scotland 2:47.023
Master Men 35-39
Whitfield was originally Orange's first ever DH pro rider back in 1996 if I remember rightly? How fast was he, faster than the kids five years younger than him.
WHITFIELD Christopher All Terrain Cycles 2:39.785
TITLEY Andrew Ghost RT 2:43.367 3.582
AUSTING Giles Mulebar.com 2:52.779
Master Men 30-34
Cunny makes a welcome return to DH racing, the vintage DIRT Mag reporter rocked up in the classic UK race kit of a tee shirt.
CUNYNGHAME Richard NinthCloud 2:41.117
SPOONER Chris 2:41.813
TATTERSALL Jack 2:42.260
Senior Men Non-Championship
Ward dominated this one by 7 seconds, hats off also to Jake Hancock for being the hard worker who was the driving force behind all the track changes.
WARD Jake 44Racing Rockstar 2:35.040
DAVIES Sean 2:42.390
HANCOCK Jake Tweeks/No Bull 2:43.280
Championship Women
UK ladies DH racing is strong in talent, but currently low in numbers. Manons still getting back to strength after that broken collar bone so expect that seven second gap to close at future BDS rounds.
ATHERTON Rachel GT Atherton 2:39.012
CARPENTER Manon Madison Saracen Downhill Team 2:46.425
Junior Men
Connell is super strong, he has to be against the two Jones's (not related) who are both currently on fire. Junior World Champs podium could easily be these three.
CONNELL Joseph 2:31.718
JONES Michael Team Bicycle Doctor 2:32.938
JONES Jono Transition Bikes 2:33.244
Championship Men
Bottom line is nobody is ever going to beat Peaty's tally of 137 National Champs titles. Noteable absences were Marc Beaumont who won the title a few years back here at Moelfre. Even though he says he doesn't like it here. Hart was out after he came worst off with a battle against course tape and the course tape won whilst out at Crankworx France. That said Atherton is a srong force, fighting fit after that broken leg on his home track that is less than 10minutes from his house.
ATHERTON Gee GT Atherton 2:25.938
BRYCELAND Joshua Santa Cruz Syndicate 2:28.142
PEAT Steve Santa Cruz Syndicate 2:28.592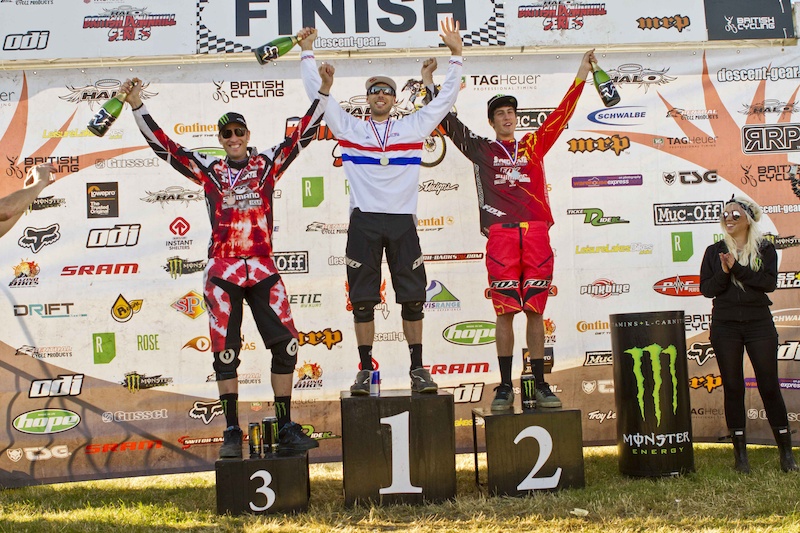 Senior men's podium. Gee, Steve and Josh.
Next round is round 5 at Caersws near Welshpool and Newtown on Saturday and Sunday the 4th and 5th of August 2012.
Parking, Camping and Spectating is FREE all weekend.
Stay Unclipped.
Si Paton..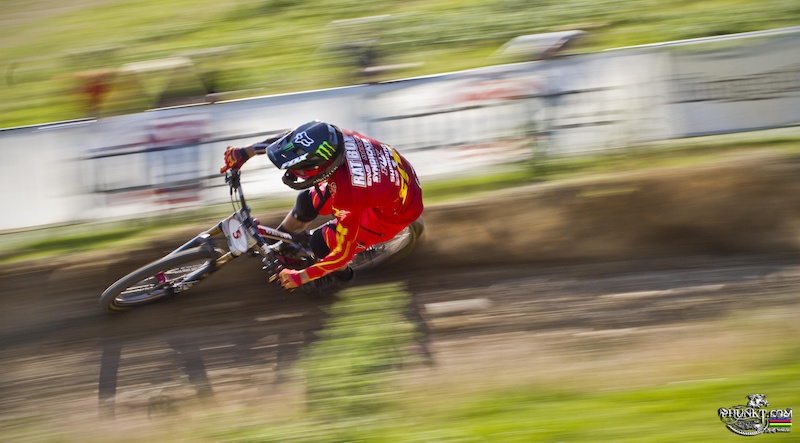 Brycelands on clips these days, but what is that helmet he is wearing? Gee said Josh was his biggest threat today after seeding 2:28.