Photos by Alex Tyler of www.EyesDownFilms.tv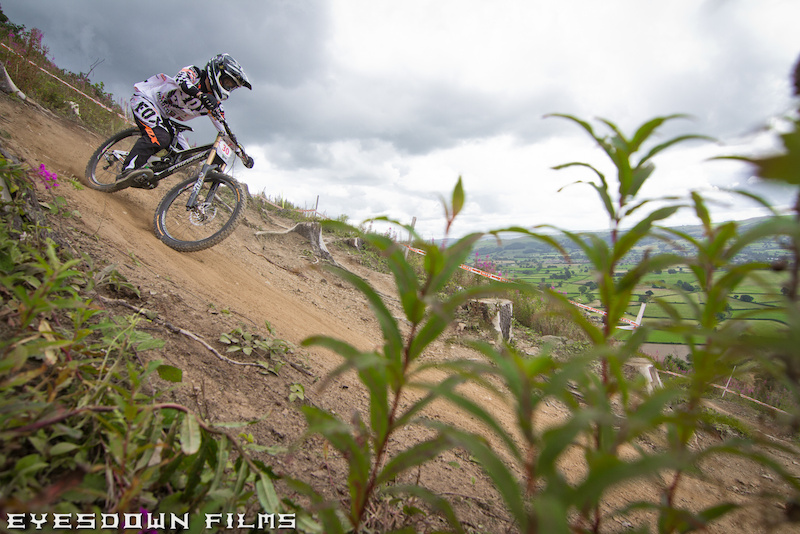 Fox athlete Scott Mears, look at the body position, Caersws is steep, dropped heels and hanging off the back up top 1:58.740
No surprise with the current state of the UK weather that we were expecting rain throughout the whole weekend. 15:00 the course was live for foot inspection as we walked up a dry and dusty hill! The track was what they call the Welsh Champs track with the tunnel under the fire road. No trees at the top, just a generous sprinkling of tree stumps giving amazing views for spectators and nightmares for the riders. Everybody hates tree stumps, right?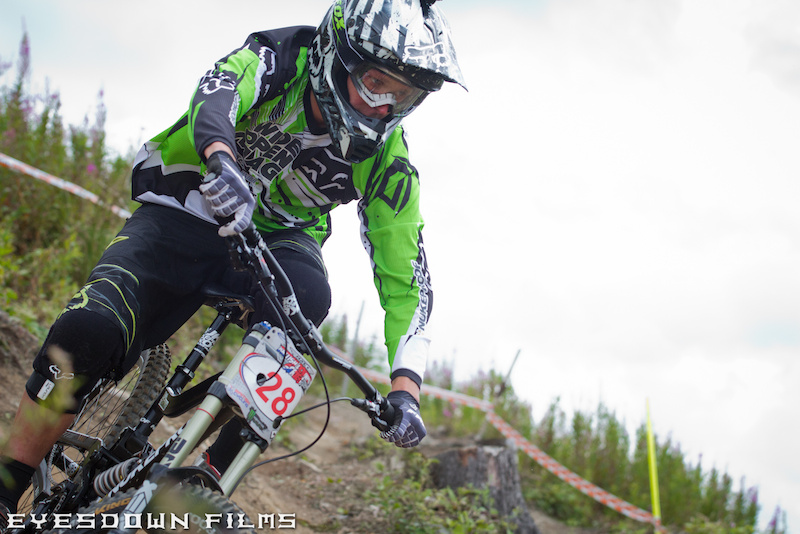 Wideopen Mags Rich Thomas 2:02.265
Through the tunnel and more open wide sections before the tricky, step down road crossing into a massive, no brakes right hand berm before the long, step down table top that quickly fires you up into the bus stop. The BDS racers are getting faster every round and the perfect conditions meant nearly every rider was over jumping or having to scrub or pre-brake just to catch the down slope. Jake Ward wasn't so lucky and sent himself into the up slope of the bus stop, lock stock and barrel. The medics attended ASAP and with the early worries of some internal injuries the ambulance was called. Both the county and air ambulance attended with the chopper taking the fare to Shrewsbury Hospital in a matter of minutes. Good news was that Jake was back on Sunday with a damaged shoulder/collar bone, no press ups for a while, but back on a bike real soon.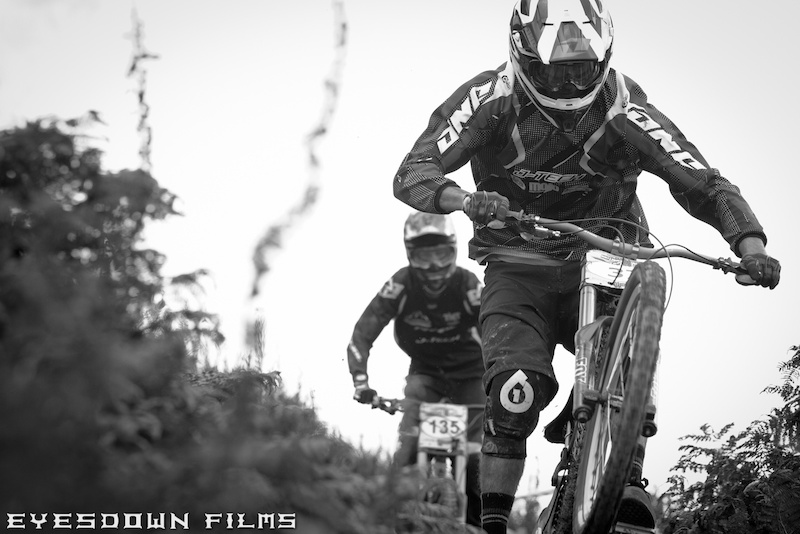 J-Techs Gareth Brewin 1:58.561
Gareth and Will Weston were up the hill earlier and helped mark out the new section that was dug out by Matt Brown and Si Paton last year. This did cause a few issues with a right hander that was quickly getting blown out. Practice was halted for 10 minutes on Saturday lunchtimne for emergency track repairs with Dave Liggins course maintenance guru drafting in a few helpers, none more so than Steve Peat and Josh Bryceland swinging the mattock.
Hit the step down and newly revamped left hand berm into the field and spin those pedals and hold on down the grass turns and tuck her in before the big sprint across the finishing line and grab a can of Monster Energy.
The next Halo BDS is at Bringewood near Ludlow (1hr West of Birmingham) on Saturday and Sunday the 25th and 26th of August 2012.
Before we go results, let's talk about that weather again. The track was a bit damp and greasy in a few parts, some say stickier, grippier and not as loose as the dust had bonded together. Then all hell broke loose, 15:15 on the dot and the heavens opened and it rained cats and dogs of biblical proportions. A box of 200 SRAM ponchos went faster than Ussain Bolt. To prove the above have a look at the following top 20 riders overall from the race results at the weekend.
Brayton smashed the Elite field by 4 seconds, not quite in the same pigeon hole as Sam Hill's legendary result at Champery a few years back, but not far off. Great news for the top kids on track, they can go back to school and when the teacher asks, what did you do, your reply will be, "I pulled the pants down on all the Elites bar one at a British Nationals Miss"!
Top 20 Fastest Overall
Elite Adam BRAYTON
Youth Taylor VERNON
Youth Callum HAVARD
Youth Laurie GREENLAND
Youth Jacob DICKSON
Veteran Nigel PAGE
Youth William WESTON
Youth Shaun RICHARDS
Youth Dan FARLEY
Master Neil WHITE
Youth Luke CORNFORTH
Junior Will MAPSTONE
Elite Steve PEAT
Master Andrew TITLEY
Elite Joe SMITH
Elite Al BOND
Master Dan HAINES
Elite Jack READING
Elite Matt SIMMONDS
RESULTS
Elite men (Schwalbe)
Adam BRAYTON Banshee 1:50.326
Steve PEAT Santa Cruz Syndicate 1:54.552
Joe SMITH Chain Reaction Cycles / Nukeproof 1:54.794
Al BOND Chain Reaction Cycles / Nukeproof :55.012
Jack READING DNA / Mojo / O'Neal / Schwalbe 1:55.082
Expert men (Descent-Gear.com)
Nikki WHILES Team Skene 1:57.397
Jay WILLIAMSON WideopenMag.co.uk 1:58.538
Matty STUTTARD Ride-On 1:58.680
Chris SINDEN 1:58.926 1.529s
Nick GEOGHEGAN 44Racing Rockstar 1:59.507
Juvenile men (Leisure Lakes)
Charlie HATTON FlyUp Downhill / Pedalabikeaway 2:00.250
James PURVIS Team-chr.co.uk 2:04.009
Jack TENNYSON NEFR Racing / Peddlers Cycles / R-Kade 2:04.985
Obi EICHHORN one industries europe / Orange 2:05.280
Andrew BARRETT J-Tech / Pearce Cycles 2:10.110
Youth men (Rose Bikes)
Taylor VERNON 1:50.728
Callum HAVARD Mojo / Team Skene 1:51.857
Laurie GREENLAND One Industries / Orange / www.psyclewerx.co.uk 1:51.897
Jacob DICKSON MBW kona 1:51.972
William WESTON Madison / Saracen 1:53.314
Junior men (Fox Head)
Will MAPSTONE 1:54.545
Joe CONNELL Prestige / Zerode 1:55.352
Isaac ANDERSON Juice Lubes1:55.389
Jono JONES Transition Bikes 1:55.973
Philip ATWILL Madison / Saracen 1:56.447
Senior men (Knox)
Reece LANGHORN 1:57.870
Lewis MCLAUGHLIN 2:02.723
James MARSHALL Manx MTB Club 2:03.976
Sam JOHNSON 2:04.277
Sean DAVIES 2:04.546
Master men (Nukeproof)
Chris WHITFIELD All Terrian Cycles 1:52.913
Neil WHITE 1:54.427
Andrew TITLEY Ghost RT 1:54.704
Dan HAINES Balfa / Foes / Knox Armour 1:55.053
Tom POWIS 1:55.404
Veteran men (Stendec)
Nigel PAGE Chain Reaction Cycles / Nukeproof 1:52.386
John COBB 1:57.244
Alastair MACLENNAN West Highland Wheelers 1:58.017
Pete LITTLE FlyUp Downhill / Pedalabikeaway 2:03.372
Glen PEPPETT StevePeatSyndicate 2:05.551
Elite women (Schwalbe)
Manon CARPENTER Madison / Saracen 1:58.184
Monet Rose ADAMS 2:08.235
Emma WAREHAM Leisure Lakes 2:13.624
Reanne ATHERTON Marmot / Pearce Cycles 2:25.551
Women (Monster Energy)
Traharn CHIDLEY KT Girls 2:18.794
Rachael WALKER team hope factory racing 2:24.559
Beverley BARNES Berkshire Cycles 2:34.731
Erin MAGUIRE I-Cycles / Innerleithen MTB Racing 3:02.079
Stay Unclipped!
Si Paton
British Downhill Series Face Book Page