Tops off in baking sunshine the course was marked out Thursday evening. Over 70 riders took advantage of the track being open on Friday and most dropped in half a dozen runs before we closed the track for the official course walk. Completed by the Spanish UCI Commissaire he was really surprised how technical the course was and was immediately concerned regards the medics and their positioning. With six in place on the hill he felt a little better, but was still uncertain that the majority of the riders would make it down! We had to tell him, "The Spanish are the best at football, but when it comes to DH, leave that to the Brits".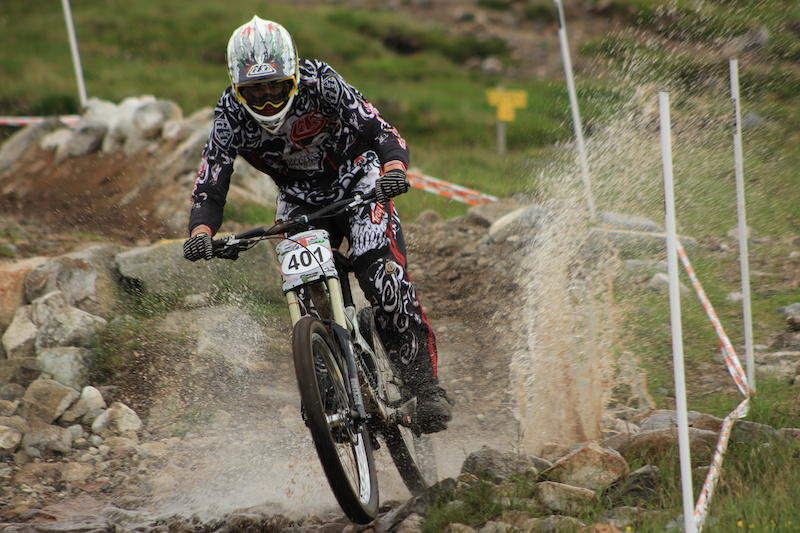 Jono Jones DNF'd his race run. He did snap his shock sharft on Saturday in practice.
Only half the number of riders signed on, 162 in total which is the first time in three years of the BDS that the race hasn't sold out in advance. After last year's carnage here with 100mph winds many were reluctant to risk it again. Then throw in last month's Fort William round cut short to a one day event due to again 100mph winds stopping play on Sunday, the weather gods have not been in our favour you could safely say. Britain has again been lashed by severe weather warnings and storms this week and one of only a handful of places to stay dry this week was Glencoe.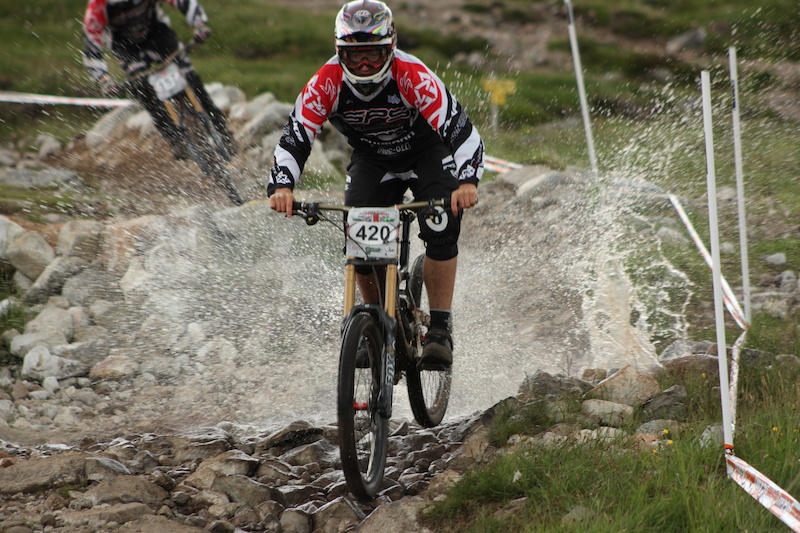 Freddie Oxley managed 2.46 placing him 10th in Juniors.
It's also fair to say many will state Glencoe is the UKs toughest race track. Starting off with a super rocky and rough fire road section it quickly turns into a lovely twisty section, almost like the top of Fort William, but steeper. Plenty of step drops into corners as you fire across the wooden bridge into your worst nightmare. Huge off camber rock slabs covered in your finest Scottish mud before you enter death alley. You can't really get much steeper than this, rock steps covered in mud, landings littered with rocks projecting out at all angles and deep, deep ruts. Now throw in loose moving rocks and a track that lines change every run and you are in one hell of a predicament once you start to roll in.
Video courtesy of WideOpen Mag
Race photos courtesy of shutter spoke.
After sign on Friday, around twenty riders pulled out after seeing the track and as Saturday continued they started dropping like flies. Practice started at 09:30 sharp on Saturday morning with most riders having their fill with a leisurely 6-8 runs, all showered and changed come 16:00. Many then opted for the course walk, nothing like giving yourself nightmares just in time for bed.
Sunday morning, early hours saw light drizzly rain persist, the uplift opened at 08:05 and we didn't see one customer until past 08:30. Looking back I guess that was an obvious sign that the riders were treating this course with extreme caution. 11:00 seeding kicked in and two of the younger riders fell foul of the UCI start Commissaires, missing their start times their next descent was down on the chairlift.
Race runs started off at 14:00 on the nose and were scheduled for a 15:30 finish. It was soon apparent that not everybody was going to make it down. Come these race runs I swear we could have opened an old people's home at the finish line. It seemed every ten minutes we had another retirement from racing.
RESULTS
JUVENILE - Sponsored by Leisure Lakes
Kyle HAVARD Team Skene 3:11.858
Robin SPENCE Plushhillcycles.co.uk 3:31.502
Joe PARFITT Mojo / Team Skene 3:37.746
Alastair MACLENNAN Team OCUK 3:41.474
Obi EICHHORN One industries europe / Orange DNF
YOUTH - Sponsored by Rose Bikes
Neil STEWART Wolfpax Riders 2:37.528
Taylor VERNON 2:41.017
Niall MORRISON Bike Track People 2:43.343
Dan FARLEY Kona / Wheelbase.co.uk 2:44.668
Jacob DICKSON MBW kona 2:44.694
VETERAN - Sponsored by Stendec
Alastair MACLENNAN Nukeproof 2:51.894
Stevie BOYD Bikelove Glasgow 3:07.749
Steve FELSTEAD DNF
MASTER - Sponsored by Monster Energy
Andrew TITLEY Ghost RT 2:47.781
Jason CAVILL The Bike Outlet York 2:49.041
Chris WHITFIELD All Terrain Cycles 2:49.059
Dan HAINES Foes Balfa UK 2:50.838
Jethro WHITFIELD All Terrain Cyles 2:51.762
ELITE WOMEN - Sponsored by Schwalbe
Carpenter Manon Madison Saracen Downhill Team 3:04.270
Wareham Emma Leisure Lakes Bikes.com 3:45.181
JUNIOR - Sponsored by Fox Head
Mike JONES Team Bicycle Doctor 2:29.131
Philip ATWILL Madison Saracen Downhill Team 2:29.728
George GANNICOTT 2:30.198
Fraser MCGLONE 2:31.390
Dan SHERIDAN Nukeproof Team 2:32.480
SENIOR - Sponsored by Knox
Gavin BLACK Perth City Cycles 2:39.235
James RAMSAY Descend Hamsterley 2:40.563
Daniel CARRIGAN 2:41.602
Andrew WEEDING 2:47.009
Cameron ROSS Single Track Bikes 2:47.792
EXPERT - Sponsored by Descent-Gear.com
Brad MATHER EMPIRE CYCLES 2:28.635
Allan FINDLAY 2:33.494
Jay WILLIAMSON WideopenMag.co.uk 2:37.263
Matty STUTTARD Ride-On 2:37.871
Calum MCRITCHIE 2:44.105
ELITE MEN - Sponsored by Schwalbe
Adam BRAYTON 2:19.506
Matt SIMMONDS Chainreactioncycles.com go to site / Nukeproof 2:25.470
Greg WILLIAMSON 2:21.853
Joe SMITH Chainreactioncycles.com go to site / Nukeproof 2:22.042
Jack READING Trek / Fox-Mojo / Loaded / O'Neal 2:22.634
Halo BDS Series Overall Standings. Best five out of six count.
All eyes were on the hill come the last ten riders, gifted one minute breaks at the start Toby Parodi our commentator had ample time to pump the crowd up that was half full of riders still in their race kit. I was expecting more Scots in that top five, we had to rely on Greg Williamson to fly the blue and white flag this weekend. Super nice guy Jack Reading still after half the season was without his new Ellsworth. Enoughs enough and a quick call to Trek and he was on a new ride before you could shout Aaron Gwin. Santa Cruz's Josh Bryceland was looking FAST in practice, but a puncture up top killed his chance of the top slot come the final race run. The World's fastest window cleaner, Simmonds headed up the CRC team roster with an impressive second slot onboard his Nukeproof. Amazing and a well deserved result for Adam Brayton, the crowds favourite rider. Foot out, flat out, this flat pedalled rider goes for broke every time he crosses that start line. He so narrowly missed out last year at the Llangollen National Champs (On another super steep and technical course) the riders and crowd were cheering him on. I witnessed him in practice up in death alley and honestly thought his rear brake had failed and he was going to kill himself. Like a pinball wizard he floated and smashed his way down the course to the delights of the audible crowd.
The British Cycling National Downhill Championships presented by Halo are at Moelfre Hall, near Oswestry (1 hour west of Birmingham) on Saturday and Sunday July 21st and 22nd, 2012. Parking, camping and spectating is all free, so come along and be blown away.
Stay Unclipped.
-Si Paton