The UCI recently announced a rule change for junior riders racing the World Cup series that will ensure the wider recognition and higher participation of riders at all future UCI World Cup events. This new ruling is great news for young riders coming up through the rankings, as there will potentially be more sponsorship deals on the table and more attention paid to their results.
In the past, at UCI World Cup events the junior racers were not separated from the elite field and raced on the same course in the same category. Many obviously struggled to qualify in the top 80 with such a strong field of riders, and were not able to take a race run on Sunday. Now the juniors will race before the elites in their own category and have their own separate podium.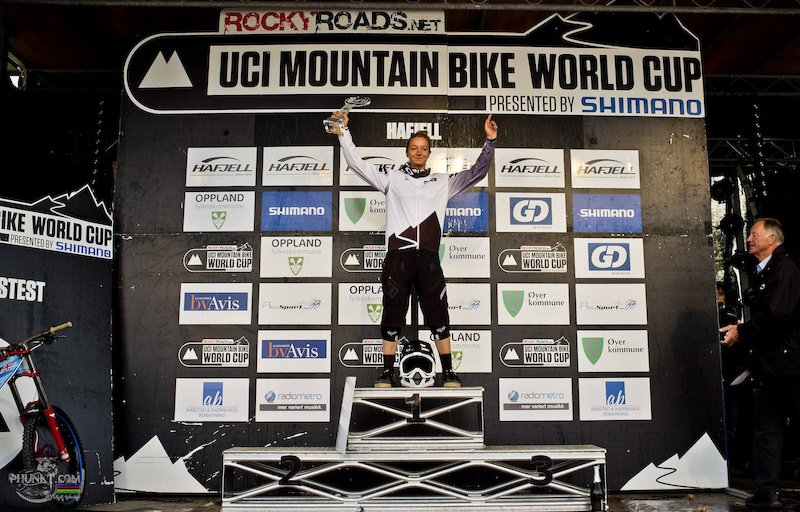 Tahnee Seagrave on her own on the podium.
From the UCI RULEBOOK:
At the world championships and the world cup events, separate junior events are organized for men and women juniors.
The first 5 men juniors and the first 3 women juniors of the last UCI DHI individual ranking of the preceding year can decide whether they want to race the entire World Cup season as elite or junior. All other junior riders must race the World Cup season in the junior category. For World Championships and World Cup events, separate junior results (apart from exceptions above) will be established.
Here is the list in ranking order of qualified junior atheletes:
Junior Women:
Tahnee Seagrave, Marianne Ruud and Holly Feniak.
Junior Men:
Richard Rude, Dean Lucas, Phil Atwill, Jure Zabjek and Gianluca Vernassa.
We are currently waiting on clarification from the UCI on the following: We believe if any of these juniors decide to race elite then they will forfeit their chance to race the World Championships as a junior, which would be a massive blow and a potential decision stopper right there for them to move up a category.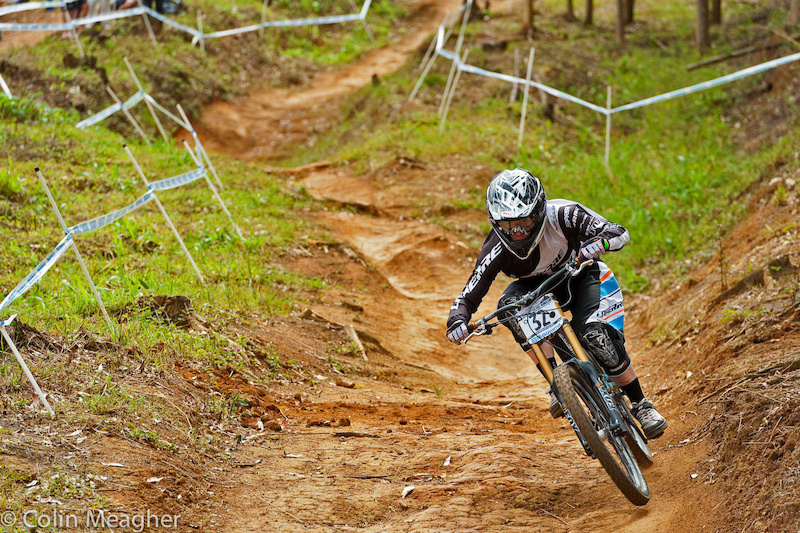 Loic Bruni, 2012 Junior World Champ, racing at Pietermaritzburg where he finished in the top junior spot, 27th overall.
For all other races on the international calendar, the UCI points are awarded in relation to the rider's time and not to their category. To ensure that this rule is correctly applied, only one combined result needs to be sent to the UCI. When a junior downhill rider scores the best time at the national championships, (s)he must wear the elite jersey. The junior jersey is not awarded in this case.
This could cause a massive upset at National Championships as we could potentially see a junior take home the jersey/arm band leaving the elites without a title on their resume, plus loss of prize money and ranking points. From an organizer's point of view, all juniors and elites would have to be seeded together.
The above new ruling has several ramifications and there is nobody better to quiz on this than Trek World Racing and IMTTO President Martin Whiteley, therefore we asked him a few questions regarding the matter at hand.

Regarding this new ruling, will the points from juniors racing junior level at World Cups be allocated to their UCI Trade Teams points, therefore boosting the team's World Cup ranking?
I believe only juniors that have opted to race in the elite category (the top ones that get invited to move up), can count World Cup team ranking points towards their team. World Cup team ranking points are only awarded to the top 30 men and 20 women in the elite race anyway. But you need to clarify this with the UCI MTB Department. I have no juniors on my team this year so I haven't fully investigated this.

Is this a good ruling? Where did it come from, and who pushed for it?
Chris Ball pushed it and I understand the reasoning. A large number of juniors travel to these races but very few get through to race the final on Sunday. This can be discouraging. So in order to give them a race on Sunday against riders of their own age, and also to free up the numbers a bit in the elite race, this solution was reached. Personally, I think we could go one step further, almost as Moto GP does, and have three classes, and therefore three races on Sunday. Start with juniors (men and women) in the morning, then the men ranked outside the top 60 or so (call them World Cup 2), and then the big final, World Cup Pro, Men and Women. Needs work but it means more races, more excitement for the fans, and a way for talented riders to come through easier.

Will we see a three man podium for the seniors now?
It will remain five for 2013, but the UCI keeps pushing to change it. The teams and riders are completely against changing a 20 year history in our sport of having five rider podiums. DH does not benefit from Olympic status or extra government/National Federation funding like XC, so it needs whatever it can to promote its riders and sponsors. We love being able to say we got a podium at a World Cup, it's a great headline, and potentially 10 teams can tell their sponsors and fans that each week. For juniors they have already decided only three, and as it's a new category we were unable to argue the history angle. I believe if the UCI keep pushing this three rider podium "because it looks neater" for them, the riders and teams will stage boycotts.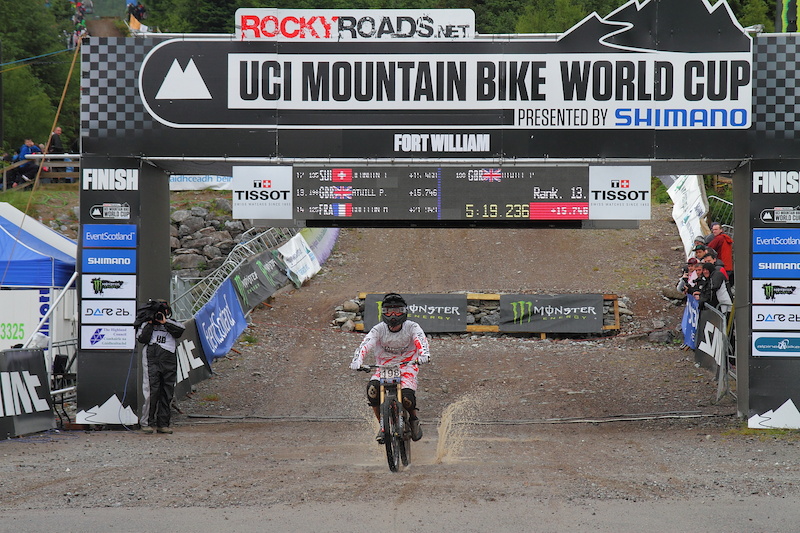 Saracen's Phil Atwill Crosses the line at Fort William - picture courtesy of Sarah Barrett.

Are the UCI World Cup events wanting increased rider participation at their events now? On average at each round of the 2012 World Cup series we only saw 175 riders on the hill, broken down as follows:
Rd 1 Pietermaritzburg 134
Rd 2 Val di Sole 226
Rd 3 Fort William 173
Rd 4 Mont-Saint-Anne 155
Rd 5 Windham 162
Rd 6 Val d'Isere 228
Rd 7 Hajfell 148
That's more of a question for the likes of Mike Jardine or Rare Management who organizes the Fort William World Cup, but I believe that an attraction for any organizer is an increase in the number of hotel beds and restaurant tables filled so as to attract more local tourism support. More spectators, supporting families etc, all good stuff.
Also, to help further boost attendance, the UCI are allowing each federation to send in an additional six junior and elites riders both male and female that do not have the required 20 UCI points to race a World Cup. That is potentially another 24 riders per country adding to the entry field, in addition to any junior riders on a UCI trade team already.
Pinkbike's Take:
| | |
| --- | --- |
| | This can only be a good move from the UCI for every junior rider out there looking to make a name for themselves and receive additional sponsorship and support at the World Cup level. No longer will the big UCI trade teams have their fingers crossed for their single junior rider to roll the dice at the annual World Championships for their bets to pay off. They can now hopefully reap the rewards several times a year for a minimum outlay. The only two negatives we can see would be for an elite racer being left high and dry in favor of a junior rider. The second point is with an increase in rider participation will we undoubtedly see a drop in riding standards at our premium series. - Si Paton |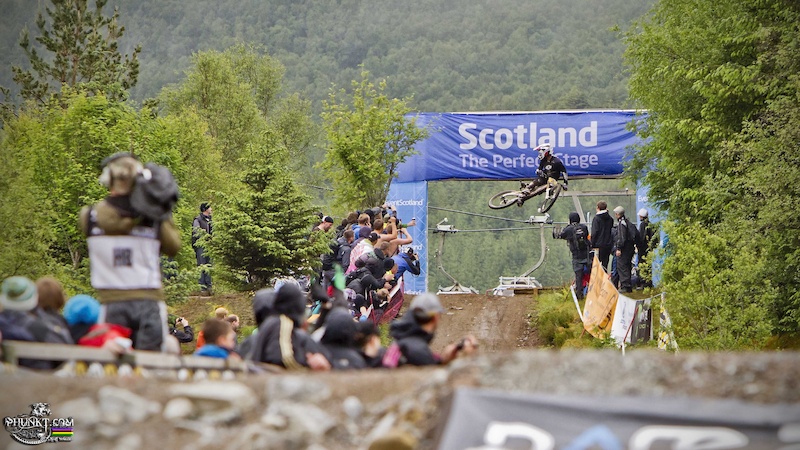 Marc Beaumont came up through the ranks as a junior under Steve Peat's wing - will the likes of Taylor Vernon come of age now that he is with GT Factory Racing?
Stay Unclipped.
Si Paton
Facebook.com/BritishDownhillSeries