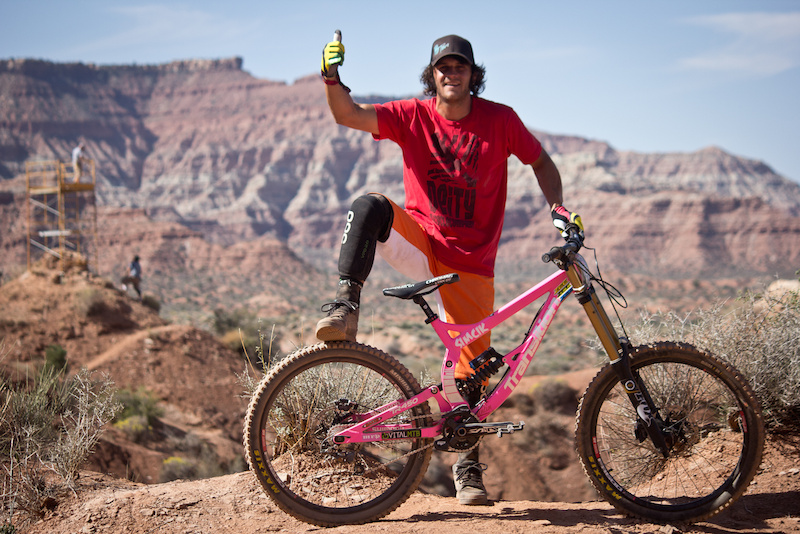 We all have goals, aspirations, and dreams. It seems the best way to achieve the latter, is to pursue the first two. I got into mountain biking after seeing New World Disorder II while I was in high school. Ultimately that led to a fascination with the Santa Cruz Bullit and me getting into "freeriding".
The Bullit was a graduation present from my parents for high school. I was moving out to Colorado for college in the fall. I got the Bullit and met some local guys in St. Louis, Missouri where I lived at the time. They were building jumps and drops near a river at one of our state parks. I started riding the jumps and drops with them and knew I wanted to spend my time on my bike in the air. Summer faded and I moved to college. I instantly met some other riders and started riding DH and going jumping. In October, they convinced me to go with them to the Red Bull Rampage. It was at that point in 2003 that my life changed. I knew, more than anything, I wanted to compete in the Rampage. Watching Cedric's win, Cam McCaul's death defying crash, and Bender's huge huck changed me.
As college progressed and life took over, I started racing so I could develop additional riding skills and ride as many new places as possible. While racing was fun, it was not for me. It was stressful, expensive, and didn't allow as much riding in a weekend as just going shuttling or jumping.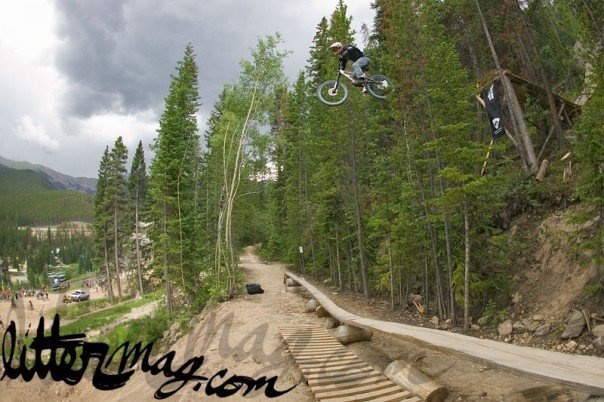 When Crankworx Colorado was announced, I knew I wanted to try it out. I entered the slopestyle on my 7 inch Santa Cruz Bullit. It wasn't easy, but I rode the contest and had more fun than at any race. While I did not love dirt jumping, I knew that a big way to gain the recognition to potentially get into Rampage one day would be through riding slopestyle. I started working on tricks and dirt jumping as much as possible.


I spent the next several years riding slopestyle contests around the US and Canada. During that time, I met some amazing people and was able to experience things I never thought possible. After a few years of trying to compete and work full time, I sold my house, my nice car, left my job, and moved in with my girlfriend to be able to pursue riding as my life. It certainly was harder than I could have ever imagined, but without a doubt it was worth it.

During that time, I started to lose focus on why I rode bikes. It became a job and less fun. I started to focus on my big bike again and started to ride DH more. I planned trips to Utah where I met with Wil White and started riding as much as I could in the desert.




In 2010, I watched the videos from Chatel Mountain Style. I knew it was my kind of contest. I emailed Mike Kinrade as he had been a few times and he put me in touch with the organizer and I was in. I traveled to France in 2011 to compete. Unfortunately I got some sort of flu on the way over and was extremely sick for the entire trip, so my results were not great. Shortly after the event, the season was over.


After a trip to the PNW, I thought it was time to move back to life as an adult. I took a job with FSA/Gravity. I loved the northwest, the riding is awesome, the people are cool, and the dirt was something I had only dreamed about.
In January of 2012, I talked to the organizer for Rampage. I told him my goal/dream, how I thought I could earn it, and the sacrifices I had/was making in order to achieve it. He told me there was certainly a chance I could earn a spot, but it would not be easy. For me, that was all I needed. I spoke with my boss at FSA, he and nearly everyone from whom I asked advice, said, you need to chase the dream. I quit my job, packed my stuff and moved back to Colorado… into my parents basement. There is not much more humbling than moving into your parents basement at 26, but I knew it was temporary and a means to achieve a dream.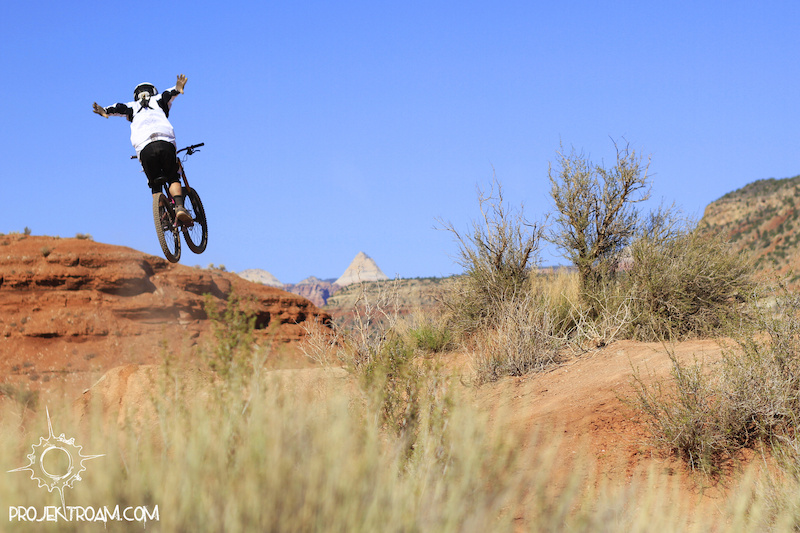 The first goal, put together a solid edit of me riding big mountain stuff in Utah. I traveled out to Virgin to meet up with Wil White. Wil and I had ridden together in Utah before and we had a killer time. We decided to spend 8 days in the desert. Unfortunately, spring is a super windy time there. We spent most of the time building and watching TV in his RV. We only got about 10 hours of actual riding the entire trip. It was tough to swallow the lack of riding, but I got my edit.


I spent the entire summer riding and preparing for Chatel. I went to Highland's "Spring Training" and spent hours upon hours flipping a borrowed DH bike into the Ayr Bag. I knew at Chatel later in the summer that I would need to flip my bike if I wanted to pull a spot good enough to get me into Rampage.



Goal two, put down a solid result at Chatel. Chatel was a trip that blew my mind. I went a week early and stayed a week late in Europe in order to acclimate and just to enjoy being there. The experience with my two friends Max and Devon created memories that will live on forever. As we drove to Chatel, the rain got worse and worse. I was starting to be thankful I had learned how to ride mud the previous winter in Seattle. My friend Wil White came over, so it was awesome to have someone to practice with. As we picked our lines, we were two of the only pro riders riding during practice. Granted it was sloppy muddy, but it was cool having the entire track to ourselves the first day.

As the qualifying day started, it was apparent we would basically only be getting one run for the whole weekend, so basically qualifying was our result. The big Scott drop wasn't hittable in the wind, so we all rode an older line. I was a bit bummed about that, but decided I would flip the last jump on the course, a 60+ foot jump. As I dropped into my run, beep, beep, beep. My Contour shut off. Oh well, concentrate on your run, not that you were too distracted to charge it. The top section of my run went well. I rode my line clean and quick. As I got down toward the bottom, I started to pump myself up. Unfortunately, that resulted in me jumping pretty deep on the final step-down and not having enough speed for the final jump. As I flipped the last jump, it was going perfect, the rotation was good, I had corked it out so I could see clearly. As I came around, I just slightly clipped the knuckle with my front wheel. I have never crashed so hard in my life! I broke my helmet, but otherwise was completely fine! No headache, no memory loss, nothing! Thanks POC!



The Chatel experience was a tough one to swallow. $4000 out of my pocket for one run in which I crashed going for it. However, I would not trade that experience for $1,000,000. Sure it sucked that I crashed, but I was ok, and did not go home wondering what could have happened because I went for it.

When I came home, it was time for Colorado Freeride Fest. Goal three, put down a solid result at home in front of the local crowd. I went to the CFF in order to have fun and ride with my friends. I definitely did both. It was a blast! Qualifying was a 3 hour jam. I tried things I had never done before and most of them successfully. I 3'd the up box, top side no foot canned the hip, and after a second of convincing from Nick Clarke, I landed my first ever front flip! It was such an amazing high to land my first front flip to dirt and on such a big jump, I didn't even care that I didn't qualify for finals!

So, in my mind, I had 3 major goals in order to deserve a spot at Rampage. I failed at two of them. When the invitations for Rampage went out, I was not surprised that I did not receive one. I was however disappointed. A few days later however came an email. While I did not receive an invitation to compete, I was invited to be an alternate. I could come out, build my line, and if two or more riders were unable to compete, I would be invited to compete in the qualifier. I was floored. I couldn't believe it! Obviously, I never want a rider to get hurt, but I was hoping that someone would decide not to come or get the flu or something, ya know, not serious, but enough that I could hopefully ride.

With huge help from my sponsors, I put together a new bike for the event. I prepared my build crew, and headed out a full week before the event to start building my line. We got out and started building. I took Flying Monkey shuttles with Jeremy Hottinger and Kelly McGarry to get used to the new bike. The things I enjoyed the most about the new bike, the Shimano Zee brakes and the Maxxis Minion DHR II. The new Shimano levers are awesome and I really liked the new DHRII, it corners like the DHF (it shares almost the same knobs) and has great braking traction. The rest of the parts were items I was comfortable with already and had been riding most of the year. The TR450 was an easy transition (pardon the pun) over from the TR250 and was definitely the frame for me to run at Rampage based on my line choice.


Aside from Bourdo, I was the first rider on the hill building my line. The focal point of my line would be a steep chute to drop followed by a big drop. I did not want to use any of the prebuilt wood features and wanted to have some techy riding at the top into some faster jumps at the bottom. I wasn't able to test my line until it was complete, so I was a bit disappointed that it didn't work out exactly as I had hoped. During my first attempt to ride my double drop, I cleanly landed the first one, tapped rear brake and landed exactly where I didn't want to land. I stuffed my front wheel into a big soft spot and clipped my rear on a cliff band. I got bucked off my bike all the way to the flat bottom onto my wrist and head. My left eye started going blurry and kept getting worse. I had to tape my wrist the rest of the week and spend a few hours in the tent at the bottom to regain the vision in my left eye. Definitely not how I wanted my Rampage experience to start, and nearly end, I went back to the hotel for the evening and came back the next day to figure out the rest of my line. My big drop would have to be dropped really small as where I landed the first time when I tested it was right in the foot path where people were walking up the hill and going over it wasn't likely possible.

Wil, his crew (Chase, Kyle and Wil's Mom), and I built the top part of our line which we shared, it was sweet! My team (Grassroots Cycles, the guys behind Ranchstyle) and I built the bottom hip of the line and my step-down. Overall we built a line I was stoked on, it had a bit of everything, but due to having to scale back my double drop, I lost points with the judges.

As riders started to show, it became apparent, a lot of guys did not come. I soon found out that I was going to be competing in the 2012 Red Bull Rampage. It was a dream come true. Friends of mine were coming from all over to support me, it was awesome!

The evening before finals was kind of a mad dash for everyone, no one had really ridden much. Wil had ridden his whole line and was killing it. I had a handful of things I had not gotten a chance to hit yet. I knocked out the worst of them and just decided I would go for the remaining things come qualis. As qualifying day started, I had ridden about 90% of my line. I started from ridge two, so I would be one of the last riders to go. As I got my two minute warning, I started to prepare. Helmet on, goggles on, sip of water, gloves on, onto the bike and into the start gate. "Nick, fifteen minutes, they have to move the judges so they can see your full run." Had you told me this situation, I would tell you, I would have been stressing out, freaking out with nerves. My friends later told me that situation made them more scared for me than anything else the whole week. However for me, I sat there, goggles on and took it in. Just by sitting in that start gate with all the fans out there, in one of the most beautiful places in the world, I found peace. I had achieved my biggest dream and goal in my life. I got to sit and take it in for 15 minutes.


When I finally got to drop in, I wasn't scared, anxious or anything other than calm. It sounds weird to say, but I was never that calm at any contest in my life. I knew what I needed to do, knew I could ride my line and just dropped in. Chris Van Dine said it best, "if you get all jacked up on adrenaline and just send it here, you are gonna get busted up." As I dropped in, I just breathed. I focused on riding my line clean and smooth just like in practice. I hit all my markers and had a great clean first run. No tricks, just a solid clean run to get a score. I got to the bottom and all I wanted was to be back at the top so I could ride that mountain again. It was the most pure minute of riding of my entire life! I got to the bottom and was proud of myself and so thankful for everyone who has taken a chance and helped me.


Everyone headed down the mountain and grabbed lunch, they talked about their runs and thought about what would be next. It was good to see Hopkins and Kinrade get up after their tough wrecks!

As second runs commenced, the wind started. Most of the guys who were guaranteed qualifying spots for finals elected to not ride. Ultimately only one rider bettered their score from first runs. As more and more guys decided not to ride, it was down to Wil, Van Dine, and myself at the start. The wind really started to go crazy. Chris talked the organizers into a wind hold. We sat up there for about 30 minutes with goggles on due to the dust and wind storm.

Wil would be next to ride, but ultimately decided to not ride as his line was unrideable in the wind, as was Chris's. Basically that left me with the option to ride or not. I did not go through all of this work, struggle, ups and downs, just to walk down the Rampage site in front of hundreds of people. "I'm going!" Everyone kind of seemed taken aback. I put on my helmet and told them to get the judges in place as I was riding! Everything was set and I dropped in. I rolled up to Wil and my first drop and sent it off. I immediately wondered if being stubborn was a smart thing as I got blown about 2 feet to the right as soon as I left the lip. At that point in the line there was no real way to bail out, so I just kept going. I was having a great run, faster than my first and a whole lot more style. As I got to my last step-down, I knew I wanted to flip it, for some reason I still don't know, I pulled, hard. Based on the dimensions and step-down nature of the jump, I pretty much just needed to drop my butt when leaving the lip to flip it. Instead I pulled like I was double flipping it or something. As I realized I was overrotating, I ditched the bike and landed into a big cloud of red dust.


The cheers I got as I stood up gave me chills down my spine. I felt like I had just won Rampage! I got on my bike and rolled to the finish line. Rampage was over for me, but I was proud of what I had accomplished. I built a line at the gnarliest contest in the world, rode it cleanly and got to share my dream with some of my best friends. If I can go back next year, I would not miss the opportunity to do it again. I learned a ton about Rampage while competing this year. My line did not work like I had hoped it would, but I know I can find a finals worthy line in 2013.





Riding my bike as a "professional freerider" has been the most amazing experience of my life. It has been filled with ups and downs, triumphs and failures, and more work than I could have ever imagined. I spent my life savings, sold my house, gave up a lot, but at the end of the day, I would not trade a single one of the experiences for all of that back. The biggest thing I learned through all of this, believe in yourself, chase your dreams, and do not give up on yourself. Even had I failed to get into the Red Bull Rampage, I got to spend the last 3 years of my life traveling the world riding my bike. That is an experience I will carry with me for the rest of my life. As my friend Scott said, "In the next few years, you can't dig yourself a financial hole big enough that it will mess up your life, but if you don't try to achieve your goal, you will regret it every day of your life." Thanks to Scott, Chris, Gail, Grassroots Cycles, my family, my friends, my sponsors, and everyone who has encouraged me to pursue my dream of Rampage.

Nick Simcik
Transition
Fox
Shimano
Deity
Maxxis
MRP
VP
DT Swiss
POC
Novik
Red Ace
Honey Stinger
Quintin
Teva
Grassroots Cycles
Must Read This Week