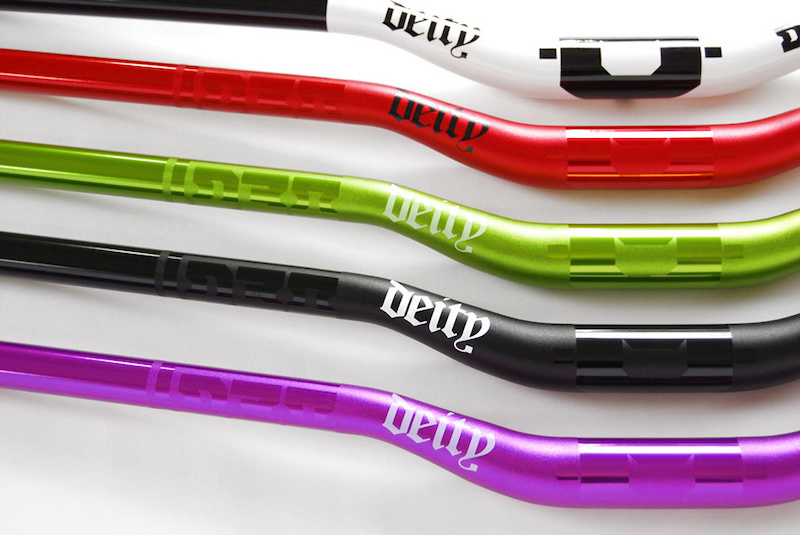 I have been part of the deity Bloodline for 4 years now. I have ridden deity parts even longer. I have seen the evolution of the components first hand. I remember some of the first bars/stems they brought to the market. Four years ago I met Eric and Sadie at some sleezy motel room in Vegas during their Interbike Resistance where they booked a bunch of motel rooms with brands like Transition so they could meet up with the people they wanted to do business with for the next year. I hit it off with them, I started riding for their grassroots program and became part of their Bloodline.
Just last week they launched their new website and products. While I always liked what deity has released component-wise, these new parts are a step above! I was fortunate enough to get onto some pre-production parts this spring. I put a full season of competing on them on my Transition Double and TR250 at contests all over. They have held up to more than their share of abuse. No issues, no bending, no failures.
With the new parts going to production, they sent me out a new set of bars, stems, and grips to refresh my rides and allow me to give the production parts a run through in the mountains surrounding Kamloops. With Matt Brooks to show us around, Drew Vandergriend and I set out to document some good times and sweet terrain.
deity is a rider owned and run brand. Their goal is to bring the best parts possible to the hands of riders everywhere. With the newest parts, they have succeeded. You will not find more genuine, passionate, excited people out there.
www.deitycomponents.com
Nick Simcik
Brought to you by:
Transition
Shimano
Deity
DT Swiss
Fox Racing Shox
Maxxis
VP Components
MRP
POC
Teva
Contour HD
Honey Stinger
Grassroots Cycles