Everyone of us has something we want to accomplish as an ultimate goal within our riding. We all have a favorite place and type of riding. For me, this trip was about heading to Virgin, Utah and then a quick dash over to California to ride some trails.With a foot of snow falling and one of my best friends leaving for two months to ride his bike across Australia and New Zealand, I knew it was time for me to take a trip. I have always wanted to ride in California, so I started putting together spots to ride along the way. Kali Protectives needed some photos for an AD they were putting together, so the first stop was Grand Junction, Colorado. From there it was off to Virgin, Utah to ride with Wil White and Lear Miller. Virgin is my favorite place to ride, and riding narrow ridges and big hits is my favorite kind of riding. After Virgin, it was off to Cali to ride some trails with some friends, new and old.
Riding in Junction was a typical weekend there. Sleeping on the floor of a bike shop, dirt jumping, shooting pictures, and riding trail. It was a great couple of days. We got some amazing shots, that will hopefully be gracing the pages of Decline very soon. The theme of this trip was driving, it seemed to never stop.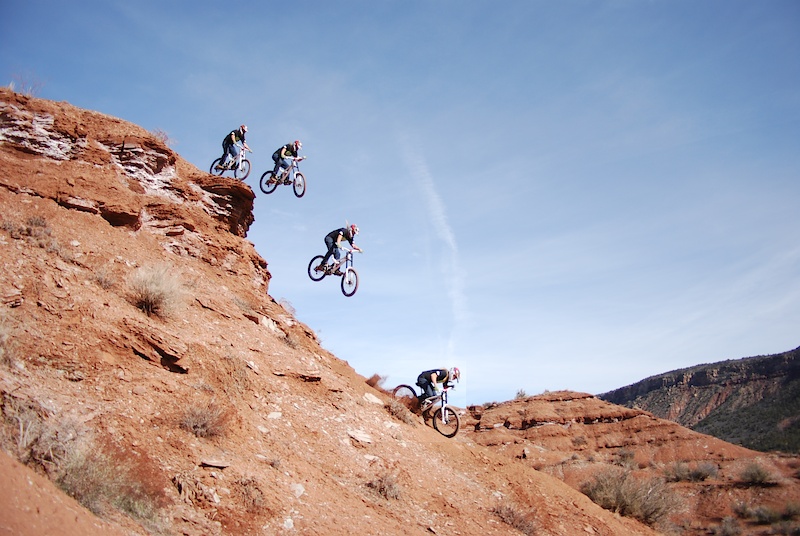 When I was driving south on I-15, I saw nothing but snow, when I finally pulled into the site, mud was everywhere. I was a bit nervous we wouldn't be able to ride. The new site was definitely covered in snow as were some of the other areas we wanted to ride, but the old site was drying out quickly and we were able to ride and build fairly easily.
Virgin
! Virgin is a pretty gnarly place. So much of mountain bike history can be seen. Lines are everywhere, lines that have changed the sport, the Bender Sender, Dunne and Bourdo's massive step down, and lines from every single NWD film. It was a very humbling, yet motivating trip for me. While we didn't get to hit everything we wanted to, I now have motivation and goals for the next trip there. Meeting up with Wil White and Lear Miller was a perfect combination of riders. Wil is a previous Rampage competitor that hits things a little slower yet poppier than most, Lear definitely has the racer style and hits things faster and stylish, and I like hitting big lines with speed.
Watching the Disorder videos and even watching Rampage in person could never prepare you for riding the lines here. It is one thing to build a jump or drop in Virgin, but to connect it into a top to bottom ridge line is another. Riding the ridges is extremely difficult and takes a special kind of rider. It takes a ton of memorization and knowledge to be able to properly complete a run as speeds vary dramatically throughout the run, and preparing to hit several big drops, hips, and step downs in one run is tough. We saw several riders at the site while we were there. There were even a few riders who rolled up, hopped out of their trucks, hiked around and pretty much packed up and headed home. Some riders were hitting some good sized hits, but hitting them as one hit wonders. Watching Wil roll a top to bottom quickly showed why he was invited to the 2010 Rampage. I learned a ton from him this trip and hope to be able to compete in the next Rampage.
Wil and I both had lines we wanted to build and hit, Wil wanted to face some demons on a drop he had previously hit.
While he showed me around, we saw a ton of lines and a few that I will be hitting over the next few months. Seeing Bender's World Record drop was amazing, it truly shows how he pushed the sport. While some guys give him a hard time, he has single-handedly progressed the sport more than basically anyone. Walking to the edge of his drop, I could not imagine what he was thinking, but after hitting some lines, I can see how he had the confidence to send it. I finally found a hipped ravine gap that I knew I wanted to dial in. Vanderham hit this line in Disorder 6. It was a sick line, unfortunately I missed my packed part of the landing and dug into the soft dirt and immediately was flipped over my bars. I was ok, but not able to hit it again before I had to head to Cali. Wil stomped his line. We will be back soon to hit some new, bigger lines.
From Virgin, I headed to LA. A long time friend of mine had been outta the loop for nearly a year taking care of his ill mother. When he got home, he decided he needed to take a trip, Scott had already ridden his bike across North America to raise money for a disease. This trip was going to be a personal one, he headed to Australia on Jan 22 to ride his bike across both Australia and New Zealand. I wanted to make sure to see him before he left. We headed down to Santa Barbara to ride with a friend of his and one of my sponsors, Erik from VP Components. We did a few rides, one a 40 miler which blew me up, but provided some amazing views and awesome descents. After a few days in Santa Barbara, we were back to LA and up to Laguna. We went and rode the San Juan trail where we crossed paths with John Tomac and had an amazing ride! It was a great way to send Scott off on his next adventure and gave me my first taste of California riding. My ultimate goal was to hit up Aptos and the surrounding area, but it turned out not to be in the cards, so I headed further south to meet up with James Visser and again with Wil to check out their local offerings.
San Diego
: I cruised up to James' house quite early in the morning so we could hit up his private DH track for some filming then over to Danny's front yard for some dirt jumping in the trees. That was an amazing day! The trail and Danny's are all about flow, no need to bust out huge banger tricks, just flow and pump. After the amazing day riding with James, I headed to Wil's to crash on his couch and check out my last day of riding. Wil and I woke up early and headed to some of his DH trails and his dirt jumps in El Cajon. They were so nice. I wish I had filmed on this final day with Wil, but we were having too much fun. We finished up the trip with a 25 minute DH run filled with technical rocks, high speed drifts, and a couple of hucks which involved me hitting a 12 foot drop to flat by simply missing the tranny.
As with all good things, they unfortunately must come to an end. This trip was definitely one for the record books. I got to ride some new spots, with some new people, send some new lines, and come home healthy, strong, motivated and excited about my new goals. When it was all said and done, I drove home. Basically made the 20 hour drive straight through the night by myself (aside from my dog Pollux) in 23 hours with just a hint of sleep in the middle of Utah.
Total miles driven over the course of 10 days? 3241!
Minutes of film? 172
Crashes? 7
Miles ridden on the trail bike with a single ring in front? 93
Feet of climbing? 7,200
Road Tripping? Priceless!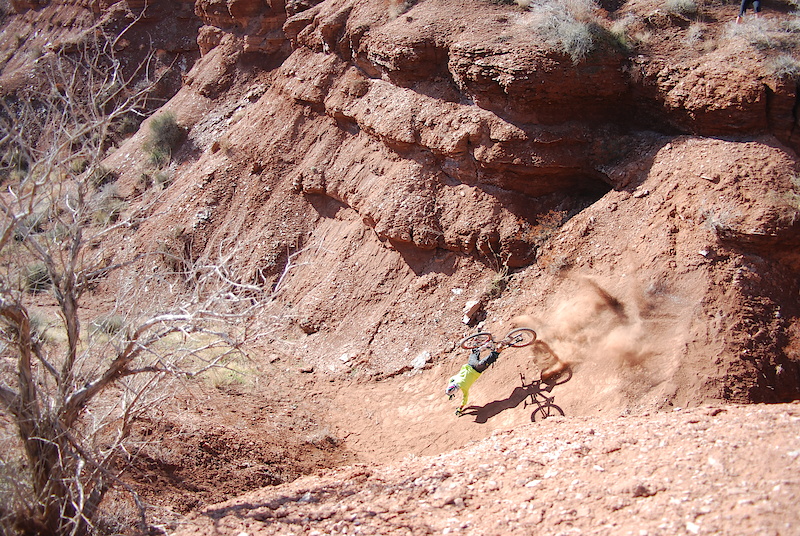 This trip would not have been possible without a supportive girlfriend, good friends, and the support of my sponsors. A special thanks to Eric at VP components for everything, especially playing tour guide to a bunch of outta towners.
Thanks!
Transition Bike Co
Shimano
deity
DT Swiss
Maxxis
MRP
VP
Dakine
Demon Dirt
Contour
Oakley
Kali
Honey Stinger
Grassroots Cycles