simon450
Member since Sep 29, 2014

Male / 47
Walsall , United Kingdom
Block user
Recent

Jan 1, 2020 at 3:14
Jan 1, 2020

Selling
Jan 1, 2020 at 3:09
Jan 1, 2020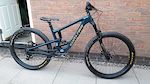 $2750 GBP
Hi. For sale is my Santa Cruz Nomad. Bought new in June 2018 from Two Wheels bikes Stourbridge, rode it approx 10 times hust cant gel with it so sat in garage. As new condition appart from few scratched on bars/levers where was crashed on gravel. Nothing bent or damaged hust gravel rash. Has lifetime warrenty on frame and bearings, invisi framed from the shop before ridden. Rides like new. Standard spec bike. Buyer to collect NO postage Priced to sell as was £4300.

Mar 31, 2017 at 10:43
Mar 31, 2017

Selling
Mar 31, 2017 at 10:41
Mar 31, 2017

Mar 26, 2017 at 15:48
Mar 26, 2017

Selling
Mar 26, 2017 at 15:43
Mar 26, 2017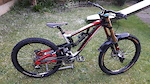 $1600 GBP
2014 Saracen Myst Team. I Bought new January 2015 £4800 Ridden 22 hours max by myself. 1 owner, Recent rebuild of all new frame and headset bearings, hope pro 4 hubs, floating discs 203mm, rear rim brand new (two wheels cycles) 1 ride ago. Factory series fox 40's, factory series dhx rc4 rear shock with 3 springs (350/400/450). Carbon frame guard, genuine fox front muguard, 2 ride old complete rear shimano zee rear brake (saint 1 include requires lever), 4 spare shimano saint hubbed wheels with icetec discs, but wheels recent service, new bearings by two wheels cycles, spare saracen bars and mount, spare 203mm 6 bolt disc, 1 worn but useable der kaiser tyre. Usual uplift markings and few battle scars but its a used dh bike. £1599 ovno

Feb 4, 2015 at 12:59
Feb 4, 2015

Feb 4, 2015 at 12:12
Feb 4, 2015

Jan 31, 2015 at 5:34
Jan 31, 2015
Load more...